UK government to open huge data catalogue for app developers
Professional and independent developers will be given easy and vast access to transport data, opening up a wealth of opportunities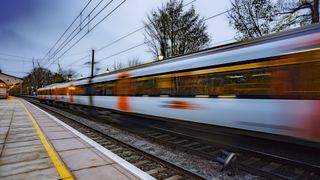 (Image credit: Shutterstock)
A UK government rethink of the Transport Data strategy is set to open up a large catalogue of data allowing professional and hobbyist developers to create new apps.
New plans from the Department for Transport (DfT) will bring together open data from across the transport sector with the hope of improving sector-wide innovation.
RELATED RESOURCE
Better APIs for better business
Realities of API security
In its plan, it set out aims to develop a centralised marketplace for transport data, to lower the costs associated with data collection, and allow innovators such as app developers to access data that has previously been siloed.
A new data catalogue known as Find Transport Data will give tech firms and local authorities alike a single point of access for transport metadata, to improve discoverability of data, and enable more detailed travel analytics.
Such data has previously been unavailable to the masses and the department cited a lack of access to data during the pandemic as a key problem, one that has stunted innovation within the sector.
Companies could use data from ports and train stations to assess the carbon impact of their transport operations, or to plan a more efficient supply chain based on real-time train and road data.
The DfT has noted that data sharing unlocks value across sectors, and Find Transport Data will allow companies to make innovative use of transport data in ways that would previously have been costly and time-consuming.
The strategy will also bring together data across more modes of transport, with a number of potential benefits arising from this.
For example, an app developer could use the data to create a digital wallet that can be used to pay for tickets across buses and trains, or that assesses delays across rail and freight networks on one dashboard.
The catalogue is a retooling of the former National Access Point project, which was initially trialled as a repository for road data but was beset with problems including dataset limitations and out-of-date information.
"We're delighted to see the publication of the Transport Data Strategy, which will encourage the sharing of high-quality open transport data towards giving passengers a more informed choice about how they travel, and which will provide a framework within which innovative apps and services are free to develop and grow," said Julie Williams, chief executive at Traveline UK.
In its paper, the DfT noted that some estimates suggest the UK's data economy grew twice as fast as the rest of the economy across the last decade, indicating a sector ripe for innovation.
A number of ongoing projects were identified as core to the department's sector-wide strategy, with each adding to the wider picture of unified data.
The National Public Transport Access Nodes (NaPTAN) is a nationwide dataset of transport access points pertaining to hubs such as ports, rail stations, piers, and others.
It's already used as the main source of information for apps like Google Maps and CityMapper, and as part of its strategy the DfT is investing in making the service scalable and more accessible through an API.
If combined with data from private smart ports, firms could use this for a more comprehensive overview of ongoing and outgoing shipments, or process these insights into digestible numbers for smaller firms without the capacity for big data analytics.
Bus Open Data Service (BODS) was first announced in 2019, with live bus timetables opened to developers in a scheme also aimed at improving rural services. Since then, the project has delivered real-time timetable data to inform service planning and provided app developers with a basis
The Rail Data Marketplace will provide a centralised source of open data on the UK's rail network to further improve services and spur third-party innovation.
The DfT identified the marketplace as operating with a business-to-business focus, with tech firms, app developers, and academics given access rail data through APIs and simple licensing agreements.
A daily dose of IT news, reviews, features and insights, straight to your inbox!
Rory Bathgate is a staff writer at IT Pro covering the latest news on UK networking and data protection, privacy and compliance. He can sometimes be found on the IT Pro Podcast, swapping a keyboard for a microphone to discuss the latest in tech trends.
In his free time, Rory enjoys photography, video editing and graphic design alongside good science fiction. After graduating from the University of Kent with BA in English and American Literature, Rory took an MA in Eighteenth-Century Studies at King's College London. He joined IT Pro in 2022 as a graduate, after four years in student journalism. You can contact Rory at rory.bathgate@futurenet.com or on LinkedIn.
A daily dose of IT news, reviews, features and insights, straight to your inbox!
Thank you for signing up to ITPro. You will receive a verification email shortly.
There was a problem. Please refresh the page and try again.