Amazon vows to continue JEDI fight after review backs Microsoft
Amazon says US Department of Defense contract was "politically corrupted"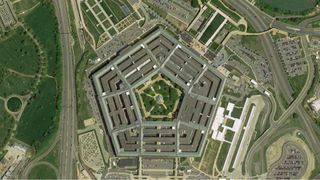 (Image credit: Shutterstock)
Microsoft has come out on top after a reevaluation of a US government cloud computing contract following a challenge from rival Amazon.
Following the decision, Amazon said it would "continue to protest this politically corrupted contract award".
Microsoft was awarded the $10 billion Joint Enterprise Defense Infrastructure (JEDI) contract in October last year, which would see ageing computers at the Department of Defense replaced with cloud computing systems.
Amazon Web Services (AWS) filed a complaint in November saying the process should be reviewed, both due to concerns over how the prices were evaluated and potential political interference following reports of negative comments against Amazon from President Donald Trump.
In February, AWS won an injunction preventing work from starting on the contract, with the DoD saying it would review the contract awarding and consider any necessary corrective action. In April, that investigation concluded the contract was fairly awarded to Microsoft.
The Pentagon has now finished its latest review, finding that the Microsoft deal remains the best deal for the work. "The Department has completed its comprehensive re-evaluation of the JEDI Cloud proposals and determined that Microsoft's proposal continues to represent the best value to the Government," the DoD said in a statement.
However, work on the contract won't start yet as the injunction remains in place, the DoD said, adding it was "eager to begin delivering this capability to our men and women in uniform".
Microsoft naturally welcomed the news. "We appreciate that after careful review, the DoD confirmed that we offered the right technology and the best value," a spokesperson said. "We're ready to get to work and make sure that those who serve our country have access to this much needed technology."
In a post on its website, AWS said the review should have given the DoD an opportunity to address the evaluation errors raised by AWS. "Unfortunately, the DoD rejected that opportunity," the statement says.
While the thrust of Amazon's legal argument has centred on how the technology operates and the associated costs, AWS has also complained about political interference. "On JEDI, President Trump reportedly ordered former Secretary Mattis to 'screw' Amazon, blatantly interfered in an active procurement, directed his subordinate to conduct an unorthodox 'review' prior to a contract award announcement and then stonewalled an investigation into his own political interference," AWS says.
"'Corrective action' was used as a way to halt our litigation, delay further investigations and incorrectly give the appearance that only one issue needed to be fixed while giving the impression that the DoD was actually going to fix something."
The post added: "The question we continue to ask ourselves is whether the President of the United States should be allowed to use the budget of the Department of Defense to pursue his own personal and political ends?"
AWS said that not all the information around the case has yet been made public, saying it would continue with legal action. "Throughout our protest, we've been clear that we won't allow blatant political interference, or inferior technology, to become an acceptable standard," the statement continues. "Although these are not easy decisions to make, and we do not take them lightly, we will not back down in the face of targeted political cronyism or illusory corrective actions, and we will continue pursuing a fair, objective, and impartial review."
The massive contract was subject to intense lobbying from IT industry suppliers — including a lawsuit from IBM and Oracle alleging conflicts of interest between Amazon Web Services (AWS) and the Pentagon.
Oracle also filed suit after being removed from the running over its data centre capabilities, though the court last week found "no reversible error". Google dropped out of the running before the final winner was announced.
Get the ITPro. daily newsletter
Receive our latest news, industry updates, featured resources and more. Sign up today to receive our FREE report on AI cyber crime & security - newly updated for 2023.
Get the ITPro. daily newsletter
Receive our latest news, industry updates, featured resources and more. Sign up today to receive our FREE report on AI cyber crime & security - newly updated for 2023.
Thank you for signing up to ITPro.. You will receive a verification email shortly.
There was a problem. Please refresh the page and try again.