How do you measure the success of your cloud strategy?
Moving to the cloud can transform business processes. This can make measuring success complex, but it is achievable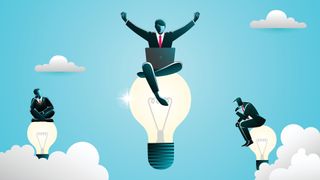 This article originally appeared in the March edition of IT Pro 20/20, available here. To sign up to receive each new issue in your inbox, click here.
Firms move to the cloud for all manner of reasons, but right at the core is a desire to, in some way or another, do things better. To achieve that goal 'better' needs to be defined and performance measured both before and after implementation. But this is often easier said than done and performance measurement can be hard to quantify, especially when cloud is enabling something completely new.
The first step in measuring success is setting up your benchmarks or goals so that you have something against which to judge performance. But that's not always easy, nor the metrics always obvious with cloud implementations, because true digital transformation will deliver a very different 'after' that simply might not have a 'before' to be directly compared with.
Phillip Morse, partner at global strategy consultancy Altman Solon, tells IT Pro: "It's important to set goals that measure what the cloud means to business outcomes and not focus on metrics isolated to IT services alone. For example, setting goals that measure a better customer journey, improved sales metrics, and more uptime would measure the overall service level quality of the company not just its IT services."
That's a view also expressed by Sandeep Kumar, vice president and head of future of technology at Capgemini, who says: "Organisations that struggle with cloud strategy do so because they do not understand and measure correctly the business value impact of cloud." He explains that faster time to market and access to different technical capabilities can lead to very different business propositions – the inference being that the 'before' and 'after' may not measure like against like.
Making the leap from SMART to HARD
Organisational changes made in a cloud implementation can cut right across different parts of the business, meaning that it's hard to set metrics against which to measure early on.
Ahmed Alainiah, technical and operations manager at Talbott's Biomass Energy Systems, explains how his goal setting process has adapted to the changes brought about by digital transformation.
"Although businesses will generally set their goals to be SMART (Specific, Measurable, Achievable, Relevant, Time bound), I strongly believe that goals can't be always measurable and a leap of faith is required between now and then." This approach can be necessary when a cloud strategy puts in place new systems that don't have a direct comparator with the old.
"You can always reset your goals when you've got enough data to 'right size' expectations," he says, adding that for him this is encapsulated in transforming SMART goals to HARD ones (Heartfelt, Animated, Required, Difficult), with a focus on "lead results, acting lean, and adapting to change so we achieve the best results possible".
Measuring financial savings
There's still a lot of room for traditional metrics, however. Nick McQuire, chief of research, enterprise at CSS Insight, tells IT Pro that "most firms do set financial goals, and cost reduction has become even more central to cloud strategies during the pandemic. We are seeing enterprises getting more ambitious with their cost reduction targets especially when it comes to offloading data centre and real estate costs, largely fuelled by the cash crunch many are experiencing at the moment".
But these infrastructure savings are only part of the story. Kumar gives the example of a bank whose cloud API platform allowed automated self-enrolment, reducing onboarding time to one-fifth of the pre-cloud requirement. Upfront cloud platform and personnel costs were greater than continuing with its previous system, but brought financial and reputational benefits post-implementation.
Alainiah also extols the virtues of spending to save, telling IT Pro: "We hired a digital marketer to promote our project and generate online leads. No results could be gained or measured unless the conversion rate, site visit counts and social media channels, and so on were properly set up on the cloud, which I would say is very difficult to do until you have some baseline data to work with." So, measurement and metrics can't always start until the digital transformation is complete and in use. This makes goal setting and success measurement something of a leap of faith.
RELATED RESOURCE
A buyer's guide for cloud-based phone solutions
Finding the right phone system for your modern business
Navigating choppy waters
In navigating the choppy waters of measuring the success of a cloud strategy, it's important to take a rounded approach. Morse tells IT Pro: "Taking a 360 degree look at how the cloud is improving customer experience is more valuable than measuring narrow, cloud-focused outcomes alone." Kumar agrees, saying: "It's important to be strategic about the goals organisations set for their cloud programme and ensure their goals are business focused and measured in business value terms."
There is a role for the cloud provider to get 'hands-on' with this, according to McQuire, who says: "Setting the right goals is so important to the success and failure rate of cloud projects. In our view, more work needs to be done by the cloud providers to help businesses set and execute goals in this area moving forward."
Get the ITPro. daily newsletter
Receive our latest news, industry updates, featured resources and more. Sign up today to receive our FREE report on AI cyber crime & security - newly updated for 2023.