The best free ways to share large files online
How to send massive files online when email and NFC just won't cut it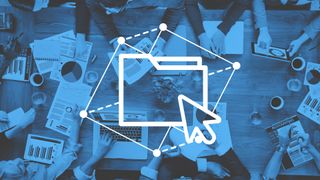 For better or worse, email is still very much a core part of our day-to-day workload, and many of us still rely on it for sending files. That's especially true for those recipients that are outside our organisations when company policies prevent us from sending files directly through in-house platforms such as Slack.
Unfortunately, email is truly awful for sending anything larger than a word document. Email providers hate the extra demand large files place on server workloads, and often prohibit the transfer of anything over 10MB. The good news is that there are plenty of online services that offer elegant alternatives for sending bulk files.
Here are some of the best, organised by the type of service they offer.
Cloud storage
Share and save multiple files in one location
Easy to use and omnipresent, all the big guns Microsoft, Google, Amazon offer cloud storage, as do cloud-specific companies like go-to file-sharing site, Dropbox (which Steve Jobs once vowed to kill, before Apple's iCloud copied the service wholesale).
Free storage is available anyone with an Outlook or Gmail account automatically gains 5GB and 15GB at OneDrive and Google Drive respectively. Usefully, you have access to your files on any computer you're signed in on, as well as on smartphone apps. Unlike other methods, cloud files exist until you delete them, or stop sharing so your friends can pick it up at their convenience without you needing to reshare. Better still is the option to share entire folders, without the hassle of manually selecting each individual file.
On the downside, free accounts have limited storage. So, you'll probably pay a subscription fee for extra space if you're sharing very large files, especially on a regular basis.
Peer-to-peer transfer
For when every second counts
It was Napster, the copyright-infringing file sharing service, that popularised peer-to-peer (P2P) transfers. Now, legal services such as Reep.io, JustBeamIt and Fastest.fish can instantly create a network path between your computer and the recipient's. And since there's no uploading and downloading to an external server, with files streamed from within your browser, P2P is one of the quickest ways to share.
It's simple: just choose your file, and send the download link to the recipient. Reep.io (that's 'peer' spelt backwards, by the way) and fastest.fish deserve special recognition: the former can share multiple password-protected files at once, while the latter supplies a QR code alongside the link, which we scanned to download the file on our phone.
Although quick, P2P sharing isn't always convenient, since both you and your friend need to be online at the same time. And, of course, when P2P sharing, make sure you trust the sender before downloading any files.
File transfer platforms
The freedom to share your way
Dedicated file transfer platforms do it all. Take Send Anywhere: available on almost every platform, upload and send encrypted files via P2P, email, or by download link. If you're both using Android, there's also offline sharing support. Your receiver scans the QR code or inputs a 6-digit key to obtain their file although they have just 10 minutes to grab it, so act fast.
Meanwhile, WeTransfer has spent each year since its 2009 foundation trimming every ounce of fat from their file transfer service. You only have the choice to email a file, or drop a link across to the recipient but, frankly, what more do you need when you're in a rush?
As with cloud storage services, subscribing gives you the privilege of sharing and downloading larger files. If you're not willing to pay, WeTransfer limits you to uploads of 2GB, while Send Anywhere claims to have no limits although, confusingly, this isn't strictly true, and it depends on the method you use for sharing.
Network sharing
The best choice when prioritising privacy
If you share the same connection as your friend or colleague, then network sharing platforms offer a quick, secure way to dole out files. Both Fileroom.io and the P2P service Sharedrop.io fit the bill. You'll find 2GB file size limits, but all you need is a web browser on any device type and a shared internet connection.
By default, these sites place you in a 'room' populated by other people (or, more specifically, computers on your local network). You're not entirely cut off from the outside world, though: there's an option to share your room's link, so those outside your network can join you.
Security is the attraction here. Unless your internet connection has been compromised, you can be reasonably certain that shared files won't be intercepted or riddled with viruses. But the biggest drawback is that if your network goes down, neither you nor your recipients can access the files.
Email-based sharing
Sharing made as easy as 1-2-3
Emailing large files is a no-no since email servers don't like hosting enormous attachments that slow down the service but, without hacking those hard file size limits, there are a handful of file sharing sites that use email as their sole or core sharing method.
These are the file sharing equivalent of a Ford Cortina: not glamorous, but reliably get the job done. Mozilla's Send and Nofile.io get our thumbs up. Send has been compared to Snapchat for good reason while the 1GB upload limit compares poorly with rivals, your file self-destructs after 24 hours (or after a set number of downloads).
With a generous 10GB, nofile.io offers no restrictions on file type and full compatibility with all browsers but your file won't auto-delete. Instead, it rests in the cloud 'for as long as possible'. For those worried about potential privacy breaches, it's worth noting that all files are encrypted. But just in case, feel free to set passwords using either of these tools.
Offline file sharing
When you don't want to drain your data
It's not just Send Anywhere that offers offline sharing both Zapya and Shareit support Wi-Fi Direct transfers, which lets two devices to connect and share without using mobile data. Originally created for the Asian market specifically, countries where internet connections are less than stellar the tools are now readily available across all platforms (yes, even Windows Phone).
Both apps declare no file size limits or file types so, if you've been secretly yearning to send your pal the hottest apps, you absolutely can. Shareit also has a little extra under the hood, billed as a 'one-stop content platform' it serves users a diet of additional videos, music and films, but whether anyone actually wants this is open to debate and it's certainly not the app's biggest selling point.
In a world drenched in data, that promise of zero mobile data use is extremely attractive although, inevitably, neither UI is as intuitive as Google's own offline sharing tool.
Get the ITPro. daily newsletter
Receive our latest news, industry updates, featured resources and more. Sign up today to receive our FREE report on AI cyber crime & security - newly updated for 2023.