Advertisement Feature
The tech driving better business collaboration
Improving your company's collaboration technology can not only save you money, but also make your employees more productive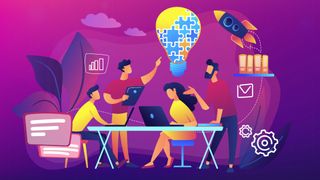 We live in an increasingly interconnected world, and the main driving force behind this is digital technology. Most of the top ten companies by market capitalisation focus on the digital space, and it's now nearly impossible to do business without taking your corporation through some form of digital transformation. The advantages available are manifold, and how you can now work with colleagues and other companies remotely is one of the benefits that can be the most valuable of all.
There's no denying that collaborating face-to-face still has significant value. But it can also have a major cost in both travel expense and time. The more you can do remotely, the less you need to meet up with collaborators to develop new projects and keep existing ones on track. However, effective digital collaboration tools can also enable business practices that weren't economically viable before, such as working closely with colleagues in foreign countries. It's also now possible to collaborate with those closer at hand where the logistics of needing to meet physically made this inefficient, and this can have a considerable benefit for productivity.
For effective collaboration, you need a powerful, flexible system that all your employees can rely on to deliver the features they demand. The Intel Unite solution is the perfect basis for a cohesive but expandable and inclusive provision it's a wireless in-meeting room collaboration solution designed to improve meeting efficiency by enabling fast meeting start-ups.
The Intel Unite solution includes three components at the centre is a hub computer based on an Intel Core vPro processor in every meeting room, a separate PIN server and the Intel Unite app on the client devices. Now with the Intel Unite Cloud Service the customers have the option of having the PIN server on-premises or hosted in the Cloud. This still relies on a local Intel Core vPro processor-based hub, but PIN services are provided via the cloud, meaning that your IT department doesn't need to spend time and resources managing this function. Your company also won't need to spend so much on infrastructure and administration.
Whether using an internal PIN server or the Cloud Service, Intel Unite is an open platform that supports plugins for popular collaboration tools including Skype for Business, Zoom and Cisco Webex video-conferencing solutions. There are plugins for in-room controls from Logitech and whiteboarding from Bluescape, FlatFrog and Nureva. Intel also offers its own plugins for functions such as analytics of room usage and service status, which can be used to keep track of how your employees are using Intel Unite to collaborate. There's even an SDK so that companies can develop their own third-party plugins to further extend functionality.
Of course, an open and expandable platform also potentially creates greater security risk. But the Intel vPro platform based hub computer has security built in at the hardware level. All content shared on the platform is encrypted via 256-bit SSL, with access codes that refresh regularly for added security and the capability to lock a session for sensitive meetings.
The open extensibility and reliable security come together through a user experience that is seamless and transparent. It's easy for users to join a conference and share content, whilst presenters can be switched over with a click. Each connected display can support up to four displays, facilitating document collaboration and comparison. Many legacy meeting platforms waste participant time whilst they try to get joining, sharing and switching presenter to work properly. Intel Unite takes all the stress out of these often-frustrating aspects of virtual collaboration.
Whether using your own in-house PIN server or the Cloud Service, the same Intel Unite app gives your local, remote and guest users their interface to the system. The touch-enabled interface makes starting and joining meetings a cinch on any device. There are clients for Windows, macOS, Linux, Chrome, iOS, and Android, with the latter two available via their respective app stores.
There is a range of options for the hub at the centre of an Intel Unite setup. Small form factors such as the Intel NUC 7 offer a cost-effective entry point. The ViewSonic ViewBoard and Prowise provide integrated Intel Unite support through display, whilst all-in-one PCs (like the Dell OptiPlex 7460) and small form factor systems from Dell, HP, Fujitsu and ASUS are certified for Intel Unite.
Intel Unite lets you turn your meeting and conference rooms into interactive collaboration spaces. The end result can have a significant impact on your business profitability. According to research by Forrester Consulting commissioned by Intel, investing in Intel Unite provided a 470% return on investment overall for the companies assessed, and they paid back the initial capital outlay in less than six months. In fact, this is a clear case of IT services becoming a revenue generator rather than a pure cost. Forrester calculated a net present value from the investment of $612,000 across the companies surveyed, compared to existing legacy solutions.
These returns came from a variety of sources. The lion's share was the result of Intel Unite's ease of use. The quick connection and rapid switching between presenters reduced meeting downtime by up to 15%. But meetings were also 5% more productive, saving 2.25 minutes on average per meeting. This may not sound like a lot, but if your employees have multiple meetings a day, it adds up. The final saving was from the use of a generic IT platform, which didn't require the installation of any extra cabling or adapters.
Forrester also cites less quantifiable benefits. These include how telemetry data can be used to optimise workspace usage. If you know when and how your employees are using your collaboration spaces, you can reduce or increase them as required. The flexibility of Intel Unite can also be used creatively for additional functions when not in use for collaboration, such as displaying company metrics on a conference room whiteboard. The easily deployed security that meets existing requirements also makes for simple integration into a company's architecture.
Online collaboration in all its forms has been one of the key features of internet connectivity. But businesses can benefit the most if they deploy the right technology that makes the process easy, reliable, flexible and secure. Intel Unite provides all these features and more, allowing your company to collaborate more effectively, improving employee productivity.
Discover how the Intel Unite platform can help your business here
Get the ITPro. daily newsletter
Receive our latest news, industry updates, featured resources and more. Sign up today to receive our FREE report on AI cyber crime & security - newly updated for 2023.
ITPro is a global business technology website providing the latest news, analysis, and business insight for IT decision-makers. Whether it's cyber security, cloud computing, IT infrastructure, or business strategy, we aim to equip leaders with the data they need to make informed IT investments.
For regular updates delivered to your inbox and social feeds, be sure to sign up to our daily newsletter and follow on us LinkedIn and Twitter.