ThousandEyes launches live Global Internet Outages Map
The map provides insight into ongoing and recent internet outages that may be affecting the experiences of customers or employees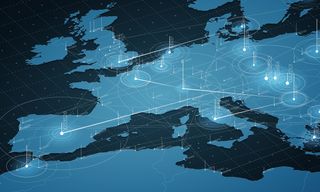 Network intelligence company ThousandEyes has launched Internet Outages Map, a tool that provides real-time visualisation of the current state of the global internet health, based on ThousandEyes' internet Insights.
ThousandEyes' map provides consumers, businesses, industry analysts and other parties with an insight into ongoing and recent internet outages that may be affecting the experiences of their customers or employees.
The tool uses data from the company's "vantage points" situated around the world, which perform billions of measurements each day to detect when traffic flows are disrupted within ISPs, public cloud networks and other service providers.
"Over the past couple of weeks, we've been inundated with requests from businesses, industry analysts and other various parties wanting to get a better understanding of global internet health during these trying times," said Mohit Lad, co-founder and CEO of ThousandEyes.
"Today, we're thrilled to release the Global Internet Outages Map to give businesses and consumers alike a reliable source based on actual internet telemetry instead of public rumor to help them understand what's happening on the Internet at any point in time."
The service was launched following a mass migration of employees from the office into working from home, due to the recommendations of governments and employers aiming to reduce to the deadly impact of the coronavirus outbreak.
This has caused an unprecedented level of internet usage, with Vodafone sustaining a 50% surge in demand for data services in some markets, while popular streaming sites such as YouTube or Netflix announcing that they will lower the standard of its streaming quality in order to prevent a much-feared internet-speed bottleneck.
"Despite massive traffic increases — particularly across consumer last-mile networks — we have not seen a significant corresponding spike in Internet outages, which can occur when traffic levels strain network capacity," wrote product marketing director Angelique Medina in ThousandEyes' blog post. "However, there has been an upward trend line in outages over the last three weeks compared with the previous three-week baseline."
The company says that the Global Internet Outages Map is available at www.thousandeyes.com/outages to anyone at any time, and also provides information in the form of a historical timeline depicting outage volume over the last 24 hours.
A daily dose of IT news, reviews, features and insights, straight to your inbox!
A daily dose of IT news, reviews, features and insights, straight to your inbox!
Thank you for signing up to ITPro. You will receive a verification email shortly.
There was a problem. Please refresh the page and try again.