BlackBerry believes tech firms should submit to government requests
Canadian mobile maker says tech companies should be "good corporate citizens"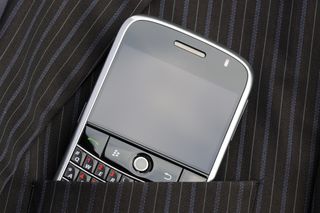 Technology companies should yield to law enforcement and government requests, BlackBerry's CEO believes.
John Chen's comments on the sensitive dispute between the privacy of individuals and the needs of law enforcement come in the wake of WhatsApp's decision to implement end-to-end encryptionfor text, video, voice and image messages.
But the chief executive positioned BlackBerryon the opposite side of the dispute to fellow technology firmsApple and WhatsApp, asserting that tech companies should be "good corporate citizens".
"When it comes to doing the right thing in difficult situations, BlackBerry's guiding principle has been to do what is right for the citizenry, within legal and ethical boundaries,"wrote Chen.
"We have long been clear in our stance that tech companies as good corporate citizens should comply with reasonable lawful access requests. I have stated before that we are indeed in a dark place when companies put their reputations above the greater good."
His comments follow a recent report by Vicethat claimedthe Canadian government has been able to intercept messages from BlackBerry's encrypted messaging service since 2010.
Chen refuted claims made by the Vice story that the servers for its BlackBerry Enterprise Service (BES) were involved as part of a criminal investigation into mafia between 2010 and 2012.
He said: "Regarding BlackBerry's assistance, I can reaffirm that we stood by our lawful access principles. Furthermore, at no point was BlackBerry's BES server involved. Our BES continues to be impenetrable also without the ability for backdoor access."
However, in its report, Vice pointed out that BlackBerry encrypts its BBM messages using a single "global encryption key", which is loaded on every handset during manufacturing. Cracking this key is what is thought to have enabled Canada's federal police force to intercept and decrypt more than one million BBM messages during its 2010-2012 investigation.
Chen's comments are also a swipe at Apple CEO Tim Cook, who was vocal in Apple's refusal to submit to a court's demand that his company help the FBI break into an iPhone 5c belonging to one of the killers in the San Bernardino shooting.
The court case, which eventually saw the FBI hack into the phone without Apple's help, sparked a global debate about data privacy.
Meanwhile, Microsoft founder Bill Gates believes the US government should notify users when it is requesting their data from companies and services they use.
Speaking at aReuters Newsmaker event in Washington, Gates supported Microsoft in its decision to take the US government to court in a bid to make it more transparent about its data requests.
"There probably are some cases where [the government] should be able to go in covertly and get information about a company's email," said Gates. "But the position Microsoft is taking in this suit is that it should be extraordinary and it shouldn't be a matter of course that there is a gag order automatically put in."
Get the ITPro. daily newsletter
Receive our latest news, industry updates, featured resources and more. Sign up today to receive our FREE report on AI cyber crime & security - newly updated for 2023.