HTC Vive price, release date, features and specs: HTC chooses 26 new startups for its Vive X accelerator
The startups focus on AR and VR technologies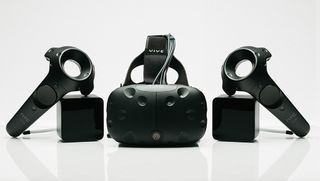 Steam VR is Valve's answer to virtual reality devices like PlayStation VRand the Oculus Rift. Long rumoured to be in the pipeline, Valve's first virtual reality headset was initially unveiled at Game Developer's Conference 2015.
Gamers everywhere remain hugely excited by the prospect of Valve, operator of the biggest distribution platform in the world and a critically acclaimed developer in its own right, entering the VR space.
HTC Vive latest news
30/11/2017:HTC announced yesterday it has chosen 26 AR and VR startups for the next round of its Vive X accelerator programme.
The programme is based in Beijing, San Francisco, Taipei and Shenzhen and is now expanding to Tel Aviv too. The company aims to grow a global VR ecosystem through its accelerator programme.
This is the programme's third batch of companies, taking the total number of startups it's invested in to over 80.
"Our focus with VIVE X is to partner with companies across the globe that will solve industry pain-points and improve user experiences across AR and VR. This third batch is filled with incredibly talented and promising teams who are focusing on foundational technologies and key verticals including enterprise, healthcare, entertainment, and education," said Marc Metis, VP at HTC VIVE.
"We continue to invest very actively in both VR and AR, and are excited to work with the next group of innovative teams and technologies that will shape the future."
One of the companies is Neurable, a San Francisco based startup, which is developing a brain-computer interface for VR control using innovations in neuroscience.
Another is Future Tech, based in Chengdu, that creates games and VR content and has a team made of veterans from Ubisoft, Gameloft, PDE and Virtuos.
In Taipei, HTC invested in COVER, which are developing a virtual livestreaming platform where users can perform with their avatars for an audience.
HTC have also invested in startups based in Tel Aviv, one of which is Astral Vision which turns theme park rides into VR attractions.
You can see the full list of 26 startups here.
Vive X companies receive up to $200,000 convertible notes or a warrant although the final amount depends on the startup's growth stage. Startups benefit from mentorship, promotional support, engineering support, connections to the Vive X network, office space and more.
25/08/2017: HTC may be looking into selling its Vive business
HTC might sell its Vive arm as part of a strategic change for the company.
The company is looking at options ranging from divesting its VR business to a full sale of HTC, according to Bloomberg.
It is said to be working with an adviser and has held talks with companies such as Google, though the search giant told IT Pro does not comment on such rumours. And HTC may be looking into either selling the Vive business or spinning it off.
One of Bloomberg's sources said a full sale of HTC is less likely "because it isn't an obvious fit for a single acquirer". They added that no final decisions have been made and the company may not make any strategic decisions at all.
HTC shares rose by 4.7% on Friday giving the company a $1.9 billion market value.
IT Pro has contacted HTC for comment.
Earlier this week, HTC cut the Vive price to 599 in the UK. All purchases are to come with a free Viveport Subscription trial where consumers can select up to five titles per month to experience.
The aim of the price cut was to make the VR device more accessible to a wider audience and to drive the VR industry forward.
In early August Neurable announced a brain computer interface for VR which uses an upgraded headband for the Vive. The device uses brain sensors and neurotechnology and Neurable hopes that in the future AR/VR companies will integrate brain sensors directly into their products.
21/08/2017: Vive gets a price cut
The HTC Vive has had a price cut and will now be599 in the UK. HTC said that all Vive purchases will come with a free Viveport Subscription trial where consumers can select up to 5 titles per month to experience, including Google's Tilt Brush, Everest VR, and Richie's Plank Experience.
Cher Wang, chairwoman at HTC, said that the new price for Vive would make it "more accessible to a broader audience" and drive "the entire VR industry forward".
According toSteam statistics, HTC Vive maintains a 60% share of access to the Steam platform for high-end VR headsets.Over the past year, Vive has maintained its lead by more than 20%, the firm claimed.
Paul Brown, GM for Europe at HTC Vive, said: "Reducing the price of Vive during a key purchasing season we believe will significantly boost VR adoption to bring in even more consumers and content creators to Vive."
08/08/2017:Neurable VP Michael Thompson has announced a brain computer interface for virtual reality, using an upgraded headband for the HTC Vive.
Users can "simply remove the elastic straps in the back and replace them with our straps," Thompson said, adding that the device is a prototype of how brain sensors and neurotechnology can be integrated with AR/VR devices.
The platform is built so that developers can make brain-controlled content for virtual reality. Thompsonsaid: "This incredible experience is made possible by Neurable's machine learning platform, which interprets your brain activity in real time to afford virtual powers of telekinesis.
"Our complex machine learning pipeline has been distilled into an SDK compatible with Unity. With the Neurable SDK, Unity developers can easily integrate brain-activity as a control input into any game."
Neurable is showcasing a VR game preview of its game Awakening, which is "a futuristic story reminiscent of Stranger Things". The game allows players to manipulate objects and battle foes with their mind, and is played entirely without any handheld controllers.
In the future, Thompson expects AR/VR companies to integrate brain sensors directly into their products."What the touch interface became to smartphones, [brain-controlled interfaces] will become to mixed reality headsets," said Thompson.
Elon Musk, CEO of Neuralink, a company dedicated to directly linking computers with human brains, hopes to make brain interfaces that will eventually replace the need for human language. Musk hopes to go further and enhance humans with cybernetic implants, and believes that humanity may have tomerge with AI to survive.
21/06/2017: HTC has signed a number of deals with leading retailers and distributors that will expand the availability of its Vive headset in the US and UK.
The company has recently formed a partnership with distributor Westcoast Retail, which will see the firm responsible for shipping Vives exclusively across the UK and EU.
"Entering the VR market is an important strategic step for us so we needed a partner with the reputation and team that can deliver a robust approach to the supply chain," said Louis Lin, HTC operations director, speaking to PCR. "Westcoast Retail is a true specialist in the field with the ability to help us fulfil the varying needs of HTC Vive customers and retailers throughout Europe."
HTC also recently announced a "large retail expansion" for customers in the US, which can now buy the Vive through BestBuy.com, Walmart.com, Jet.com and B and H.
"These retailers mark a massive expansion of our online retail presence and are a testament to VR's march toward the broader consumer market," said Dan O'Brien, GM of HTC Vive. "Interest in VR and Vive continues to grow. Paired with recent news with Apple, Google and Intel, we're seeing major retailers and direct-to-consumer companies endorse Vive as the premier VR experience."
To celebrate the expansion, all HTC Vive purchases throughout June will ship with Ubisoft's Star Trek: Bridge Crew, as well as Everest VR, Richie's Plank Experience, and one free month subscription to the Viveport app store.
HTC Vive review
After doing a full review of the HTC Vive, we found it to be slightly underwhelming. Make no mistake, the technology is still hugely exciting, but it's hamstrung by a lack of compelling experiences, aside from a handful of standouts.
It's got heaps of potential, and it's a tantalising glimpse of the future of VR, but right now, there's just not that much reason to shell out the exorbitant 700+ asking price.You canread our full review of the HTC Vive here.
HTC Vive price and release date
The launch price for the HTC Vive was $799 over $200 more expensive than the Oculus Rift, which was itself criticised for its high price point.
However, HTC dropped the UK price to 599 in August, making it "more accessible" to the market. The device is available to buy immediately through the HTC Vive's website, as well as from Currys.
"Our goal at Vive has always been to offer the best and most advanced VR system and drive mass market adoption for VR across the globe," said Cher Wang, chairwoman at HTC, when the price drop is announced. "We're continuing to deliver on that commitment with this new price for Vive, making VR more accessible to a broader audience and driving the entire VR industry forward.
HTC Vive specs and hardware
Due to its background in mobile technology, HTC already has something of a pedigree when it comes to working with the type of hardware that goes into VR headsets. Looking at the specs for the developer edition of the Vive, it's easy to see where the company's smartphone history has come into play.
The headset has a resolution of 1080x1200px, split across both eyes. It's also got a 90Hz refresh rate, which translates to a framerate 90fps. Both specs are generally on par which what we'd expect at this stage in the device's development.
The consumer version of the Oculus Rifthas a 2160x1200px display, which equates to the same resolution as the Vive when split across both lenses.PlayStation VRlists a slightly lower 960x1080 per eye display.
HTC Vive room tracking
Where the HTC Vive starts to get really interesting is in the Lighthouse technology it uses for motion tracking. Like other VR visors, the Vive uses a gyroscope, accelerometer and laser position sensor' to track the user's head movement, and to detect where they're looking.
The Vive's unique feature, however, is that it uses position tracking as well. The headset is supplied with two base stations' sensor boxes that sit in opposite corners of whichever space you're using for your VR experience.
Over a maximum area of 15 square feet, these sensors will track your physical movement, allowing you to get up, walk around and interact with the virtual world in real time. This is an innovative feature, as both Oculus Rift and PSVR offer no support for physical movement, relying instead on stationary head-tracking.
In addition to this, Vive uses a set of handheld motion controllers to allow users to realistically manipulate objects on the virtual plane. PSVR has incorporated this feature from the start of its development, utilising Playstation's ill-fated Move controller. Oculus also recently announced the Oculus Touch prototypes for the Rift, which use similar tracking and input methods.
HTC Vive games
Vive is powered by Steam VR, which is an extension of Valve's existing game distribution platform, initially developed to support the Oculus Rift DK2. As such, there's already a pretty hefty list of titles which should support the Vive on launch, as well as a few Vive-exclusive games.
The majority of the HTC Vive's launch library has been produced by indie developers, and many of the games are physics-based titles created with the Unity engine. While there are a handful of big-budget games, they're decidedly in the minority for now.
HTC Vive additional content
As with the other headsets we've seen, the HTC Vive won't just be a gaming peripheral. The company are aiming to leverage it as a total multimedia platform and have signed up Game Of Thrones network HBO, film studio Lionsgate and Google as external content partners to provide non-gaming experiences.
Steam VR: other headsets
Much like Valve's Steam Machines initiative, Steam VR will see Valve team up with multiple hardware partners in order to provide the actual devices themselves. The first and best-known hardware provider is HTC, although LG has also unveiled its own SteamVR headset.
Valve has confirmed that its goal is to see more companies using the technology. Co-founder and MD Gabe Newell stated: "We're building tools and hopefully they're valuable to hardware partners who want to do it. In some cases, we'll take the leadership role in shipping stuff. But we're really just building tools for other people to continue. So you'll see more headsets."
Current page: HTC Vive price, release date, features and specs: HTC chooses 26 new startups for its Vive X accelerator
Next Page
Get the ITPro. daily newsletter
Receive our latest news, industry updates, featured resources and more. Sign up today to receive our FREE report on AI cyber crime & security - newly updated for 2023.
Zach Marzouk is a former ITPro, CloudPro, and ChannelPro staff writer, covering topics like security, privacy, worker rights, and startups, primarily in the Asia Pacific and the US regions. Zach joined ITPro in 2017 where he was introduced to the world of B2B technology as a junior staff writer, before he returned to Argentina in 2018, working in communications and as a copywriter. In 2021, he made his way back to ITPro as a staff writer during the pandemic, before joining the world of freelance in 2022.