Nylas announces free scheduling tool for health care providers
Nylas is offering scheduling solution free to health care providers administering services to coronavirus patients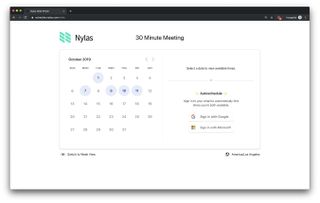 Nylas, a provider of universal communications APIs for developers, has announced it will begin offering its sought-after scheduling solution, the Nylas Scheduler, free to health care providers administering services to coronavirus patients.
"With administrative work consuming approximately 16% of a physician's working time, Nylas aims to help healthcare providers around the world increase the efficiency of scheduling resources and services in response to the global COVID-19 crisis," sais Gleb Polyakov, CEO, and co-founder of Nylas.
The Nylas Scheduler enables developers to quickly deploy an all-in-one scheduling solution on any website or application associated with an organization. Organizations can use this HIPAA-compliant tool alongside calendar services such as Google and Microsoft. Health care providers can use the Nylas Scheduler to schedule interactions with patients and physicians, and help support staff by automating time-consuming administrative tasks.
As of today, health care organizations can easily integrate the Nylas Scheduler for free into any website or application and eliminate up to 9 hours of administrative tasks per physician per week.
By using Nylas Scheduler, patients can schedule doctor visits without speaking with a staff member, and administrative staff can route patient questions to physicians based upon their availability. Additional features of the Nylas Scheduler include:
Easy scheduling of resources: Administrators can book and schedule for critical resources, such as examination rooms and equipment.
Ease of use: Nylas provides universal coverage across all calendar service providers such as Google and Microsoft.
Safe and secure: Nylas Scheduler is SOC 2 certified, Privacy Shield certified, GDPR compliant, and HIPAA and FINRA ready.
With the coronavirus pandemic putting extreme pressures on health care providers, Nylas has dedicated itself to streamlining the scheduling of critical services between patients and providers for free.
If you are a healthcare provider fighting the Coronavirus, please visit Nylas Scheduler for more information.
A daily dose of IT news, reviews, features and insights, straight to your inbox!
A daily dose of IT news, reviews, features and insights, straight to your inbox!
Thank you for signing up to ITPro. You will receive a verification email shortly.
There was a problem. Please refresh the page and try again.