Five digital transformation tips for HR
Digital transformation efforts can start from within your own department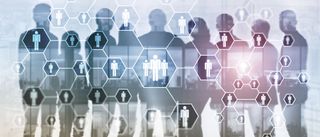 (Image credit: Shutterstock)
Digital transformation has been a hot topic for several years now, and 2020 has only accelerated the trend by forcing a huge and sudden shift in working practices and how businesses operate within their IT infrastructure. COVID-19 has forced many companies to reassess their day-to-day operations and discover new opportunities along the way.
The risk with digital transformation is in thinking that it begins and ends with the IT department. It may be the main driving force behind these changes and an obvious beneficiary of new technology and systems, but it is important that the benefits and time-saving promise of digital transformation is distributed among all departments, from finance to marketing and operations, so that no part of the business is left behind.
HR is one department that stands to profit greatly from a properly executed programme of digital transformation. The pandemic has served to highlight HR's vital importance in business continuity, as well as uncovering limitations in existing systems and making the case for digitising processes wherever possible. There are ways to drive this digital transformation in HR, independently of company-wide initiatives that may take longer to materialise.
Here are some suggestions for how to begin your HR department's digital transformation while ensuring compliance with company procedures.
RELATED RESOURCE
Connected experiences in a digital transformation
Enable businesses to meet the demands of the future
Get on board with the cloud
Moving systems and processes to the cloud can be an important first step in an organisation's digital transformation strategy, and this is certainly true when it comes to HR.
Cloud-based systems help pave the way for flexible working, cited as one of the most important work benefits by job seekers. According to the IWG Global Workplace Survey 2019, 80% of respondents said that, when deciding between two similar job offers, they would choose the one that offered flexible working. And, in the wake of COVID-19, demand for remote and flexible working is only set to increase.
To attract and retain the best talent, many companies will currently be looking at how they can enable new ways of working, including investing in flexible working. To support this, they will need robust digital systems that make HR operations possible from a distance.
The cloud can also help HR and people teams analyse global workforce data to spot trends and issues in advance, as well as understand what employees need. With regular updates, scalability and the elimination of a lot of paperwork, cloud-based systems can be very flexible, allowing HR teams to respond quickly and adapt as the company evolves.
There are many complete HR cloud software technologies available, which manage the complete core workflow of the department. Not all businesses require this level of system; sometimes, strategic systems for specific issues are more cost-efficient.
Automate routine processes
Conversations about automation tend to revolve around stealing jobs and making the need for humans redundant. But automation can actually be used to enhance the work we do if implemented in the right way, and may, in fact, end up creating more jobs than it eliminates.
Workload automation and job scheduling of routine tasks and processes frees up HR staff to focus on higher-value tasks. It can improve productivity, efficiency and reliability of staff by removing human errors, and ensuring jobs aren't forgotten or run out of sequence.
Using automation in the hiring process can also help with reducing discrimination in HR. Talent insight software can analyse the workforce composition of a company, identifying areas where diversity may be an issue. There are also tools available to sift through applications automatically, identifying the best people to take to interview stage.
Harness data and analytics
Artificial intelligence and automation are making analytics even more powerful, which in turn has benefits for HR departments. There's a current trend for IT and HR to work together on data projects, as companies are beginning to realise that growth is reliant on connecting people to the data they need to make decisions.
Cloud human capital management (HCM) software can introduce effective tools, allowing for real-time feedback and deeper understanding with predictive analytics.
Some of these data and analytics tools are giving rise to people analytics', which HR teams can use to do things like predict which of a company's top performers is most likely to leave, so preventative action can be taken.
Smart analytics are even starting to make waves in areas like workplace health. By harnessing the power of big data and smart analytics, some employers are identifying and anticipating the health needs of their employees and putting the right infrastructure in place to support their continuing productivity.
These examples may seem a little extreme at present, but being able to gather and use good data can improve HR's understanding of the workforce, and help improve employee engagement by creating better experiences.
Go paperless
Reducing the need for paper documentation and workflows does more than just save trees. Digitising paper can be the key to unlocking the potential of the HR department and should be included in any organisation's digital transformation efforts.
Perhaps most beneficial to employees is that going paperless eliminates many of the data processing delays that stem from reading handwritten data, as well as cost delays commonly incurred from having to process handwritten forms. It also eradicates human error from paper workflows: maintaining electronic files ensures that data is backed up and is accessible, meaning documentation will not be accidentally disposed of.
Digitising documentation also shores up legal security. With PDFs, user groups can be specified to ensure that only the right pairs of eyes are authorised to view certain files. The ability to utilise e-signatures ensures that all documents are signed legally, all while accelerating the process and reducing the risk of human error.
A workflow that is technically sophisticated will also help with attracting expert-talent which typically demands an agile, forward-thinking environment.
However, transformations such as this should be done in partnership with the IT department, in order to evaluate how secure and compliant a new digital workflow actually is, especially when managing personal data.
RELATED RESOURCE
Fast, flexible and compliant e-signatures for global businesses
Be at the forefront of digital transformation with electronic signatures
Collaborate across departments
When it comes to digital transformation, new processes, software and tools can benefit every department in a company. Collaborating with different parts of the business to find out what processes can be made better, and which ones are working well, can be a good way of finding ways of doing things that can work across multiple departments.
Even collaboration and communication within your own HR team can quickly bring to light frustrating tasks that can be improved by introducing digital processes.
Creating a friendly and collaborative working environment is also important when undergoing digital transformation to ensure that less tech-savvy employees don't get left behind. If they feel able to ask for help and are encouraged to learn how to work with digital tools, this will be hugely beneficial for staff engagement and retention.
Get the ITPro. daily newsletter
Receive our latest news, industry updates, featured resources and more. Sign up today to receive our FREE report on AI cyber crime & security - newly updated for 2023.
Esther is a freelance media analyst, podcaster, and one-third of Media Voices. She has previously worked as a content marketing lead for Dennis Publishing and the Media Briefing. She writes frequently on topics such as subscriptions and tech developments for industry sites such as Digital Content Next and What's New in Publishing. She is co-founder of the Publisher Podcast Awards and Publisher Podcast Summit; the first conference and awards dedicated to celebrating and elevating publisher podcasts.