British Airways flights disrupted by major IT outage
Close to 300 flights have been cancelled or delayed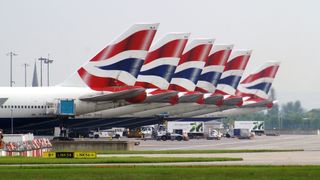 A widespread British Airways IT outage has left thousands of holidaymakers facing disruption and cancelled flights at London's Heathrow, Gatwick and City airports.
Problems seem to have started some time after 8.00am this morning, 7 August, and primarily affect internal UK flights and those to mainland Europe, although The Independent claims some flights to the USA have also been cancelled.
In total, around 100 flights have been cancelled, with a further 200+ being delayed.
The problem seems to concern BA's check-in systems, with the company reportedly reverting to manual back-up to keep at least some flights operating.
The company suffered similar disruption in August 2017 and September 2016, however, today's failure seems to be more extensive, prompting a significantly larger number of cancellations.
Steve Blow, tech evangelist at Zerto said: "The news that a systems failure has brought the summer-holiday customers of airline giant BA to a stand-still this morning might feel like dj vu. In today's world of 'always-on', no matter the length of the actual downtime, it can have a long-lasting impact and serious repercussions.
"No matter how big or small a system failure is, it's important that organisations can cope and the airline industry is notoriously ill-prepared at ensuring uninterrupted IT operations.
"The difference between being down for hours or days versus minutes or seconds is the difference between a solid disaster recovery plan and one that is outdated, barely tested or even non-existent."
In a statement to IT Pro, BA said: "We are working as quickly as possible to resolve a systems issue which has resulted in a number of cancellations and delays today.A number of flights continue to operate but we are advising customers to check ba.com for the latest flight information before coming to the airport, and to leave additional time.
"We are offering customers booked on short-haul services departing from Heathrow, Gatwick and London City today, the opportunity to rebook to another day."
A daily dose of IT news, reviews, features and insights, straight to your inbox!
Jane McCallion is ITPro's Deputy Editor, primarily covering security, storage and networking for ITPro, CloudPro and ChannelPro.
Jane joined ITPro and CloudPro in July 2012, having previously written freelance for a number of business and finance magazines. She has also covered current affairs, including the student, public sector workers and TUC protests and strikes in central London while studying a Masters in Journalism at Goldsmiths, University of London.
Prior to becoming a journalist, Jane studied Applied Languages at the University of Portsmouth.
A daily dose of IT news, reviews, features and insights, straight to your inbox!
Thank you for signing up to ITPro. You will receive a verification email shortly.
There was a problem. Please refresh the page and try again.