Government opens £1m fund to help businesswomen make most of superfast broadband
New government fund set up to challenge female entrepreneurs to grow their companies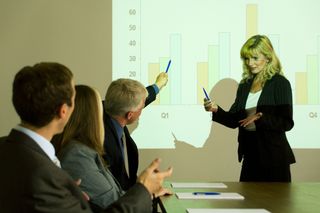 The government has announced a new 1 million fund to challenge women to grow their businesses online.
Part of the government's superfast broadband rollout, the fund hopes to help women take full advantage the opportunities that faster internet speeds can bring. Forty local projects in the UK are already delivering superfast programmes across the country, according to a government post.
"There are thousands of women running some amazing small businesses all over the UK but they still make up just a fifth of all small businesses," said minster for women Nicky Morgan.
"As part of our long-term economic plan for Britain we are determined to do everything we can to support women to start-up businesses and create more jobs and opportunities for hardworking people."
The new fund joins another 1.6 million investment into encouraging women in rural areas and providing them with mentors as well as the introduction of tax free childcare.
Female entrepreneurs can also take advantage of a 50 per cent contribution of up to 2,000 from the Growth Voucher programme to pay for help with accounting or marketing advice.
"This fund will give women the practical help needed to get their businesses online and take advantage of superfast broadband," added Morgan.
"This will include online mentors, business clubs and training courses so that women all over the county can benefit from the kinds of help Campus for Mums is giving."
According to the post on the government website, those looking to get involved should look towards the "Small Businesses: GREAT Ambition" who want to hear from small businesses entering the market.
According to an EEF survey, women now account for 21 per cent of directorships in FTSE 100 companies, a figure the government hopes will continue to rise.
"What these figures show is that we are starting to see a culture change at the heart of British manufacturing with more women now sitting at the top table," said business, women and equalities minister Jenny Willott.
"It also demonstrates that businesses are now embracing the benefits that a better balanced workforce can bring."
A daily dose of IT news, reviews, features and insights, straight to your inbox!
A daily dose of IT news, reviews, features and insights, straight to your inbox!
Thank you for signing up to ITPro. You will receive a verification email shortly.
There was a problem. Please refresh the page and try again.