GDS 'could be scrapped' after Spending Review
GDS's influence over Government IT strategy 'may diminish as departments' power grows'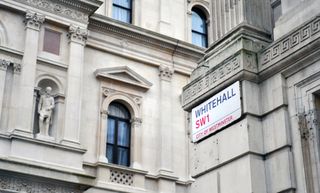 Prime Minister David Cameron today praised the Government Digital Service (GDS) as one of the public sector's "great unsung triumphs" - but Whitehall's coding arm could be broken up in a matter of months, according to a new report.
The GDS has been credited with eschewing expensive long-term outsourcing contracts in favour of hiring smaller IT suppliers, and developing more services in-house under the Government-as-a-Platform (GaaP) model.
Its achievements led Cameron to compliment the division in his keynote speech today ahead of the Spending Review, saying it challenges the view that "good business is somehow bad government".
However, that Spending Review - to be announced on 25 November - is likely to see stringent cuts to the GDS's 58 millionbudget, and a lack of high-level support for the GDS is thought to be the reason behind the recent resignation of its director, Mike Bracken, who will leave at the end of this month.
His departure prompted an exodus of GDS staffers, though most of them praised their colleagues and the government.
Now, analyst house Kable believes the GDS faces the risk of being broken apart, with its responsibilities divided up between various Whitehall departments and newly-created divisions, painting itas one of three scenarios that could play out over the coming months.
Of the other possible eventualities, one would see departments hold more sway than the GDS over the direction of government IT strategy, while the other would see the GDS lose some of its independence, yet remain in charge despite a focus on Treasury-set objectives, under head of the civil service, JohnManzoni.
Kable analyst Jessica Figueras, the author of theHolding the Centre report,told IT Pro that if departments do manage to wrestle control of IT strategy back from GDS, Whitehall would likely return to its old ways of working.
"Those issues about who's running the show are really important. It used to be a handful of departments," she said. "If that happened that would be more of a return to what used to happen in Whitehall. You end up then with a government technology strategy that is quite dominated by large departments and their own needs."
GaaP
The GDS announced its ambitious GaaP initiative in February, planning to do away with legacy IT contracts with big suppliers in favour of introducing common components that could be replicated across various departments, saying around 30 platforms could be created.
By developing these platforms in-house, government could reduce its reliance on big outsourcers, as well as avoid duplicated IT projects, one example of which led the Ministry of Justice to write off 56 million.
Over summer, the GDS released the alpha version of its Payments Platform, which will give government departments the ability to accept payments via PayPal or an Amazon-like payment function.
But Kable predicts the shape of GaaP could change dramatically from how the GDS currently envisions it, if the division is sidelined or even scrapped in favour of giving other departments more influence.
"It seems more likely that the Treasury would approve a less politically risky GaaP strategy that looked to the departments to develop common services in a piecemeal fashion, rather than budgeting for GDS to manage and deliver a single high-profile centralised programme," the report read.
And Figueras added: "The big unknown is that with GaaP, who will be allocated the budget for that? GDS's business case, their preferred option, is GDS build those components along the lines of a central service.
"But it may well be that the budgets for building those components go to the departments, and that has happened in the past, like with Government Gateway.
"The Home Office could say 'we'll be responsible for building this bit of GaaP and we'll share it with everyone', and HMRC build another bit, and say 'yes absolutely, we'll share it with everyone'.
"It seems inevitable that if you have one particular department leading on a service, that service will be developed primarily for their own needs first and foremost."
This would harm the GDS's philosophy behind GaaP, which is that these services should be built in-house and with the aim that they can be adopted by many departments, with no need to tweak the platforms to suit their individual needs.
The in-house mentality within GDSisso strong that it has even set about building its own Platform-as-a-Service (PaaS), despite many options being available in the market.
Staffing
However,the cost of building services in-house is great.
Kable estimated that one-third of the GDS's 58 million budget this year was spent on interim IT staff to fill a huge skills gap.
"The amount being spent on interim resources is extraordinary," said Figueras, who added that all departments' spending on outsourced staff is high.
But she explained that there is no other way to fill those skills gaps, because government is unlikely to fill full-time job posts for freelancers, simply because contractors won't want the roles.
She said: "Departments have been trying to move more towards in-house employed full-time staff because of course it's cheaper. But they have found it's impossible. Full-time positions in public sector just pay a lot less. It's just the reality of the market."
Within Whitehall, GDS has suffered criticism that its focus on in-house technology has come at the expense of inviting suppliers with different perspectives and ideas to take part in creating GaaP.
"There have been criticisms about GDS doing too much in-house and not using suppliers enough. It's important GDS isn't seen as the new legacy incumbent," said Figueras.
Days after Bracken announced his resignation, the Ministry of Defence signed two contracts together worth 1.5 billion with the HP-led Atlas Consortium, a group of Big IT vendors whose performance on past contracts has been criticised.
Other deals have been signed since then, but Figueras is not of the opinion that these mean GaaP will be disregarded by departments if they win power - nor that Bracken's departure deserves the significance people have attributed to it.
"What we're talking about essentially is a services-oriented architecture (SOA) programme for government - GaaP in itself follows the same direction that all very large complex enterprises have been going down for some time, so these kind of projects are in themselves almost always a good idea," she said.
In fact, the government appears to support the loose concept of GaaP, with both Cabinet Office minister Matthew Hancock expressing support for the GDS recently as well as Cameron's praise today for the division.
Additionally, while Bracken's departure surprised many people, GDS's agenda around sharing technology assets was first proposed by current Whitehall CTO Liam Maxwell in his 2010 report Better for Less, which the GDS has followed almost point for point.
Instead, what will likely determine the shape of GaaP is which departments or divisions gain the most influence over the government's IT strategy following November's Spending Review.
And interpretations will differ by department, with Camden Council CIO John Jackson even expressing his theory of a local GaaP today that would connect uplegacy systems instead of buying more and more new kit.
"GDS's strategy of seeding Whitehall with new senior people is paying dividends," Kable's report read.
"Nonetheless, each department and agency has its own unique agenda and those with strong, independent leadership such as HMRC, MoD, FCO and DfID have been able to forge their own paths to a greater or lesser extent.
"GDS's future role and powers, post-Bracken, will be crucial in determining the extent to which these departments become aligned."
Giving up in-house development for standards-setting
Nothing is likely to be decided until the Spending Review is announced, but Figueras said that while the GDS must be prepared to lose its status as Whitehall's digital driving force, it must try to retain some grip on the reins of GaaP.
"GDS could become a standards-setting team and they could have quite a lot of control over that," she told IT Pro. "No matter where the work [on GaaP] is done, the GDS must have a firm grip of the platform architecture and the standards.
"That's what's strategically important - even if suppliers develop bits of it, if the GDS can find a way to hold onto those strategic levers that's the minimum they need to do."
The Cabinet Office declined to comment on this article, but pointed to Cameron's comments today and Cabinet Office minister Matthew Hancock's blog post last month citing his support of the GDS.
Get the ITPro. daily newsletter
Receive our latest news, industry updates, featured resources and more. Sign up today to receive our FREE report on AI cyber crime & security - newly updated for 2023.