Government Digital Service gets £450m mega-budget
But will GDS remain a core part of Whitehall's IT strategy?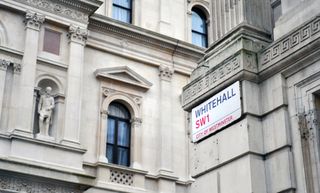 The Government Digital Service (GDS) will receive 450 million funding over the next four years, equal to 112.5 million each year, nearly a 100 per cent increase on its 58 million budget last year.
The tremendous increase was outlined in Chancellor George Osborne's Autumn Statement today and comes after wide predictions that GDS's pot of money would shrink and the body's role be sidelined by Whitehall.
Instead, the Spending Review said GDS would continue to play a key role in the government's IT strategy.
"The Government Digital Service will continue to act as the digital, data and technology centre for government, supporting departments as they transform their business operations, setting best practice and ensuring quality of services," it read.
Where will the money go?
The 450 million will underpin key GDS strategies designed to digitise more public services and increase Whitehall's digital capabilities.
GDS will focus on delivering Government-as-a-Platform (GaaP), such as projects like Gov.uk Pay, despite a lack of support for such schemes widely cited as a source of disagreement between head of the civil service John Manzoni and former GDS chief Mike Bracken.
The fact that funding has been made available for it means GDS can set about creating common platforms that can be shared by government departments, rather than each one procuring their own outsourced versions of such systems, which could lead to costly duplication.
For instance, Gov.uk Pay could allow various departments to adopt a PayPal-like payment button to speed up online transactions.
The Cabinet Office estimates this will save 1.3 billion over the course of the new Parliament.
Another area GDS will focus on is the Common Technology Services programme, aimed at allowing the civil service to purchase flexible and modern IT, expected to save 1.1 billion over the next four years.
But a key priority for GDS will be Gov.uk Verify, the government's own identity assurance programme.
The Verify scheme has been troubled with various problems, including claims it could be used to spy on users, which were swiftly denied by the Cabinet Office.
The programme is now a year into its public beta and now counts 300,000 users and 13 different government services have adopted it, with more expansion due, expected to save another 1.1 billion savings.
However, Jessica Figueras, chief analyst at research group Kable, pointed out that no GaaP projects except Pay were namechecked, and believes that most of the money will be spent on Verify.
"Whilst GaaP got a mention, the only new common platform specifically promised was Gov.uk Pay, which is already in development," she told IT Pro.
"I suspect the extra cash will be spent on transaction fees for Gov.uk Verify, which will need to be scaled up fast to support new digital services across government, rather than being used to fund GDS-led development projects. But we won't know for sure until more detail is published."
Reaction
The bolstered GDS funding comes alongside 1.8 billion new funding to be spent on digital transformation, including replacing tax returns with digital tax accounts, simplified UK trade support online, and more to be published in a Digital Transformation Plan early next year.
Industry trade body TechUK welcomed the funding, with CEO Julian David calling it "welcome evidence of the government's commitment to digital transformation".
Ovum analyst Chris Pennell told IT Pro that such investment means GDS will remain in the government's plans for the foreseeable future.
"There continues to be a need for GDS, given the Chancellor's focus on investing 1.8 billion into digital technology and transformation projects," he said.
But he added that does not mean GDS will not have any funding slashed.
"The Cabinet Office is facing cuts of 26 per cent across the back office, [and] GDS is unlikely to escape this completely," he said.
After spending four years driving digital change from outside departments, Pennell believes the momentum could shift to departments taking control of their digital directions.
"As departments have stood up their own digital teams so their reliance on GDS has waned," Pennell said. "The question of control over the spending and the future shape and capability of GDS is unclear at the moment.
"It is possible that in the future we could see GDS reduced in size and scope to focus on those programmes that cut across departments, such as the payment platforms."
Meanwhile, Figueras said the funding would not be dished out all at once by Whitehall, but more likely spread over the course of the current Parliament.
IT Pro has asked the Cabinet Office where GDS's budget increase is coming from.
Get the ITPro. daily newsletter
Receive our latest news, industry updates, featured resources and more. Sign up today to receive our FREE report on AI cyber crime & security - newly updated for 2023.