DeepMind discusses AI with the National Grid
Talks centre on how AI could manage the UK's energy supply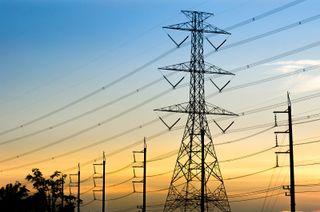 Artificial intelligence specialist DeepMind is in talks with the National Grid with the aim of increasing the efficiency at which energy is supplied across the UK.
The AI technology has already been utilised for energy conservation at Google's data centres, where it helps reduce the amount of energy needed for cooling by 40%, while increasing efficiency by 15%.
That same technology could soon be applied to the National Grid, where machine learning could help reduce the environmental impact of the supply of energy and help companies get the most from renewable sources.
"As we've said publicly for many months, there's huge potential for predictive machine learning technology to help energy systems reduce their environmental impact," said a DeepMind spokesperson, in an email to IT Pro. "One really interesting possibility is whether we could help the National Grid maximise the use of renewables through using machine learning to predict peaks in demand and supply."
While the news could be significant for the energy sector, the DeepMind spokesperson was keen to highlight that talks were in the "very earliest stages" and that no concrete proposals have been discussed. The Financial Times first reported on the possibility yesterday.
This would mark the latest industry seeking to take advantage of DeepMind's AI technology, following successful applications in the NHS. An existing partnership with London's Royal Free Hospital will see the development of a health app designed to monitor signs of kidney deterioration in patients over the next five years.
However DeepMind has faced criticism due to the comprehensive access to patient records that the deal permits, particularly as the company is entirely owned by Google. In response the company has stated it would be using technology similar to blockchain as a means of protecting user data.
A daily dose of IT news, reviews, features and insights, straight to your inbox!
A daily dose of IT news, reviews, features and insights, straight to your inbox!
Thank you for signing up to ITPro. You will receive a verification email shortly.
There was a problem. Please refresh the page and try again.