Chromebooks are the Benjamin Button of tech
While most tech ages like a bowl of fruit, Google's laptops seem more like a fine wine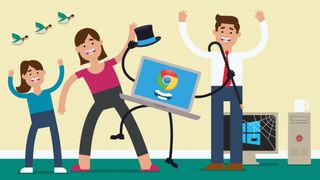 Computers grow more useless as they get older, right? It's an immutable fact, akin to the sun always rising in the east and printers "running low" on ink about eight months before they actually do.
Well, Chromebooks have utterly spun this truism on its head. About three years ago, I brought a Google Pixelbook into our home. It had a lovely screen, woke up quicker than the dog does when a firework goes off outside, and its battery lasted forever. But nobody knew quite what to do with it.
The kids preferred to do their homework on a Windows laptop, because they found it easier to work in Microsoft Word and PowerPoint than they did in Google's clunky Docs and Slides. For sofa surfing and basic email use, my iPad was more convenient to hold, and the apps gave it a huge edge over Chrome OS. Consequently, the Chromebook became an expensive ornament, left uncharged on the shelf while we got on with our lives.
Three years on, the Pixelbook is now one of the most used devices in our household. What changed? Well – incredibly – it got better. Much better. Google's online apps have vastly improved, to the point where my GCSE-chasing 15-year-old much prefers to do her homework on the Chromebook, not least because she knows she won't have to wait 20 minutes for Windows to install an update before she can crack on with dissecting Romeo & Juliet. Chromebook printer support has massively improved, too, to the point where she regularly startles me by sending something to the noisy printer in my office from the living room.
Then there's the support for Android apps that was added a year or so ago, which brings the Pixelbook much closer to the iPad in terms of utility, allowing me to quickly clatter out a message to colleagues in Slack, make a fast edit to a photo in Lightroom or use the near-desktop-quality Microsoft Office apps to swiftly update something, without having to fire up the Mac in my office.
And then there's the games. Aside from all the Android games you can now access from the Play Store, Google recently launched Stadia – a streaming service that allows you to play full-blown PC games such as Red Dead Redemption II, Destiny II or Farming Simulator (get behind the wheel of a John Deere tractor and you'll never feel so alive) from any Chrome browser.
My Saturday morning lie-ins have now been transformed. I sit for a blissful couple of hours, guiding Dulwich Hamlet to the Premier League title in Football Manager 2020, using a dead-silent laptop that barely even warms from playing a demanding game. If I did that with even my new MacBook Pro, we'd have to call the fire brigade within 20 minutes to put out my duvet.
Like the reverse-ageing Benjamin Button in the Brad Pitt film, Chromebooks are defying the laws of computing by getting better as they get older. And now they're getting cheaper, too. The new Pixelbook Go – which, colleagues assure me, has an equally sensational keyboard as the original Pixelbook, if not quite as good a screen – is now only £629 for the base model. As long-term tech investments go, I can't think of any better.
Get the ITPro. daily newsletter
Receive our latest news, industry updates, featured resources and more. Sign up today to receive our FREE report on AI cyber crime & security - newly updated for 2023.
Barry Collins is an experienced IT journalist who specialises in Windows, Mac, broadband and more. He's a former editor of PC Pro magazine, and has contributed to many national newspapers, magazines and websites in a career that has spanned over 20 years. You may have seen Barry as a tech pundit on television and radio, including BBC Newsnight, the Chris Evans Show and ITN News at Ten.