How to buy a monitor for business
How do you decide between the plethora of monitors available? By asking a few pertinent questions – and setting a budget that can't be broken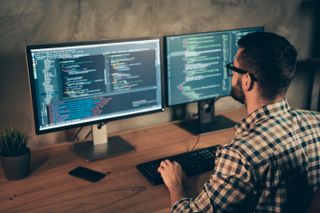 (Image credit: Shutterstock)
IT teams must know how to buy a monitor for their business in the same way they need to know how to procure laptops and software services. Every desk in an office needs a monitor because that extra slap of screen space helps to get the job done.
However, buying a monitor today can be overwhelming; there is a wealth of reputable names out there offering some of the crispest displays money can buy. But it is important to know exactly what you need, from display size to port selection, we're here to help.
Questions to ask when buying a monitor
The first place to start when looking for a monitor is size; we don't think anyone needs a 32in widescreen monitor, but it does have some benefits, particularly for those that like to see all of their spreadsheets or for looking at two different windows simultaneously. However, as one will see from most IT departments, two 24in screens work just as well – you can also use two different orientations this way.
After the screen size, you need to think about sharpness – not resolution. ITPro recommends a pixel density of above 90ppi, though you will typically pay more for that level. It's not a massive problem if it's a little beyond your budget as the human eye is surprisingly adaptive.
Port-wise, we love USB-C docking; with one device you can remove two, three, or even four cables from your desk to make that whole setup tidy. And, with USB-A ports built into the monitor, you don't actually need a power cable for your laptop – the whole thing becomes a one-cable affair.
A surprising number of monitors include support for "daisy chaining", which simply means having a video output from one monitor to a second one. Most monitors do this using a DisplayPort output, but it can work via a second USB-C port too. For obvious reasons, daisy chaining greatly simplifies cable management so is an excellent choice for dual monitor setups.
There are caveats, though. If you have a powerful laptop for tasks like programming or video editing, then it may need more than the 65W power delivery we often see with USB-C docking monitors, so if in doubt do some research to find out exactly what it needs (it could be that 65W is fine as it will just charge your laptop more slowly).
If you want a screen that stretches wider than 30 inches, you should give serious consideration to a curved monitor. It's particularly true for playing games, where curvature makes fast gameplay feel more immersive. It's no coincidence that so many modern gaming displays are curved. Note, that the number in the curvature figure refers to the radius of the circle that would be created, so 1500R equals 1,500mm or 1.5m.
How important is colour accuracy?
Few people need the last word in colour accuracy. However, we do think you should expect an average Delta E, the measure of colour accuracy, from a modern monitor, and ideally it should cover close to 90% of the sRGB gamut.
We also talk a lot about "pure whites", as that can make working on a monitor much more pleasant. Typically, 6500K is closest to what our eyes see as white, and if you will primarily be working in a word processor or spreadsheet then you will appreciate this. If on the other hand, you lean towards dark backgrounds then it won't affect you.
How important is contrast and brightness uniformity?
Eight tips for reducing screen fatigue while working from home
To an extent, brightness uniformity goes hand-in-hand with colour accuracy. In general use, we doubt most people would notice a 15% drop-off in brightness at the corners; you're more likely to notice a panel with poor viewing angles, as the perceived drop-off is more visible to the human eye.
We also recommend you don't base buying your decision on contrast ratings. For example, by their nature VA panels have much greater contrast than IPS panels but – as a rule of thumb and certainly not all the time – an IPS panel looks nicer to the eye.
What level of support do you need?
RELATED RESOURCE
The new remote work era
Trends in the distributed workforce
Monitors tend to be one of the most reliable products around. Still, failures do happen, and if you're buying for a business in particular then it makes sense to carefully check what is and isn't covered in the warranty. It's also worth looking out for whether it's advanced replacement – where you will be sent a new or refurbished screen promptly on the basis that you will send the broken one back – or a slower policy where you need to send the monitors back before they're replaced.
Many years ago, we would also advise people to check out for guarantees against bright sub-pixels, but this is no longer the big problem it used to be. It's still worth having the cover, just not a reason to reject a monitor.
Additional features
We're used to the idea of speakers being integrated into monitors – and we should emphasise that the quality varies from okay to absolutely awful – but some manufacturers are now integrating webcams into their screens as well. These, generally, tend to be a fraction better than all but the best laptop webcams.
We don't think you should make this a key part of your buying decision. If your monitor includes a USB-C connector then it will also include a USB-A port where you can plug in a far superior webcam, and if you tuck the cables tidily away then you get all the convenience and can pick a webcam of your choice.
Some monitor manufacturers also make much of picture-by-picture (PBP) or picture-in-picture (PIP) support. This can be useful for super-widescreen displays, but unless you have a particular use case, we think it's a checkbox you can ignore. Likewise features such as "flicker free" and "low blue light" are almost ubiquitous.
Where should you buy from?
If buying for a small business, and you like the cut of Dell or HP's jib, then there are good reasons to buy straight from the company. Not only might it make dealing with replacements easier, but they also sell useful extended warranties (both in terms of time and what's covered). For individuals, we suggest steering clear of Amazon simply due to the way it bundles monitors onto one page and it's not always clear what you're buying.
Get the ITPro. daily newsletter
Receive our latest news, industry updates, featured resources and more. Sign up today to receive our FREE report on AI cyber crime & security - newly updated for 2023.
Tim Danton is editor-in-chief of PC Pro, the UK's biggest selling IT monthly magazine. He specialises in reviews of laptops, desktop PCs and monitors, and is also author of a book called The Computers That Made Britain.
You can contact Tim directly at editor@pcpro.co.uk.