Why is 3G being switched off, and how long until it's gone for good?
Outdated 2G and 3G networks can be cut off and repurposed for next-generation 5G rollout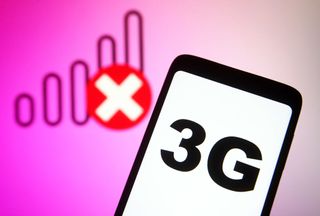 (Image credit: Getty Images)
For more than two decades, 3G has been an essential part of mobile connectivity. With the introduction of the networking standard in 2001, devices could download and upload data at faster speeds than ever before. It allowed organisations to hold proper mobile video conferencing for the first time, and empowered consumers and businesspeople alike to browse the internet on the go.
Predating the first smartphone by five years, the technology paved the way for what we have come to know as mobile broadband and continued to play an important role even as 4G and 5G entered the scene.
In recent years, however, countries have begun to shut down 3G networks in a process known as the 3G sunset, with those who haven't done so yet urged to adopt 4G and 5G instead.
Why is 3G being shut down?
The primary reason that 3G is being sunsetted is to free up resources for 4G and 5G capacity.
The move will free up teams within telcos to focus on newer architectures, allowing for greater focus on testing and development, such as Vodafone and Ericsson's network slicing trial.
Reduced network cost is also a considerable benefit of this process, as MNOs won't have to spend time and money maintaining their 3G infrastructure. With newer networks boasting more efficient energy usage, it also provides a measurable saving on energy costs for telcos.
Also on the chopping block is 3G's predecessor, 2G, even though it's relied upon for basic services in a way that 3G never was and is still used by some internet of things (IoT) devices. From legacy smart meters to diagnostic equipment, there are a few more holdouts with 2G than one might expect, which has kept the now ageing networking protocol from being axed just yet.
"3G sunset is a done deal," Ben Timmons, senior director business development at Qualcomm tells IT Pro. "2G is a bit harder, particularly in the UK because of smart meters and various other IoT devices that are still using general packet radio service (GPRS)."
What impact will it have on businesses?
If anyone is worried that crucial 3G systems could break when the 3G sunset occurs, they needn't be as very few businesses still rely on older networks for their connectivity needs. For example, Vodafone states that less than 4% of its data traffic in 2021 came from 3G – a 26% drop since 2016.
Alongside consumers shifting to 4G and 5G devices, this drop-off is driven by the fact businesses have been preparing for the 3G sunset by migrating equipment and services to newer networks.
Small and medium-sized businesses (SMBs) in rural areas, however, are more likely to be impacted by the change in the short term, as many struggle to receive adequate data under current conditions. The sunset could exacerbate the ongoing crisis in rural connectivity, with services withdrawn before fibre broadband can fill the gap they leave. Satellite broadband could be key for these remote organisations, although greater expansion of 4G and 5G network coverage in these areas will be necessary to bridge the digital divide experienced.
Where – and when – will 3G shut down?
The soonest UK businesses can expect the 3G sunset to happen is by the end of 2023, the deadline that Vodafone is working towards, while those using the EE and Three 3G networks will lose access at different points in 2024. O2 is an outlier in that it has not indicated a specific deadline, but is supportive of government sunset targets.
The UK government has stated that 2G and 3G services will cease by 2033 at the latest. MNOs may shut down networks prior to this date, particularly as continued network costs are balanced against the ongoing expansion of 5G across the country.
RELATED RESOURCE
The future of hybrid communication is calling
Modernise the way you work using Microsoft Teams with BT
Worldwide, efforts to retire 3G are continuing apace and as of September 2022, the Global mobile Suppliers Association (GSA) has identified 142 operators that have either started or completed 2G and 3G shutdowns. Of the 142, 24 had completed 2G shutdowns across 15 countries, versus 28 that had shut down 3G networks across 17 countries.
In the APAC region, things are moving at a much more rapid pace. Japan entirely abandoned 2G as far back as 2012, the same year 4G services were first launched inthe country, making 3G the country's oldest network protocol. MNOs across Singapore and South Korea, meanwhile, have all shut down their 2G networks.
In the US the 3G standard has been completely retired, as the final holdout, Verizon, ended 3G support at the start of 2023. The firm had intended to shut the network down in 2019, but twice extended the deadline to reduce disruption to its customers.
Network availability across the EU is a mixed picture, with some countries ahead of the UK on sunsetting. Germany, Italy and the Netherlands have all discontinued 3G access, and MNOs in 22 EU countries have plans to switch off, or have already switched off, their legacy networks according to data regulatory intelligence provider Cullen International.
Throughout the EU, 3G is expected to have been retired by the end of 2025, a comfortable deadline which ensures that companies and consumers within the bloc can ditch older devices for newer 4G or 5G models.
The second-largest mobile network operator in India, Bharti Airtel, sunset its 3G services in mid-2022 despite the country's 5G rollout being far from complete. It stated it was diverting focus to providing the best 4G network it can, while expanding its 5G presence, instead of maintaining legacy networks and expensive infrastructure. The company is attempting to
"We are now coming below 100 million – one of the smallest pool (sic) of 2G customers. But we can't leave them stranded," Bharti Airtel chairman Sunil Bharti Mittal told Mint.
"I would love to switch off the network and save all the investments that go in 2G but there are a large amount (sic) of customers who need to upgrade to 4G, 5G phones but for that device prices are currently prohibitive."
In the very near future, it may be hard to get a 3G signal anywhere in the world, but this loss will be far outweighed by the benefits of next-gen networking such as 5G, and eventually 6G.
A daily dose of IT news, reviews, features and insights, straight to your inbox!
Rory Bathgate is a staff writer at IT Pro covering the latest news on UK networking and data protection, privacy and compliance. He can sometimes be found on the IT Pro Podcast, swapping a keyboard for a microphone to discuss the latest in tech trends.
In his free time, Rory enjoys photography, video editing and graphic design alongside good science fiction. After graduating from the University of Kent with BA in English and American Literature, Rory took an MA in Eighteenth-Century Studies at King's College London. He joined IT Pro in 2022 as a graduate, after four years in student journalism. You can contact Rory at rory.bathgate@futurenet.com or on LinkedIn.
A daily dose of IT news, reviews, features and insights, straight to your inbox!
Thank you for signing up to ITPro. You will receive a verification email shortly.
There was a problem. Please refresh the page and try again.