Theresa May set to continue with encryption crackdown
PM pledges to push forward with controversial measures in minority government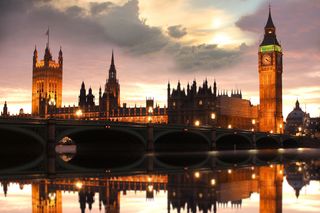 Prime minister Theresa May still appears to be seeking to implement backdoors to encryption and regulate the internet after a snap election in which the Tories lost 13 seats.
In her first speech after winning the most number of Parliamentary seats, without winning an outright majority, May hinted that despite her reduced mandate, she still plans to give greater powers to the security services.
Speaking outside Downing Street after visiting the Queen for permission to form a minority government, she said: "[Our government]will work to keep our nation safe and secure by delivering the change that I set out following the appalling attacks in Manchester and London - cracking down on the ideology of Islamist extremism and all those who support it. And giving the police and the authorities the powers they need to keep our country safe."
Thatprevious speechon the terror attacks in Manchester and London sought to blame social networks for extremist propaganda and bidded for backdoors into encryptedmessaging tools. The tech industry called her comments "lazy", "embarrassing", and "disappointing".
Meanwhile, the Tory government's draft spying plans were leaked online last month, detailing its aims to enforce encryption backdoors in tech tools as well as extensive surveillance plans.
Executive director of the Open Rights Group, Jim Killock, said it would be a "distraction" for May to push on and instigate her terror and tech crackdown.
He said: "The government already has extensive surveillance powers. To push on with these extreme proposals for internet clampdowns would appear to be a distraction from the current political situation and from effective measures against terror."
"Conservative proposals for automated censorship of the internet would see decisions about what British citizens can see online being placed in the hands of computer algorithms, with judgements ultimately made by private companies rather than courts," he added. "Home Office plans to force companies to weaken the security of their communications products could put all of us at a greater risk of crime."
Killock claimed:"Both of these proposals could result in terrorists and extremists switching to platforms and services that are more difficult for our law enforcement and intelligence agencies to monitor.Given that the priority for all MPs is how the UK will negotiate Brexit, it will be especially hard to give the time and thought necessary to scrutinise these proposals."
These changes have been a key part of the Conservative campaign and her statement is seen as a reference to new powers to regulate what appears on the internet as set out on the page 79 of the Conservative manifesto.
It reads: "We will continue to push the internet companies to deliver on their commitments to develop technical tools to identify and remove terrorist propaganda. We do not believe there should be a safe space for terrorists to be able to communicate online and will work to prevent them from having this capability."
Paul Bernal, a lecturer of Law at University of East Anglia, claimed May's plans will make the internet a severely more restrictive place: "if you stop terrorists communicating safely, you stop all of us from communicating safely," he said.
Interestingly, Bernal also highlighted how the Conservative party seemed to be committing to keeping compliant with an EU law after the UK leaves the EU; the General Data Protection Regulation, which gives people more control over their data, andwhich comes into force in May 2018.
When combining May's response with the Investigatory Powers Act, Bernal said "it looks very much like a solid clampdown on internet freedom" and that "anyone interested in internet freedom should be very much disturbed".
A daily dose of IT news, reviews, features and insights, straight to your inbox!
Zach Marzouk is a staff writer for IT Pro, Cloud Pro, and Channel Pro where he writes news articles and in-depth feature pieces primarily focused on Asia Pacific and the US. Aside from covering topics like security, privacy, worker rights, and startups, he also contributes to the IT Pro podcast and IT Pro 20/20.
After studying an undergraduate degree in Arabic and Spanish at the University of Leeds, Zach completed a journalism internship at The Argentina Independent in Buenos Aires where he wrote about the country's history, politics, and technology.
He then joined IT Pro in 2017 where he was introduced to the world of B2B technology as a junior staff writer, before he returned to Argentina in 2018, working in communications and as a copywriter. In 2021, he made his way back to IT Pro as a staff writer during the pandemic.
Contact him at zach.marzouk@futurenet.com or find Zach's thoughts (and more) on Twitter @ZachMarzouk
A daily dose of IT news, reviews, features and insights, straight to your inbox!
Thank you for signing up to ITPro. You will receive a verification email shortly.
There was a problem. Please refresh the page and try again.