iPad Air & iPad Mini 2 with retina display launch: live blog
The Apple iPad Air, the new iPad mini and a refreshed line-up of MacBook Pros have been announced.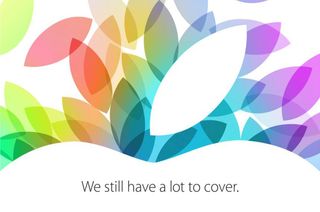 At Apple's top secret launch event the iPad Air, a new iPad mini and a refresh of the consumer electronics giant's MacBook Pro range were all announced.
Over the past few months, the IT Pro team have compiled a wishlist of features they'd like to see included on the second coming of the iPad Mini and the iPad Air, so why not take a look at our predictions and see what (if anything) we got right.
We also covered the events of the entire launch day with this live blog, so have a read through and see what went on.
7:27pm - So that's it. Apple introduced the iPad Air, the next generation of its flagship larger tablet, which will ship on 1 November. It also announced the iPad Mini with retina display, much to the delight of many, and that looks set for release towards the end of next month.
OS X Mavericks will ship today for free, and so will iWork. There's also new MacBook Pros. While we try to make sense of all this, here's what the analysts and market watchers had to say about tonight's announcements.
7.23pm - And that's a wrap, with Cook rounding off proceedings by hailing Apple's ability to innovate.
"These amazing products are great examples of the type of innovation that only Apple can deliver," he added.
"Other companies would be incredibly proud to just have one of these products."
7.21pm - The new 16GB iPad mini is available in Silver and Black, and also boasts a 5MP camera.
Pricing for the new iPad mini starts at $399 with Wi-Fi and increases to $529 for people with mobile data.
The previous generation is getting a stay of execution, and will retail at $299.
New smart covers are in the offing too.
7.17pm - Now it's time to talk about the iPad mini. There's a new one coming, folks! And this time it's got Retina display and the A7 chip. Four times faster CPU, eight times faster graphics and 10 hours of battery life. Very impressive for something so small.
7.16pm - iPad Air is going to replace the previous version of the iPad, with pricing starting at $499 for the16GB device.
7.12pm. Time to talk tech. The iPad Air is Powered by an A7 chip, the same one powering the iPhone 5S. Graphic performance has received a boost and so has CPU performance.
"You're going to feel that across so many of the things you use," said Schiller.
Opening files will be faster, Wi-Fi performance has been improved. There's a 5MP iSight camera, and 10 hour battery life.
It's available in silver, white, space grey and black.
7.11pm. It's the lightest full-size tablet in the world, according to Schiller, weighing in at just a 1lb.
7:10pm - Here's something new. Introducing the iPad Air! The bezel is 43 per cent smaller than the previous version, making it more comfortable to hold.
"To make an iPad this thin, took a huge amount of work over years," said Schiller.
"Thinner, lighter and more powerful than ever before," said Schiller, about the new iPad. I'm getting a bit of Deja Vu.
7:08pm -Phil Schiller's back now. Talking about iPad history/momentum. "Today, we think we're taking the biggest step yet...and we really want to show it to you." And we'd like to see it.
7:05pm - This is just the beginning for the iPad, reckons Cook. After three years and a half years on sale, that's a bold claim.
7.04pm - Another video now showing all the various use cases people have found for iPads, featuring a cross section of users spanning the emergency services, racing car drivers and sports teams.
7:02pm 475,000 apps on the App Store and they're being custom designed for iPad. "No one else is close to this," said Cooks.
Apple's not just blowing up smartphone apps and whacking it on an iPad, claims Cook.
7pm - It's iPad time. 170 million iPad sold earlier this month, reveals Cook. It's an incredible number, he said. Yes, Tim. Yes, it is.
"iPad is used more than the rest. Not just a little more. A lot more. It's used four times more than the other tablets put together," Cook said.
"When you make a tablet with a great experience, this is how you know."
6:59pm - We've covered the iWork for iCloud integration quite a bit in the past, but Apple's bringing new collaboration features to the software, which - again - is going to be a tick in the box for CIOs who want to embrace BYOD and enterprise social in their organisations.
You can download all this today too, and guess what? It's free!
"When you combine this [with free Mavericks], we're turning the industry on its ear. This isn't why we're doing it. We want our customers to get access to best new software," said Cook.
6.55pm - Oh, iWork. Now this is more like it. It's been treated to its biggest update ever and has been completely re-written for Mac, making it compatible across iOS and Mac devices. Got a brand new interface too. Looks very fresh and clean.
iOS version has some new tweaks, too. They include new content sensitive keyboards.
Numbers and Keynote revamped too. Office productivity obviously becoming increasingly important to Apple, which bodes well for CIOs and business users looking to embrace an Apple-centric BYOD strategy.
6.46pm - Demonstrations going on now of iMovie and Garageband. We know IT pros like to kick back from time to time, but this isn't really one for us.
6.45pm - News so far: Apple confirms OS X Mavericks will be available today as a free download, and announces release of refreshed MacBook Pros.
6.39pm - The refreshed MacBook Pro line-up has impressed the analysts.
6.35pm - Mac Pro news now. C'mon, Phil, impress us. The device has reportedly received a performance boost, and reportedly packs "an incredible amount of power into one-eighth the volume of the previous model," claimed Schiller.
This is made possible by the inclusion of Xeon E5 with up to 12 cores and two AMD FirePro GPUs, apparently.
The new system will set you back $2,999 and will be available to buy before the end of the year.
6.30pm -Now on to the 15in. Pricing starts at $1999, which is down from $2,199. In return, you get the promise of 8 hours battery life.
The 13in one is receiving a nip and tuck to make it thinner and lighter. Now weighs in at just over three pounds and is just 0.71in thick (or thin). It's got a Haswell chip and should provide nine hours of battery life. Starting price of $1,299, which is $200 cheaper than before.
6.25pm -More interesting, though. Mavericks is being given away for free. "What's more important to us is seeing Mavericks in as many hands as possible," explains Federighi.
Not only is it free, it's also available to download now. Hurrah.
"Whether you have our latest release or you're a complete laggard and you're still on Snow Leopard, you can update."
6.18pm - Some of these features we know quite a bit about, as they were announced by Apple at WWDC...You can find out a bit more about what's included in Mavericks here. Happy to help!
6.16pm -Craig Federighi, Apple's senior vice president of software engineering is here now. He's talking us through the updates to Apple's Mac OS X operating system, Mavericks. "This one's a doozy," he reckons.
The software has been completely revamped to help give users a better (and longer) web browsing experience when using the MacBook Air.
The new Compressed Memory feature has caught our attention. It compresses inactive parts of memory and can (reportedly) fit 6GB of data in 4GB of RAM.
6.12pm - The competition are having to play catch up (and so is this IT journalist, as our live feed keeps cutting out). "They chased after netbooks. Now they're trying to make PCs into tablets and tablets into PCs. Who knows what they'll do next?"
6.10pm - Cook's onto iOS 7 momentum stuff now. "Customers love the bold new redesign," Cook declares. 200 million people downloaded it within five days of its launch and it's claimed 2/3s of Apple devices are now running it. "This blows away the other guys."
6.05 pm -Meanwhile, some eagle eyed attendees claim to have spotted some iMacs being set up on stage. Was anyone expecting updates to that? We weren't. Interesting.
Cook says seeing people's response to Apple products makes everything worthwhile. That and the money people spend on them, we presume.
6.04pm - Time for some numbers. And they're impressive ones, we have to admit. Nine million iPhones sold at the end of the first weekend. It's the "BIGGEST iPHONE LAUNCH" ever, the sign behind Cook claims.
6.03pm - He's promising us "amazing products" that could only have been made by Apple. That's a relief.
6pm - And...we're...off. Tim Cook's smiling, which is a good sign.
5.55pm - Not long to go now. Journalists and analysts are all taking their seats. And, reassuringly, they all seem to be discussing the weather.
A daily dose of IT news, reviews, features and insights, straight to your inbox!
Caroline Donnelly is the news and analysis editor of IT Pro and its sister site Cloud Pro, and covers general news, as well as the storage, security, public sector, cloud and Microsoft beats. Caroline has been a member of the IT Pro/Cloud Pro team since March 2012, and has previously worked as a reporter at several B2B publications, including UK channel magazine CRN, and as features writer for local weekly newspaper, The Slough and Windsor Observer. She studied Medical Biochemistry at the University of Leicester and completed a Postgraduate Diploma in Magazine Journalism at PMA Training in 2006.
A daily dose of IT news, reviews, features and insights, straight to your inbox!
Thank you for signing up to ITPro. You will receive a verification email shortly.
There was a problem. Please refresh the page and try again.