Apple Watch 3 release date UK, price and specs: Everything you need to know
Customers are being told they need to phone EE to try and fix the problems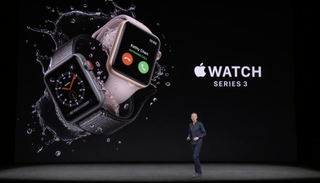 Apple Watch 3 at a glance
Is available exclusively on EE in the UK
The device has cellular connectivity, a 70% faster dual-core processor and its only 0.25mm bigger than the Series 2
watchOS 4 arrived on 19 September
Image credit: Apple
Apple Watch 3: latest news
02/10/2017:Apple Watch 3 owners have reported they're struggling to connect their devices to LTE, but the only way owners can rectify the problem is to call their operator to fix it.
The Apple Watch 3 is only available on EE in the UK and the company said that for customers to turn on the connection, they'll have to phone customer services.
However, it is advising everyone with an Apple Watch 3 that refuses to connect to do the following: "Go to the Apple Watch app on your phone and select 'Mobile Data'. If it says 'Activating' that means it's working and all you need to do is wait for it to complete. It can take up to 2 hours, but may complete quicker."
If this doesn't work though and they're presented with an error message such as, "activation failed," "Error code 019," "Error code 007," or "this account is not ready to use with Apple Watch," they're being requested to give the operator a call to try and get it up and running from their end instead.
Unsurprisingly, EE has been inundated with calls and messages about the fault and with only six people on the company's support team dealing with the issue, it may be those having problems will have to wait some time on hold before they can rectify the issue.
28/09/2017:The Twitter Apple Watch app has disappeared from the device, with Twitter instead choosing to focus on improving the way notifications appear on the Watch from a user's iPhone.
On the iTunes App Store web page, Twitter states it is no longer compatible with the watch, as reported by TechCrunch. Users who have updated to the latest iOS and watchOS have also reported that the Twitter Watch app has disappeared.
The publication reported that the app was removed following an update of Twitter for iOS (version 7.8).Twitter's watch app began crashing earlier in the week, MacRumorsreported,so Twitter may have pulled the app in order to give it an update.
A number of watch apps were removed in the first half of 2017, including those from Amazon, Google Maps and eBay.
IT Pro understands the app has been removed, but that the Watch will instead mirror iPhone Twitter notifications, enabling users to view images and other Twitter content directly on their Watch.
A Twitter spokesperson said: "We heard from people that notifications were the most helpful part of the Apple Watch Twitter experience. With this, we are focusing on supporting more robust, media-rich notifications. We are committed to providing the very best Twitter experience on iPhone, iPad, Apple TV and Apple Watch, and we'll continue to iterate and improve our apps across all platforms."
Additionally, the LTE version of the new Apple Watch has problems making phone calls and using cellular data without the presence of an iPhone nearby, it emerged last week.
Apple admitted that the watch can experience connectivity problems when it connects to open Wi-Fi networks. The tech giant hopes to release a fix in a future software update for the problem.
22/09/2017:Apple's new heart rate monitor won't work with original watch model
The next iteration of Apple Watch OS, watchOS 4, will bring a host of new updates to its health and fitness tracking app, however it has emerged that owners of the original watch series are going to miss out.
The new software upgrade will introduce a new resting heart rate monitoring feature, recently demonstrated at Apple's so-called Special Event earlier this month, but according to 9to5Mac, only users with Series 1, Series 2 and the new Series 3 watches will be able to make use of it.
The reason? The original watch series is simply not powerful enough. Newer Apple Watches received much faster chips and larger battery capacities, and even though the original model is only two years old, it's unable to keep pace with demanding capabilities.
Users have confirmed that the workout heart rate monitor is fully functional on the original watch series, however they are unable to track their resting heart rate.
It's yet another blow to the Apple marketing campaign, after it emerged that a bug in the new LTE connected Apple Watch 3 meant it's signature feature, the ability to make calls or connect to WiFi, was faulty.
Users have confirmed that other features available in watchOS 4, such as tracking cooldowns after a workout, are working on the original Apple Watch.
21/09/2017:Apple Watch LTE has problems making phone calls and using cellular data
Apple's new Watch Series 3 has experienced issues when carrying out phone calls and making use of cellular data on the device without the presence of an iPhone nearby.
Apple has admitted the watch can experience connectivity problems when it connects to open wifi networks, as reported by Reuters.
Apple spokesperson Amy Bessette told the publication that the company is trying to find a fix to include in a future software update.
A number of reviewers have experienced this problem when reviewing the new device. Lauren Goode wrote in The Verge that the watch she reviewed failed at the LTE part.
She wrote: "On more than one occasion, I detached myself from the phone, traveled blocks away from my home or office, and watched the Watch struggle to connect to LTE. It would appear to pick up a single bar of some random Wi-Fi signal, and hang on that, rather than switching to LTE."
Apple sent the publication a statement which read: "...when Apple Watch Series 3 joins unauthenticated Wi-Fi networks without connectivity, it may at times prevent the watch from using cellular. We are investigating a fix for a future software release."
IT Pro has contacted Apple for more information.
There have also been some problems surrounding the devices battery life. Betty Wong Ortiz found that the watch died just under three hours when going on a 20-mile run.
She wrote in Runners World: "I did have the GPS going inside Apple's Workout app while also using the heart rate monitor and Apple Music playlists downloaded directly to the watch. (Thankfully, I knew enough not to stream songs.) And I Bluetoothed that music directly to my headphones--all of which taxes the battery.
"The fix, according to Apple, is to switch to Power Saving Mode in the Workout app, which turns off the watch's cellular and built-in heart rate sensor during your long run; that should get you about five hours of GPS tracking."
The new device is available from tomorrow and prices start at 329. For the LTE version you will also need a cellular plan with EE who have the device as an exclusive in the UK. Buyers can buy the watch with a plan directly from the network or buy it somewhere else and add a plan to the watch afterwards.
Apple Watch 3 release date
The new device opened for pre-orders from 15 September and was available from 22 September in the US. It has launched in the UK and is available from EE.
Apple Watch Series 3 price
The Apple Watch 3 is priced differently for each model depending on how big your wrist is; it comes in the slightly cheaper 38mm version of the 48 mm version. The starting price for the former is 329 whereas the latter is 359. The price increases more if you go for the cellular version, to either 399 or 429.
Like its predecessors, there are also a number of different styles available for you to choose to suit your taste. You can choose from the space grey aluminium case with grey sport band, silver aluminum case with fog sport band, gold aluminium case with pink sand sport band and space grey aluminium case with black sport band.
If those versions don't interest you, and you don't mind splashing a bit of extra cash, then Apple has also produced two stainless steel case versions. They come in either black or white and are only available with cellular functionality. The price of this option starts at 599 for the 38mm wrist version and 649 for the 42mm version.
Still not interested? Not to worry - Apple has a couple of other styles up its sleeve. There is a stainless steel case with a Milanese loop cellular version for 699/749. The price rises to 749/799 if you want it in black.
If you want a sporty Apple Watch 3 then there's a Nike version too - it follows the same pattern as those above and the prices start at 329/399.
If you're still doubtful about the styles mentioned above, and want to go all-out, then there is a Hermes Apple Watch 3 version which costs between 1,199 and 1,399 depending on which style you choose.
Lastly, there's also white and black ceramic version starting at 1,299.
Current page: Apple Watch 3 release date UK, price and specs: Everything you need to know
Next Page
Get the ITPro. daily newsletter
Receive our latest news, industry updates, featured resources and more. Sign up today to receive our FREE report on AI cyber crime & security - newly updated for 2023.
Zach Marzouk is a former ITPro, CloudPro, and ChannelPro staff writer, covering topics like security, privacy, worker rights, and startups, primarily in the Asia Pacific and the US regions. Zach joined ITPro in 2017 where he was introduced to the world of B2B technology as a junior staff writer, before he returned to Argentina in 2018, working in communications and as a copywriter. In 2021, he made his way back to ITPro as a staff writer during the pandemic, before joining the world of freelance in 2022.