Microsoft HoloLens hands-on: Is it enterprise-ready?
Microsoft serves up a slice of the future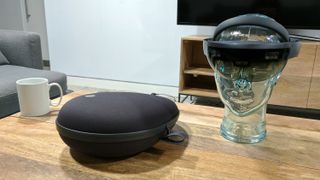 Microsoft's HoloLens headset is the company's latest moonshot; an augmented reality device designed to overlay computer-generated digital images onto the user's vision in real time.
It's been available in the US and Canada since March, but last week the company finally opened up UK preorders for the headset, and invited IT Pro to come and try it out.
First of all, let's get the obligatory disclaimer out of the way: this is not a consumer product. Yes, the company has shown off consumer applications like an AR Minecraft demo and various other games, but it's a business device first and foremost.
It's also not officially available yet. While you can preorder a HoloLens unit, they're only development kits, intended to let software creators and companies start producing apps for the headset's Windows Holographic operating system. You'll need some serious cash to get your hands on one, too - they cost over 2,700 each.
However, once you actually put it on, it's easy to see where all that money's gone. While dev kits for VR headsets like the Oculus Rift and HTC Vive looked boxy and unfinished, the build quality of the HoloLens is incredible. The headset's design and finish makes it feel like a sophisticated, premium unit - much closer to a finalised product than other early prototypes or dev kits we've seen.
HoloLens design
It's also very well-designed in terms of the weight distribution and fit. Other VR headsets have a tendency to feel front-heavy and can get uncomfortable after long periods of use, but HoloLens uses a counter-balancing system. The bulk of the unit doesn't actually rest on your head - instead, it's attached to a second concentric headband inside the main body's circumference that can be adjusted to fit the user.
With that having been said, our unit did take a bit of adjusting, and we found ourselves repeatedly fiddling with it throughout our demo session is order to reposition it for optimal fit - although this might be down to the fact that we were wearing it with glasses.
Thankfully, adjusting it is very easy and intuitive. The inner headband can be tightened with a dial on the back, while you can move the visor itself closer to or further from your eyes, and once it was comfortably seated, we didn't feel like it was in any danger of slipping off.
Rather than using dedicated peripheral devices, HoloLens features gesture and voice controls, with the primary method of interaction being the so-called 'Air Tap'. Simply point the visor at whatever you want to interact with, then pinch your thumb and forefinger together to 'click' it. Don't worry if that feels a bit too 'Minority Report' for you - it's also got Bluetooth support, which means you can connect a keyboard for traditional input.
Audio is provided via a built-in array of speakers, which provide positional sound based on the holographic object's location in the room. The accuracy is good, as is the volume - the speakers are loud enough to hear perfectly clearly, but not so loud as to overly disturb anyone else in the room.
The most impressive feature, however, is that HoloLens is totally untethered. Unlike every other high-end headset, HoloLens doesn't need a thick umbilical of trailing wires in order to function. In fact, it doesn't need to be paired with a computer at all; the unit is entirely self-contained, with all of the computation done by HoloLens' onboard 'holographic processing unit', or HPU.
This is a serious game-changer; not having to connect it to a mightily powerful PC or carve out a huge space to use it makes the HoloLens much more versatile. Because it's actually portable, employees can use it out in the field, which opens up a huge number of business use-cases.
We didn't notice the device's performance stutter or struggle at any point during our time with it - although it is worth bearing in mind that we don't have a clear indication of HoloLens' processing capabilities yet, and none of the demos seemed particularly strenuous.
Get the ITPro. daily newsletter
Receive our latest news, industry updates, featured resources and more. Sign up today to receive our FREE report on AI cyber crime & security - newly updated for 2023.
Adam Shepherd has been a technology journalist since 2015, covering everything from cloud storage and security, to smartphones and servers. Over the course of his career, he's seen the spread of 5G, the growing ubiquity of wireless devices, and the start of the connected revolution. He's also been to more trade shows and technology conferences than he cares to count.
Adam is an avid follower of the latest hardware innovations, and he is never happier than when tinkering with complex network configurations, or exploring a new Linux distro. He was also previously a co-host on the ITPro Podcast, where he was often found ranting about his love of strange gadgets, his disdain for Windows Mobile, and everything in between.
You can find Adam tweeting about enterprise technology (or more often bad jokes) @AdamShepherUK.