Connected Cloth: Your new digital epidermis
eTextiles, smart fabrics and connected clothing could revolutionise wearable tech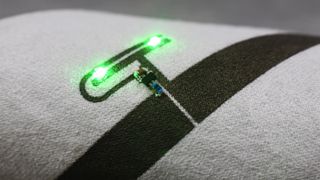 (Image credit: Powercast)
What if your clothing was intelligent? Perhaps your shirt could monitor your vital signs and report any issues directly to your doctor. The face masks that have now become part of everyday life could change colour or make a sound if they come into contact with COVID-19 virus molecules. It all sounds like science fiction, but many of the fundamental technologies that could make these scenarios a reality are all in active development.
Embedding electronics into fabrics has crossed many different sectors: Couture over the last decade has dabbled with electronics using LED lighting to give the catwalk a tech feel. Fashion designers, including Alexander McQueen, ruminated on the impending digital Armageddon thanks to the Y2K threat with his flashing LED clothing in 2000. More recent examples include a gaze activated dress that reacts when someone looks at the wearer designed by Ying Gao, and a denim jacket from Pauline van Dongen's that can give you a massage, as well as all of 'Biomedia designer' and founder of SENSOREE Kristin Neidlinger designs, which offer therapeutic, bio-responsive fashion.
Making the clothes we wear on a more day-to-day basis intelligent, though, presents many challenges. Professor Steve Beeby, who leads the Smart Electronic Materials and Systems (SEMS) group in the Department of Electronics and Computers Science at the University of Southampton, explains to IT Pro: "The eFabric market, from my perspective, is still characterised by poor levels of integration for the electronics and sensing functionality, and the reliance on traditional battery technology to power the garment. There are some interesting examples of eClothing in the fitness and elite sports sectors. However, they are expensive and still suffer from low levels of integration with the electronics themselves into the garments."
That's not to say that eFabrics are a lost cause, though. Dr Kerri Akiwowo, a lecturer in textiles at Loughborough University School of Design and Creative Arts, says an interdisciplinary approach, combining expertise from designers, engineers, technologists and scientists, is the path to commercial viability for these types of materials.
"The merging of different technologies is an exciting prospect," she says. "Duality in digital processing and integrated smart features in fabrics is attractive and offers huge potential in terms of both design and function."
New eFabrics
The focus when discussing the development of eFabrics and intelligent textiles is often on the technology being embedded into the fabric. In order to achieve this, though, the manufacturing process will need to change. Anshul Gupta, senior analyst, Gartner explains: "There are eFabrics in development. One of the main challenges is manufacturing them at scale. We have seen a range of eTextile based products from university-based research centres, but they have been unable to convert their R&D into tangible products. The products that have made it to market have been in small volumes."
Speaking to IT Pro, Connie Huffa, a textile engineer and co-owner of Fabdesigns, which developed the Flyknit shoes for Nike, explains the direct impact of these limitations on people like her.
"In our industry, we have been limited to one or two embedded wires. This is due to the textile machine manufacturers themselves only having the capability of inputting two wires into a flat-knitting machine. Embroidery is limited to one wire at a time. This is why we built our feed device so that we can make many circuits," she says.
"However, it's important to note we have a divergence in our industry. Consumer product companies want plug and play components and processes that are already tested and meet specific standards, in order to meet their 3 to 6-month development business models. This is the apparel sector with an apparel development model of rapid prototyping and very different values. Technical firms that make medical, military, hard wearables, and in the aerospace sector, typically have longer term development models of 18 months to 3 years or more, which includes their own testing, validation, stage and gates for product risks, process risks, and launch."
A fundamental component of all eFabrics is power. Advances have been made to embed sensor technology, for instance, into the weave of a garment, but all these technologies still require power. While this is a complicated issue, it may in fact be one of the easier challenges to overcome.
"When we consider how eFabrics will be powered, the weave structure of most garments is actually a good scaffold for batteries and supercapacitors," explains Southampton University's Beeby. "We are developing power technologies, but if you want to create a product, the challenges are how your eFabrics will meet practical use such as washing. The mechanical abrasion of the washing process must be solved to build a tangible product you can market."
Charging, however, may be even more simple, with Beeby suggesting "you can easily see a scenario where your wardrobe becomes the charging environment for a uniform you might wear or a 'smart' suit you have."
This was echoed by James Hayward, principal analyst, IDTechEx who comments: "All eTextiles will have some form of box filled with the electronics and the power supply to simplify matters, which has to withstand normal usage, which includes washing.
"There is research to embed the electronics into the weave that a garment is made from, but the reality at the moment is that a box of electronics needs to be attached to the fabric."
Advances are being made to resolve these issues, though. One such innovation comes from the partnership between Powercast Corporation and Liquid X. Utilising Liquid X's proprietary ink technology, manufacturers can print circuitry directly onto a garment, add Powercast's wireless power technology and a battery, and seal this all into the garment during the manufacturing process.
Smart garments
Giving the clothes we wear intelligence is the ultimate goal for the eTextiles industry. While fashion and novelty may be one use, there are more practical applications, too, notably in health.
Inroads are already being made in this area, particularly in the consumer market. Hexoskin, for example, has smart garments with built-in ECGs, pulse and heart rate monitoring. Connecting to your smartphone, you can monitor key aspects of your physiology.
IDTechEx's James Hayward comments: "Physiological monitoring in the medical sector and sports is clearly an area of development. Tracking these sectors from over the last five years, the leading sports brands were very interested in the possibilities that eFabrics could deliver, but have slowed their developments as the major challenges developing these fabrics and clothing presented themselves."
Connecting smart clothing to an ecosystem that enables real-time data communications is on the horizon. We already have fast wireless data connectivity with the wearable technologies in the marketplace. Smart garments will take advantage of future data ecosystems as they mature thanks to the burgeoning IoT sector.
"Intelligent fabrics are here to stay and will continue to infiltrate infrastructure," says Loughborough University's Dr Akiwowo. "The signs are already out there in the form of wearable displays, high-tech medical textiles, functional clothing, sensory materials, energy harvesting fabrics, phase change substrates, and thermal regulation capability, to name a few. As technology advances, so will electronic, digital and smart products. Although fragmented and yet to fully break commercial ground, the sector continues to mature. The next 10 years points to an intriguing landscape for tactile intelligence."
Equipping the clothes we wear with a level of intelligence and connectivity is some way off a mass market product you can buy from your favourite retailer. Specialist sectors such as elite sports and in some medical environments, smart eFabrics will appear in increasing numbers. For now, eTextiles are a novelty, but eventually they may well become commonplace.
Get the ITPro. daily newsletter
Receive our latest news, industry updates, featured resources and more. Sign up today to receive our FREE report on AI cyber crime & security - newly updated for 2023.
David Howell is a freelance writer, journalist, broadcaster and content creator helping enterprises communicate.
Focussing on business and technology, he has a particular interest in how enterprises are using technology to connect with their customers using AI, VR and mobile innovation.
His work over the past 30 years has appeared in the national press and a diverse range of business and technology publications. You can follow David on LinkedIn.