Virgin Media trials new digging method to cut fibre rollout costs
Narrow trenching proposals could make fibre implementation twice as fast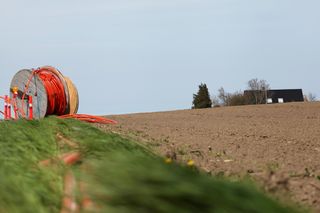 Virgin Media is to test a new style of rolling out superfast broadband that could cut costs by a third and time taken to install the technology by half.
The firm is trailing the innovation in the Cambridgeshire village of Papworth. Dubbed narrow trenching, the technique reduces the width of the trench used to lay fibre cables from around 40cm to just 10cm and enables engineers to cover up to 100m in a day, making it twice as fast as other methods.
The village will be used as a testing ground for the firm's 1Gbps service. It said that it would be in contact with eligible residents to see if they are interested in having the service.
Nicola Debnam, head of local infrastructure and street management at Cambridgeshire County Council, said the project would complement the county's Connecting Cambridgeshire partnership programme.
This aims to improve the county's digital infrastructure to encourage economic growth and ensure businesses, residents and public services have better access to digital resources.
"Rolling-out fibre broadband is a complex engineering challenge and the Council welcomes the development of the new trenching techniques such as these being trialled by Virgin Media and John Henry Group, which can help to minimise disruption to highways and the environment while improving the network," she said.
Secretary of state for Culture Media and Sport Sajid Javid welcomed the efforts of Virgin Media.
"Virgin Media's continued investment in the expansion of their network, together with Government's own rollout of superfast broadband to rural areas, is already playing a significant role in driving the UK's economic growth," he said.
Virgin Media recently announced plans to expand its network to another 100,000 homes in East London as part of its 13 billion UK network expansion plans.
A daily dose of IT news, reviews, features and insights, straight to your inbox!
Rene Millman is a freelance writer and broadcaster who covers cybersecurity, AI, IoT, and the cloud. He also works as a contributing analyst at GigaOm and has previously worked as an analyst for Gartner covering the infrastructure market. He has made numerous television appearances to give his views and expertise on technology trends and companies that affect and shape our lives. You can follow Rene Millman on Twitter.
A daily dose of IT news, reviews, features and insights, straight to your inbox!
Thank you for signing up to ITPro. You will receive a verification email shortly.
There was a problem. Please refresh the page and try again.