BT should open up dark fibre to rivals, says Ofcom
Regulator wants rivals to have more freedom using BT's data network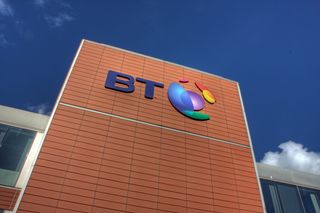 BT should open up its dark fibre network to rivals, according to Ofcom, in a bid to improve competition in the 2 billion leased lines' market.
This market provides high-speed data links used by businesses, organisations like universities, and mobile operators to transfer data on their networks.
The regulator wants to increase competition in the market as people's data usage rises through greater smartphone and tablet adoption, and as companies increasingly rely on internet services.
Under the proposals, BT would have to give competitors physical access and direct control over its fibre-optic cables, known as dark fibre because rivals would light' the cables at either end with their own equipment.
Currently, the telco giant is already compelled to offer leased line products for use by its rivals, but these are bundles of fibre-optic cables and BT's own network gear.
If Ofcom's rules are passed, it would mean rivals would no longer have to pay for BT's equipment, allowing them to create tailored, high-capacity data services using BT's cables with their own hardware.
Ovum analyst Matthew Howett said the proposal comes after years of lobbying from companies like Vodafone.
"For many years now there have been calls for Ofcom to force BT to offer a dark fibre product. Today those calls have been answered," he said.
And he added that the planned measure may "partially reassure" rivals that competition will remain even if BT becomes a quad-play offering if the regulator approves its 12.5 billion acquisition of EE.
He said: "Vodafone, for example, has been particularly vocal about the need for a dark fibre product to connect base stations and backhaul mobile traffic without fear of interference from BT.
"This is relevant since BT currently provides all UK mobile operators with high-speed mobile backhaul links."
And the move was welcomed by BT rival network provider, Colt.
Barney Lane, director of regulation at Colt, said: "It will help spur innovation and incentivise connectivity providers like Colt to roll-out new services.
"Up until now, alternative connectivity providers haven't been able to roll out new superfast fibre using the incumbent's passive infrastructure, so businesses are struggling with outdated, slow connectivity, which is holding them back."
Broadband roll out
Ofcom also wants to enforce more demanding performance requirements on Openreach as part of its Business Connectivity Market Review.
BT's network arm installs and maintains connections to BT's network on behalf of rivals, but the regulator is concerned that it takes too long to install dark fibre connections.
It claimed the average time between a customer order and the line being ready has increased to 46 working days from 40 working days in the last four years.
It wants to force Openreach to meet original deadlines in 80 per cent of cases by 2016, and 90 per cent of cases by 2018.
Jonathan Oxley, Ofcom competition group director, said: "High-speed, fibre optic leased lines are invisible to most people. But they form a critical building block in the UK's infrastructure that underpins people's personal and working lives.
"Today's proposals should help businesses across the UK who rely on high-speed data lines. We want to see more innovation, faster installations and more competition, by providing operators with the opportunity to deploy the technologies of their choice."
BT hit back at the proposals, claiming the measures would harm its network investments and risk singling out a few companies for success.
A spokesman said: "Openreach's current offer creates a level playing field and a vibrant, competitive market with hundreds of competing companies, large and small.
"Mandating dark fibre risks favouring a few companies that have the greatest capability to deploy it, to the disadvantage of all other firms.
"It will undermine investment - as a number of service providers have warned - and it would also increase costs, divert resources and add more complexity just when we're beginning to make progress on improving service."
The Business Connectivity Market Review proposals are open to consultation until 31 July, with Ofcom's final decisions not taking effect until April 2016.
Get the ITPro. daily newsletter
Receive our latest news, industry updates, featured resources and more. Sign up today to receive our FREE report on AI cyber crime & security - newly updated for 2023.