Windows 9 leak unveils OS ahead of 30 September launch
Leaked screenshots and a video of the Windows 9 Technical Preview provide early glimpse of Microsoft's next operating system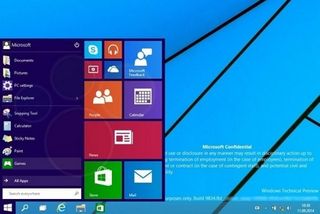 Invitations for Microsoft's September 30 event, during which the company will unveil Windows 9, have been sent out, and a recent spate of leaked videos have unveiled further details of what we can expect from the OS.
The videos come from WinFuture.deshow off several features set to be a part of the next iteration of Windows, such as the new Notification Centre, virtual desktops and the returning Start Menu.
The clips show these things in action, and confirm a lot of previous rumours about how the operating system may look and function.
Screenshots of the Windows 9 Technical Preview desktop previously surfaced online.
The images come from Computer Base and WinFuture.de, and claim to show what Windows 9, codenamed Windows Threshold, might look like when it is released to developers.
It has been widely reported that Windows 9 will attempt to merge aspects of Windows 7 and the much-maligned Windows 8, especially when it comes to the start menu, and the leaked screenshots appear to support this theory.
The decision to bring back some much-missed features will manifest itself in a classic-style Start Menu with integrated apps from the modern UI that were introduced with Windows 8.
The charms bar was also said to have been scrapped, and these images demonstrate how Microsoft may have compensated for this. In the top left-hand corner of Windows there is now a button that brings up the different options (i.e. search, share, play, settings etc.), though it appears users will still be able to bring up the charms bar if they wish.
Users can also choose to view windows in full screen mode, as per Windows 8.
The rumours pointing towards the presence of multiple desktops also appear to have been correct, with the screenshots showing a button that's function is to switch between these Workspaces' each with their own layout and collection of apps.
The notifications centre, which is where users will be able to view alerts from various apps, is also present.
The operating system is thought to be set for a 30September developer launch, becoming widely available to users in early 2015.
A daily dose of IT news, reviews, features and insights, straight to your inbox!
Caroline has been writing about technology for more than a decade, switching between consumer smart home news and reviews and in-depth B2B industry coverage. In addition to her work for IT Pro and Cloud Pro, she has contributed to a number of titles including Expert Reviews, TechRadar, The Week and many more. She is currently the smart home editor across Future Publishing's homes titles.
You can get in touch with Caroline via email at caroline.preece@futurenet.com.
A daily dose of IT news, reviews, features and insights, straight to your inbox!
Thank you for signing up to ITPro. You will receive a verification email shortly.
There was a problem. Please refresh the page and try again.