Autonomous cars to be trialled on UK motorways in 2017
Government aims to have autonomous vehicles cleared for UK roads by 2020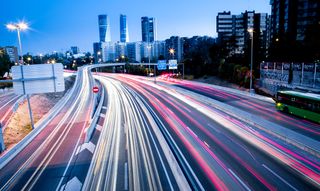 Autonomous cars will be trialled on UK motorways for the first time starting from 2017, the government is set to announce.
Chancellor George Osborne will share plans on Wednesday to test driverless vehicles on motorways and say the government will advance proposals to remove regulatory barriers to the technology, the Treasury told Reuters.
The announcement will be yet another step to towards autonomous vehicles receiving full regulatory clearance, with a new goal of the machines being fully cleared by 2020.
"Naturally we need to ensure safety, and that's what the trials we are introducing will test," Osborne said in a statement.
"If successful, we could see driverless cars available for sale and on Britain's roads, boosting UK jobs and productivity."
Autonomous lorries were mooted to be the among the first autonomous vehicles to be tested on UK motorways two weeks ago.
Driverless car trials will take place in four areas of the UK this summer: Bristol, Coventry, Milton Keynes and the London borough of Greenwich. A set of converted Heathrow pods will take part in the Greenwich trial.
Driverless car tests will be restricted to vehicles with a human driver present and able to take control should the need arise, the Department for Transport has said.
UK government has also awarded eight UK-led projects with 20 million to conduct research and development on autonomous cars and the future of roadway infrastructures.
Meanwhile, the US's highways safety agency, the National Highway Traffic Safety Administration, said there are still significant legal obstacles to be cleared before self-driving cars without steering wheels and gas pedals could be sold in the States underlining comments it previously made in a letter to Google about its self-driving AI system.
A daily dose of IT news, reviews, features and insights, straight to your inbox!
A daily dose of IT news, reviews, features and insights, straight to your inbox!
Thank you for signing up to ITPro. You will receive a verification email shortly.
There was a problem. Please refresh the page and try again.