Trump would be a disaster for innovation, say tech leaders
Tech luminaries sign open letter against Donald Trump's election bid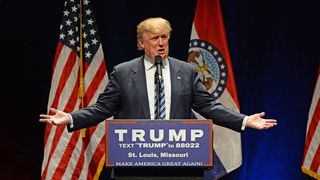 More than 140 technology leaders have signed an open letter criticising Donald Trump's candidacy for the US Presidency, saying the outspoken contender would be a "disaster for innovation".
Luminaries who put their names to the letter include Apple co-founder Steve Wozniak, Katie Stanton, CMO of Color Genomics and the former VP of Global Media at Twitter, Box co-founder and CEO Aaron Levie, Facebook VP of product design Margaret Stewart, and Tumblr founder and CEO David Karp.
The letter includes inventors, entrepreneurs, engineers, investors, researchers and business leaders.
"We believe in an inclusive country that fosters opportunity, creativity and a level playing field. Donald Trump does not," the letter, started by Stanton, reads.
"He campaigns on anger, bigotry, fear of new ideas and new people, and a fundamental belief that America is weak and in decline.
"We have listened to Donald Trump over the past year and we have concluded: Trump would be a disaster for innovation. His vision stands against the open exchange of ideas, free movement of people, and productive engagement with the outside world that is critical to our economyand that provide the foundation for innovation and growth."
The signatories criticised Trump's aggressive stance on the free movement of people, saying "progressive immigration policies help us attract and retain some of the brightest minds on earthscientists, entrepreneurs, and creators".
They said that Trump's proposal to "shut down" parts of the internet as a security strategy demonstrates "both poor judgment and ignorance about how technology works".
And they added that the candidate's own policies lack transparency: "Donald Trump articulates few policies beyond erratic and contradictory pronouncements. His reckless disregard for our legal and political institutions threatens to upend what attracts companies to start and scale in America."
The letter closes saying that the signatories want a candidate who embraces freedom of expression, openness to newcomers, equality of opportunity, public investments in research and infrastructure, and respect for the rule of law.
"We embrace an optimistic vision for a more inclusive country, where American innovation continues to fuel opportunity, prosperity and leadership."
This open letter is follows the refusal of other members of the technology community to endorse Trump and his controversial views.
In June, it embraced that Apple will reported not provide any funding or support to the Republican National Convention, citing Trump's comments about women, immigrants and minorities.
However, US entrepreneur and billionaire Peter Thiel is supporting Trump.
A daily dose of IT news, reviews, features and insights, straight to your inbox!
A daily dose of IT news, reviews, features and insights, straight to your inbox!
Thank you for signing up to ITPro. You will receive a verification email shortly.
There was a problem. Please refresh the page and try again.