MoJ wants "tech as good as you've got at home"
Ministry of Justice pushing for better hardware and up-to-date software for staff amid GDS turmoil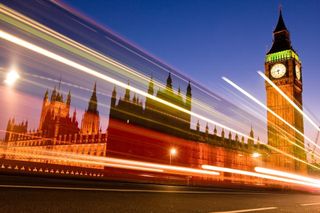 The Ministry of Justice (MoJ) wants to ditch its "creaking PCs" for tech that is at least "as good as what [staff] have at home".
Arif Harbott, the chief digital and information officer at the MoJ, detailed the department's plans to encourage better IT in a blog post.
"Employees often have super-fast Wi-Fi and the latest devices at home, but have to put up with creaking PCs and snail-paced connections in the office," he wrote. "We want to provide technology that's at least as good as what they have at home, so they can work in modern, flexible and collaborative ways."
Harbott said staff are held back by complicated security systems and "past their prime" desktops that do not let them use the latest browsers. Plus, they have no tools for messaging, video conferencing or collaboration - and they are stuck on official BlackBerrys or forced to use an "expensive encryption app".
To address that, Harbott has introduced nine principals to guide IT provisioning, including the "freedom to consider any solution", regardless of legacy architecture or contracts.
He is also calling for proportionate security, the latest software and apps, the use of cloud and collaboration tools, and choosing solutions "based on user needs".
So far, the plans have been piloted with 20 users, but have since added more of the department's staff to the programme. "We keep delivering working hardware at regular intervals, and are on track to radically improve our technology over the course of this year," he said.
The move comes at a time when government departments are pushing back against the Government Digital Service, trying to claw back more power from the centralised innovation unit, which MP Tom Watson said amounted to a "power grab" and "minor coup".
A daily dose of IT news, reviews, features and insights, straight to your inbox!
A daily dose of IT news, reviews, features and insights, straight to your inbox!
Thank you for signing up to ITPro. You will receive a verification email shortly.
There was a problem. Please refresh the page and try again.