Irish AWS data centres to be powered by 100% renewable energy by 2025
New wind farms will be capable of producing enough renewable energy to power 185,000 Irish homes per year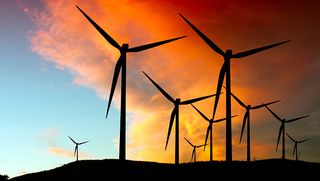 Amazon has launched a string of new sustainability projects in Ireland as part of wider plans to switch over to 100% renewable energy by 2025.
This includes the building of a new 115-megawatt wind farm in Ardderroo, Galway, which is scheduled to start operating in 2022 and will support Amazon Web Services (AWS) data centres in the country.
The announcement builds on existing sustainability projects in Meenbog, County Donegal, which will also come online in 2022, as well as in Esk, County Cork, which is to start operating in September 2020.
Amazon estimates that the three projects will add 229 megawatts of renewable energy to the Irish grid each year, helping to reduce CO2 emissions by 366,000 tonnes each year. They will also be capable of producing enough renewable energy to power 185,000 Irish homes per year, as well the powering Amazon's facilities.
The projects are said to be independent of public funding and are to make Amazon the largest single corporate buyer of renewable energy in Ireland.
The company also announced that it is the first organisation in the country to sign unsubsidised Corporate Power Purchase Agreements (CPPAs), which is a long-term contract where the end user business agrees to purchase electricity directly from a renewable generator, as opposed to a licensed electricity supplier, at an agreed price for a fixed term.
Amazon started the project in 2019 with the two wind farms in Cork and Donegal. Along with the newly-announced project in Galway, the three are to help Irish energy consumers avoid around €229 million of Public Service Obligation (PSO) subsidy costs on energy bills.
The company also shared its commitment to preserving water, announcing that, in order to cool its Irish data centres, it will use direct evaporative cooling systems which are equivalent to the yearly water usage of eight average Irish households. It also plans to further save water by redesigning the roofs of their data centres to enable rainwater harvesting.
RELATED RESOURCE
The trusted data centre
Best practices and business results for organisations based in Europe
"Our goal is to be able to cool our data centers without taking any water from the local supply," the company announced in a blog post, adding that "Amazon has built a significant presence in Ireland and we are proud to contribute to Ireland's strong international reputation as a global technology leader".
"We are even prouder to be contributing to help Ireland meet its renewable energy targets, while making our operations sustainable," the post added.
Amazon is a founding partner of The Climate Pledge, a commitment to meeting the climate goals of the Paris Agreement 10 years early – in 2040, rather than 2050 – which also includes the 2025 target for renewable energy.
However, the company trails rivals in this area. Google Cloud, for example, managed to hit its target of being powered entirely by renewable energy back in 2018.
A daily dose of IT news, reviews, features and insights, straight to your inbox!
A daily dose of IT news, reviews, features and insights, straight to your inbox!
Thank you for signing up to ITPro. You will receive a verification email shortly.
There was a problem. Please refresh the page and try again.