UK startups fly to Australia to share smart city innovations
Innovate UK's tech delegation identifies three key smart city obstacles Australia and the UK share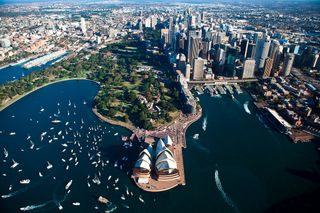 The UK government has flown 15 British startups to Australia on its latest Future Cities Mission to learn from the country's strategy to build smart cities.
The event kicked off in Sydney on Monday, with some of the UK's most agile smart city innovators looking for new business opportunities, partnerships and potential investment down under to help boost innovation on UK soil and to exchange smart city knowledge.
The British innovators in attendance included the creator of Heathrow Airport's self-driving pods, Westfield Technology Group, smart parking system JustPark and smart key-to-smartphone startup, Doordeck.
Others on the mission are: Inavya Ventures, Loqiva, Grid Smarter Cities, Open Energi, Predina Tech, Bulweria, Citi Logik Limited, SEaB Energy, Sunamp Ltd, MultiPass, Upside Energy Ltd, and Digital Node.
Innovate UK's innovation lead, James Taplin, said the body spends 500 million a year to grow British businesses, doing so in two ways:
"One through grants and loans and the other by connecting businesses, and that's essentially what this delegation is all about," he explained.
"With this entrepreneur mission, we wanted to help UK and Australian advanced urban services businesses find new collaborators and new opportunities, linking them all with new city opportunities and investment to mutually benefit everyone involved.
"We believe the greatest innovation comes from the mingling of diverse ideas in an environment that is conducive to their growth. With this mission to Australia, we aim to achieve just that."
While the goal of the event was to bring back lessons, business partnerships, investment and export opportunities to help grow businesses and ultimately bolster UK productivity, the mission began with the group of UK businesses identifying common problems in the cities of each of the respective countries.
While both Sydney and London are so far away and very different, entrepreneurs identified three key problems shared by both cities. The first was the issue of under-utilised transport services - for example, multiple car ownership that could help with vehicle sharing to ease congestion.
The second was the pressure on natural resources, for example, the social, economic, environmental and political problems associated with inefficient transportation in cities.
The third was the density of cities. This refers to the misuse of transport in reducing quality of life, for example through pollution caused by congestion.
"This kick off event has validated the idea that whilst UK and Australian cities may be half a world apart, their challenges are similar," said Taplin, wrapping up the day. "Not the exact same, but with the same core difficulties and opportunities that mean our UK entrepreneurs and their Australian counterparts intuitively understand one another and how they can each contribute to solving future city challenges. It has sparked some immediate close collaborations, and set a strong foundation for the rest of the programme."
While the event started in Sydney, it is moving onto Melbourne today, another eastern Australian cities that Innovate UK believes is a forward-thinking one in terms of its approach to smart infrastructure. Here, UK startups and entrepreneurs will meet with Melbourne's RMIT tech and research university, the city's town hall and The Australian Trade and Investment Commission, with potential investments and ideas to be exchanged in the form of effective future city innovations.
A daily dose of IT news, reviews, features and insights, straight to your inbox!
A daily dose of IT news, reviews, features and insights, straight to your inbox!
Thank you for signing up to ITPro. You will receive a verification email shortly.
There was a problem. Please refresh the page and try again.