What it takes to grow a unicorn
You need to be 34, from London, university educated and in fintech, research suggests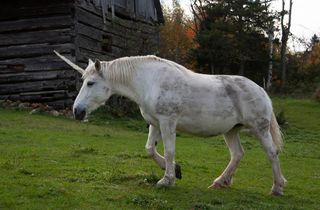 To turn a tech startup into a unicorn, you need to be 34, from London, university educated, and ideally in the fintech industry.
This is according to research from recruitment company Pareto Law, which has analysed the current crop of unicorns in the UK to find the common denominators for success.
Unicorn is a name given to a privately held business that is valued at more than a billion US dollars - the term was first coined by American venture capitalist Aileen Lee in 2013.
As the name suggests, unicorn status is hard to come by, but as of February 2019, the UK has 14 tech firms that have hit this valuation. Radius, THG, Nanopore, Brewdog, OVO energy, TransferWise, Deliveroo, Improbable, Benevolent AI, OakNorth, DarkTrace, Revolut, Monzo and Graphcore.
While this cluster of billion-dollar startups ranges from fintech to food delivery companies, and are located up and down the country, the research from Pareto Law suggests there are some common denominators for billion-dollar success.
It's research looked at a range of key facts for raising a unicorn, including the age the founders were when the business launched, how long it took to reach the status, the industry and the location.
The average age of a founder at the beginning of their respective ventures was 34 - although many on the list were much younger, such as Brewdog's two founders who were both under 24. Having a degree also proved to be a significant element in building a unicorn, with 90% of founders being university educated, and fintech businesses appear to be the most successful at securing funding, with 4 of the startups on the list being fintech based.
Unsurprisingly, London weighed heavily on the list, with eight of the companies starting life in the UK's capital. However, the oldest five - Radius, The Hut Group, Nanopore, Brewdog and OVO energy - all originated from outside London. Indeed, the oldest on the list, Radius, an internet software services firm set up in 1990, is based in Crewe, while The Hut Group is a Manchester e-commerce enterprise created in 2004.
"With the UK proving to be a powerhouse for unicorns we wanted to know exactly what it takes to become a billion-dollar business," said Jonathan Fitchew, CEO of Pareto Law.
"It's interesting to look at the growth in the UK and what's attributed to the growth of these firms. There are many similar characteristics of unicorn founders. As technology continues to become more sophisticated it will be interesting to see what the future holds and if Fintech will continue to lead the way in the industry."
A daily dose of IT news, reviews, features and insights, straight to your inbox!
Bobby Hellard is IT Pro's reviews editor and has worked on Cloud Pro and Channel Pro since 2018.
In his time at IT Pro, Bobby has covered stories for all the major technology companies, such as Apple, Microsoft, Amazon and Facebook, and regularly attends industry-leading events such as AWS Re:Invent and Google Cloud Next.
Bobby mainly covers hardware reviews, but you will also recognise him as the face of many of our video reviews of laptops and smartphones.
He has been a journalist for ten years, originally covering sports, before moving into business technology with IT Pro. He has bylines in The Independent, Vice and The Business Briefing.
Contact him at bobby.hellard@futurenet.com or find him on Twitter: @bobbyhellard
A daily dose of IT news, reviews, features and insights, straight to your inbox!
Thank you for signing up to ITPro. You will receive a verification email shortly.
There was a problem. Please refresh the page and try again.