Startups should build not sell, says ex-Google exec
Tech giant's former CFO is advising UK firms to not get caught up in the cog of big US companies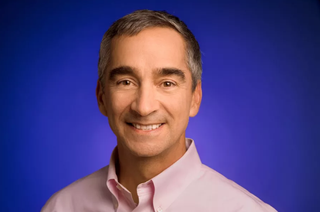 A former Google financial chief has warned UK startups to "not sell up" when big US tech firms look to acquire them.
Instead, Patrick Pichette is advising they take control of their destiny and build themselves into "true global players".
Pichette, who is also on the board for Twitter and the Trudeau Foundation, worked as CFO for Google from 2008 to 2015 and had a large role in a number of acquisitions, such as DeepMind in 2014. However, since leaving the tech giant, he sees it differently.
"My counsel is, why would you sell yourself?" he said to The Telegraph. "You'll be caught in the big cog of Amazon or Google when you could actually control your own destiny, be independent, build what you want to build."
One of the biggest UK acquisitions in recent years was that of DeepMind, which was snapped up by Google for 400 million in 2014. The tech giant purchased the London-based startup for its AI technology and research, but Pichette said there was so much potential for it to grow itself.
"And if you have the potential to become a true global player, absolutely, my counsel would be not to sell," he added. "My counsel would be to build."
At the time, Google claimed it would preserve the structure at DeepMind, keeping it separate from its operations. But, that has come under scrutiny this week after it was announced that one of its co-founders had taken leave in a mutual decision.
"Mustafa's taking some time out right now after ten hectic years," a DeepMind spokesperson said.
Pichette, who left Google in 2015, helped to orchestrate that deal, but now advises companies not to sell out early on.
This year, he became a partner for a venture capital firm in his native Canada, called Inovia Capital, which has reportedly set aside a $400 million fund for growth-stage companies and $200 million for early-stage, in the region. On top of this, Pichette has taken over as the chairman of Oxford University's venture fund and next month he is launching a new seed-stage programme to coach entrepreneurs.
"I think of myself as just the conduit," he added. "At the end of the day, when I've finished my meetings, I can go and have a good dinner right? These people go back to the office, they continue to code. They're the real heroes. I'm just chipping in."
Currently, despite uncertainty around Brexit, the UK's tech sector continues to grow, with reports of record-breaking investment. In 2018, the country managed to attract 5% of global high-tech scaleup investment, placing it fourth in the world - ahead of Germany, France and Sweden.
"The UK continues to exceed all predictions when it comes to tech growth. This report shows how the UK is a critical hub when it comes to global technology developments, with scale-up tech investment being the highest in Europe, and only surpassed by the US, China and India," said Tech Nation's CEO Gerard Grech.
This, of course, makes the UK a ripe feeding ground for acquisitions, with AI as a particular area of interest. In 2018, Facebook snapped up London-based Bloomsbury AI.
A daily dose of IT news, reviews, features and insights, straight to your inbox!
Bobby Hellard is ITPro's reviews editor and has worked on CloudPro and ChannelPro since 2018.
In his time at ITPro, Bobby has covered stories for all the major technology companies, such as Apple, Microsoft, Amazon and Facebook, and regularly attends industry-leading events such as AWS Re:Invent and Google Cloud Next.
Bobby mainly covers hardware reviews, but you will also recognise him as the face of many of our video reviews of laptops and smartphones.
He has been a journalist for ten years, originally covering sports, before moving into business technology with ITPro. He has bylines in The Independent, Vice and The Business Briefing.
Contact him at bobby.hellard@futurenet.com or find him on Twitter: @bobbyhellard
A daily dose of IT news, reviews, features and insights, straight to your inbox!
Thank you for signing up to ITPro. You will receive a verification email shortly.
There was a problem. Please refresh the page and try again.