Microsoft CEO Satya Nadella says software giant must reinvent itself
Redmond chief talks about Steve Ballmer's influence, and his plans for the future in his first interview.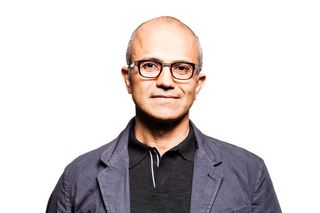 Microsoft's newly installed chief executive Satya Nadella has given his first interview to The New York Times (NYT).
During the wide-ranging chat, Nadella covered what he learnt from Steve Ballmer, the role of Bill Gates, and why Microsoft needs to re-invent itself.
Nadella claimed the biggest lesson he learnt was from his predecessor Steve Ballmer who told him to "stay grounded, and to be brutally honest with yourself on where you stand".
The Microsoft chief also confirmed he personally asked Bill Gates to take a hands on approach at the company.
"The outside world looks at it and says, Whoa, this is some new thing.' But we've worked closely for about nine years now. So I'm very comfortable with this, and I asked for a real allocation of his time," he told The NYT.
"[Gates] is in fact making some pretty hard trade-offs to say, OK, I'll put more energy into this.' And one of the fantastic things that only Bill can do inside this campus is to get everybody energised to bring their A' game. It's just a gift."
Being a 22-year veteran at Microsoft, Nadella has been there through the high points and admitted the company needs to reinvent itself to stay relevant.
"Longevity in this business is about being able to reinvent yourself or invent the future. In our case, given 39 years of success, it's more about reinvention. We've had great successes, but our future is not about our past success. It's going to be about whether we will invent things that are really going to drive our future.
"There are very few examples of even 100-year old companies. For us to be a 100-year old company where people find deep meaning at work, that's the quest," he concluded.
A daily dose of IT news, reviews, features and insights, straight to your inbox!
Khidr Suleman is the Technical Editor at IT Pro, a role he has fulfilled since March 2012. He is responsible for the reviews section on the site - so get in touch if you have a product you think might be of interest to the business world. He also covers the hardware and operating systems beats. Prior to joining IT Pro, Khidr worked as a reporter at Incisive Media. He studied law at the University of Reading and completed a Postgraduate Diploma in Magazine Journalism and Online Writing at PMA Training.
A daily dose of IT news, reviews, features and insights, straight to your inbox!
Thank you for signing up to ITPro. You will receive a verification email shortly.
There was a problem. Please refresh the page and try again.