HP-owned Autonomy inflated accounts before acquisition
According to emails presented to a court in California last week, the company was heading towards a financial "plane crash"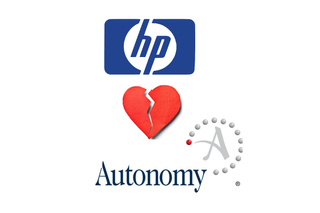 The HP-Autonomy saga has entered a new phase, with fresh details emerging of what went on at the Cambridge-based software house before the hardware giant snapped it up.
The former management team at Autonomy has been embroiled in a court case against HP for some time now, with the computer manufacturer claiming the company's founder falsified accounts to present an inflated value before acquisition.
Software company Autonomy was acquired in 2011 by HP for $11.7bn (7.16bn), but after a year of operation, revenues from the company started dropping considerably.
In 2012, HP filed action against Autonomy, citing "serious accounting improprieties" and "outright misrepresentations". In August, a settlement deal was rejected by a United States district court judge and the latest development has seen HP present evidence to the courts.
The evidence was presented by HP's lawyer Marc Wolinsky, including an email from Autonomy's finance director Sushovan Hussain to founder Mike Lynch, sent at 1.19am on 10 December 2010, three weeks before the end of Autonomy's financial year. The email read: "Really don't know what to do mike. As I guessed revenue fell away completely.
"We've covered up with bofa and hopefully db and Doi but if latter two don't happen it's totally bad. There are swathes of reps with nothing to do maybe chase imaginary deals."
'Bofa' refers to the Bank of America Merrill Lynch, one of the Autonomy's clients at the time. The panicked email was triggered by the poor performance of the company's IDOL product.
HP said in the court filings: "HP did not miss the fraud at Autonomy because it wasn't diligent enough. The problem was Autonomy executives had lied. Repeatedly."
The company is trying to settle damages claims from shareholders relating to breach of fiduciary duty by its directors, including chief executive Meg Whitman. Following the acquisition, HP was forced to write down non-hardware revenues by 24 per cent because of bad performance.
HP is also trying to file claims against Autonomy's auditor Deloitte over claims it signed off accounts filled with "misrepresentations and outright falsehoods".
A daily dose of IT news, reviews, features and insights, straight to your inbox!
A daily dose of IT news, reviews, features and insights, straight to your inbox!
Thank you for signing up to ITPro. You will receive a verification email shortly.
There was a problem. Please refresh the page and try again.