Things to see and do in Dublin
We explore what Dublin has to offer business travellers in the third of our City Guide series...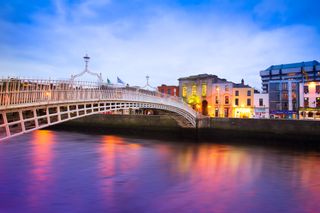 Why Dublin?
Dublin is a busy city filled with things to do, but it is also a small city that's easy to get around, thanks to an array of transport possibilities including taxis, buses, and a rail network.
Ireland's capital city is a hub for business, and holds many international conferences. Due to this, the city is home to dozens of top hotels, as well as a variety of accommodation options in many budget ranges.
Even more than holding conferences, Dublin is now a European headquarters for many major corporations including Facebook and Google.
However, Dublin is so much more than just a great business location. The city boasts an amazing and unique culture, and year round Dublin is buzzing with activity and creativity.
Whether it be the live music, the galleries, the theatres, or the museums, there is a little something for everyone.
How to get there
Dublin Airport serves both domestic and international flights. It is located just about 10km from the city centre.
Planes fly daily to the major European and UK cities from the airport, which serves 57 airlines and has 175 different routes.
Once you have arrived in Dublin there are multiple options from the airport to your destination. If you are travelling to the city centre then the Airlink shuttle is a great option. The bus picks up right outside the arrivals doors, and you can pay the driver when you get there. It is 6 for a single trip ticket and 10 for a round-trip ticket. The ride should last about half an hour.
Aircoach is an alternative that goes to all of the major hotels. To take the Aircoach it costs 7 for a single trip ticket and 12 for a round-trip ticket. If you don't want to pay as much as the Airlink shuttle and the Aircoach cost then you can take a standard city bus for a much cheaper fee of 2.80.
As always, another option is to simply take a taxi. It is a quicker alternative, but will be more costly. If you are going to one of the main hotels in the city centre then it will cost about 20 to 25. This doesn't include the tip if you would like to tip your driver. Make sure to ask about how much it will cost to get to your destination beforehand. You will find the taxis queuing up outside the airport once you exit the building.
Getting around
Buses
Unlike many other major cities Dublin does not have a metro, making their buses one of the main types of transportation for getting around the city.
These double-decker buses are blue and yellow for the most part. Many of them start in the city centre, but there are buses in other locations with shorter routes. If the bus says that the destination is to "an lr" it means that the bus is headed to the city centre.
Bus prices start at 1.80 and you pay the driver once you get onto the bus. Try to have exact change with you because you will not get change back whilst on the bus. If you would like to retrieve your change you will have to go to the central office in the city to pick up the change that is labelled on your ticket.
Another way to pay is by buying a Leap card. A Leap card is a plastic card that you can top up when you run out of funds. You hold your card against the machine on the bus and it takes the cash from your card. You can buy a Leap card either online or once you get to Dublin in many shops throughout the city.
Taxis
There are taxi stands located throughout the city. The initial charge for a cab is 4.10 and the fare goes up about 1.03 every kilometre for the rest of the trip. Make sure the meter is on once you get in the cab.
As opposed to finding a cab at a taxi stand or hailing one on the side of the road, you may want to call for one ahead of time. This could cost up to 2 extra, but then you will be assured that you have a taxi to pick you up.
Trains and trams
Dublin has two major railway systems: the DART electric railway and the Luas trams. The DART railway stands for Dublin Area Rapid Transit. This electric rail runs through the city centre, but also connects with other, more distant, locations such as Dun Laoghaire, Howth, and Dalkey to name a few.
The Luas tram, otherwise known as the Dublin Light Rail System, runs two lines in the centre of the city. It goes to many of the main sights such as O'Connell Street, the Guinness Storehouse, and St. Stephen's Green.
Leap cards work on these buses, but tickets can also be bought at the Irish Rail Travel Centre.
Single tickets for the DART start at about 2.15 and can go all the way up to 4.70 depending on your destination. The Luas ticket fees range from 1.70 to 2.90 depending on the zone you are traveling to.
Should I tip?
Tipping in Ireland is courteous, but not expected. If you feel that you have received particularly good service then feel free to tip, but otherwise do not feel that you have to. Some of the services that people often tip in Ireland are: restaurant staff, hotel staff, taxi drivers, and tour guides. Bartenders are generally not tipped.
If you would like to tip then there are different acceptable amounts for different services. If you would like to tip the staff at a restaurant the typical amount to tip is 10 to 15 per cent of your bill. However, be careful to look out for a service charge on your bill.
There are a few different people that are generally given tips if you would like to tip your hotel staff. These people are: doormen, concierges, and housekeepers. The doorman will usually get about 1, the concierge will get about 2 if they help you with a particular service, and the housekeepers should get 1-2 per night. These are just some of the typical tip amounts, but how much you choose to tip is up to you discretion.
People do not generally tip cab drivers nowadays. If they have been exceptionally helpful then they will usually get a tip between 5-10% of the total, but for the most part people just round their totals up a Euro and tell the driver to keep the change.
Tour guides may also be tipped. When visitors have found their tour to have been especially enjoyable or their tour guide to have been especially helpful they usually give a small tip.
Get the ITPro. daily newsletter
Receive our latest news, industry updates, featured resources and more. Sign up today to receive our FREE report on AI cyber crime & security - newly updated for 2023.
Get the ITPro. daily newsletter
Receive our latest news, industry updates, featured resources and more. Sign up today to receive our FREE report on AI cyber crime & security - newly updated for 2023.
Thank you for signing up to ITPro.. You will receive a verification email shortly.
There was a problem. Please refresh the page and try again.