Budget 2016: Northern Powerhouse rhetoric 'fails to inspire confidence'
Start-ups react to Budget 2016 announcements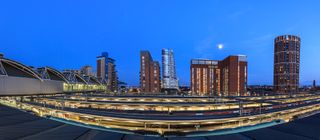 Start-ups remain sceptical of the creation of a Northern Powerhouse following Chancellor George Osborne's 2016 budget announcement yesterday, according to one York-based entrepreneur.
Osborne said yesterday: "I said we would build the Northern Powerhouse - we've put in place the mayors, we're building the roads, we're laying the track. We're making the Northern Powerhouse a reality and rebalancing our country."
However, Michael Gould, CTO and founder of enterprise cloud company Anaplan, based in York, said the idea is not progressing much beyond its existence in government rhetoric.
"Despite much discussion, there still remains a level of scepticism of whether the 'Northern Powerhouse', laid out by the government in 2014, will ever become a reality," he said.
"Talking from a technology perspective, the recent resignation of the head of Tech North [Claire Braithwaite] doesn't help the cause, but companies, city councils and central government need to work together to advertise the region as a great place to live and work."
Braithwaite stepped down from her position earlier this year after just six months in charge, and her departure was followed by the organisation's head of skills and talent, Coral Grainger, and community engagement and partnerships manager, Paul Lancaster.
Lawrence Jones, CEO of Manchester-based hosting provider UKFast, told IT Pro at the time that it was "ludicrous that a body like this should have to be accountable to a London-centric narrative".
Gould said the north could help cement the UK's position as a technology hub within the EU, adding that transport networks, broadband and greater collaboration between regions will also boost the nation's standing and help these areas to grow.
He said: "Ease of connection to the established hubs of London and mainland Europe are vital but equally, it is important to encourage the free flow of talent between companies across northern districts like Manchester, Leeds and York. Competition for and the exchange of talent across the region can only further the development of each hub."
"The UK is a driving force in Europe for the adoption of digital technology and the north can play a major role in this," he added.
SMBs
Elsewhere in the 2016 budget announcement, Osborne announced that UK SMBs would be subject to a reduced corporation tax, in a bid to help the UK's various tech hubs to grow.
Erki Kert, CEO of credit-scoring site Big Data Scoring, said: "The government has further acknowledged the valuable contribution tech start-ups make to the UK economy with its pledge to reduce corporation tax for SMBs. The UK has cultivated a hub of technology innovation in London that attracts talent from all over Europe.
"This fast-growth sector creates jobs and is making positive contributions to the economy. As CEO of a European tech company that's moved to London I welcome this move, along with Osborne's support for staying in the EU. As it stands, EU membership brings companies especially those in the technology space an increasingly coherent set of regulations that unify business opportunity in the digital world."
The government will also create a 5G strategy in 2017, Osborne revealed, along with plans to trial autonomous cars on UK roads next year, building a designated 'connected corridor' between London and Dover.
A daily dose of IT news, reviews, features and insights, straight to your inbox!
Caroline has been writing about technology for more than a decade, switching between consumer smart home news and reviews and in-depth B2B industry coverage. In addition to her work for IT Pro and Cloud Pro, she has contributed to a number of titles including Expert Reviews, TechRadar, The Week and many more. She is currently the smart home editor across Future Publishing's homes titles.
You can get in touch with Caroline via email at caroline.preece@futurenet.com.
A daily dose of IT news, reviews, features and insights, straight to your inbox!
Thank you for signing up to ITPro. You will receive a verification email shortly.
There was a problem. Please refresh the page and try again.