Do all businesses need a CIO?
Companies come in various sizes, from various sectors, but do they all need an IT leader?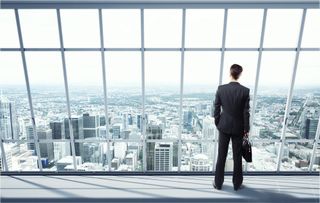 "There has never been a better time to be a chief information officer (CIO) or work in IT," the global CIO of Telefonica, Phil Jordan tells IT Pro.
Indeed, IT is more critical than ever to businesses, and the person usually tasked with managing the IT strategy, is the CIO, according to the Harvey Nash/KPMG CIO Survey 2016.
The same survey found that in 2016, 34% of CIOs report to the chief executive, up from only 13 per cent in 2009. This is a clear indication of the growing strategic nature of the role CIOs had previously reported to the CFO, but are now thought of as an equally important part of many businesses.
The biggest change, at least in the last few years, is that many companies are undergoing digital transformation programmes, which don't only affect the IT department, but every single function within the business.
Add to this the influx of cloud services, the growing importance of data and analytical capabilities, and the critical nature of IT security and it is no wonder than businesses are searching for someone to shape all of these elements into a workable strategy.
"Of all the executives at a company, an innovative modern CIO is in the best position to drive digital transformation seamlessly," says Kevin Hansel, CIO at Sailpoint.
Going without a CIO
While the rise of the CIO appears to be happening across most sectors from manufacturing to not-for-profit organisations there seem to be some notable exceptions.
"We have seen some declines of CIO numbers in the technology sector and advertising. In our view this isn't because IT leadership is becoming less important in these sectors; it is just expressing itself in a different way," explains Michelle Smith of Harvey Nash. "These sectors, both undergoing significant disruption, appear to be employing more chief technology officers (CTOs) and chief digital officers (CDOs) in addition to CIOs."
Other sectors, such as healthcare and education, where perhaps CIOs haven't been as prevalent in the past, are looking to CIOs too.
"If you look at the amount of innovation within healthcare, telemedicine and digital healthcare records a CIO is a must. Even education, where one would think a CIO may not be required, has seen pressure to innovate and cross the digital era with online education, mobile devices and collaboration," says Paul Calatayud, CTO at FireMon.
But there is a reluctance among some businesses to hire a CIO or indeed a technology leader. Some of this can be down merely to affordability. Small-to-medium sized organisations may struggle to attract candidates with the required skill set to be an IT leader within an organisation because the pay package they can offer doesn't match up to candidates' expectations. This could lead SMBs to give this opportunity to someone who already works at the firm who has a good level of technical expertise, so that they can combine their existing role with that of an IT leader.
Start-ups may also struggle to hire a CIO for the same reasons, but many of them do have CTOs at an early stage because their business is either based on or requires sophisticated technology.
Meanwhile, larger enterprises that may have had a CIO or IT leader in the past could be reluctant to go down that route again, because they were associated with an IT department that had a reputation of being expensive and slow to deliver, according to Hansel.
"Many business leaders today are hesitant about the CIO role, because they do not want to bring back many of the 'old' IT practices that they believe would slow down business growth," he says.
However, he adds that those companies that 'moved away from IT' are now finding that they have lost a lot of the strategic business alignment and process discipline that IT previously provided.
He suggests that without an IT leader that can map out this strategic roadmap, firms could end up with an unwieldly technology and security environment that can, ironically, impede the growth of the business.
As well as the strategic element of the role, Capital One Europe CIO Rob Harding explains that an important part of the CIO's job is to look at what new technology trends are valuable to the company and what skills would be required to exploit these effectively.
"I've seen that with our journey to the cloud; it takes some time to invest in your current workforce to train them up and to bring new talent into the organisation. These things aren't typically things you can start doing tomorrow, so I think there is a need for a CIO role for a long time to come," he states.
"There is a need for a figure-head to make sure the technology group is constantly evolving to meet the needs of the organisation ... If you federate it out completely you will lose cohesion," he adds.
Telefonica's Jordan says that he doesn't believe every organisation needs a CIO, but he says business leaders who understand technology and the positive disruption it can bring are essential.
"Every business that wants to survive this digital revolution needs technology leadership. Leaders that understand their business end-to-end, leaders who can see the positive disruption technology can bring and who are brave enough to adapt their business model and value proposition and operations.
"I think that is the DNA of a great CIO but it doesn't matter what you call it, just get one," he states.
Although it could be possible for organisations to have experts who can look after different aspects of technology within the organisation be it the data analytics capabilities, cyber security needs, or the DevOps environment there needs to be someone who can tie all of these elements together as well as understand the requirements of other business departments. The role isn't merely about 'keeping the lights on' and hasn't been for many years; it's about ensuring that the business in hand has a competitive advantage, by exploiting numerous technologies in a strategic way. For now, the CIO role is still the top IT job and businesses increasingly need someone to fill that role.
Get the ITPro. daily newsletter
Receive our latest news, industry updates, featured resources and more. Sign up today to receive our FREE report on AI cyber crime & security - newly updated for 2023.