Science Museum walks children through the rich history of mathematics
Exhibition highlights real world examples of mathematical achievements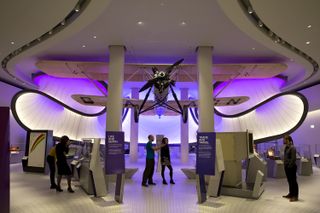 A mathematical gallery has opened as a permanent exhibit at London's Science Museum, designed to drive up interest in STEM subjects through a range of historically significant artifacts.
The new exhibit, titled Mathematics: The Winton Gallery, houses a host of groundbreaking pieces from across the fields of science, engineering, maths and technology, to help demonstrate real world examples of mathematics.
Designed using the concept of air displacement, the gallery is built around the Handley Page 'Gugnunc' aeroplane, which is flanked by distorted sculptures. The effect gives the impression that the groundbreaking aerodynamic plane, built for a competition in 1929, appears to cut through the air towards the entrance of the exhibit.
The Winton Gallery, which holds more than 120 exhibits, is the first of a number of ambitious projects that will transform more than a third of the museum by 2019. Developed by Zaha Hadid Architects, it is the first project to open in the UK since the death of Dame Zaha Hadid in March, a global name in architecture famous for the London Aquatics Centre and the Guangzhou Opera House in China.
"Hopefully generations of school children will have Thursday morning double maths lessons relieved by that rare experience of a maths field trip," said David Harding, CEO of investment firm Winton, and principal funder of the gallery.
"Maths has been very important to the success of my company and to the success of the British economy generally. Hopefully this exhibit will help inspire people and reduce their fear of maths."
The Science Museum has partnered with Samsung and software developer MathWorks to help bring together some of the most iconic real world examples of mathematics, spanning architecture, trade, computing, medicine, and even oceanography.
These include a 1934 model of Alan Turing's Enigma machine, designed to resist advanced code breaking techniques, and Charles Babbage's difference engine.
A previous Science Museum exhibit on maths that opened in 1975 failed to generate enough interest in the subject for those not currently in the field, according to David Rooney, lead curator of the new Winton Gallery.
"It was good for those already in the field, but missed a wider cultural problem, which is that maths has always been at the heart of everything we do," he said. "The gallery is about the role that mathematics has played in shaping, and being shaped by, some of most fundamental human concerns."
Rooney, who also worked on the award-winning 2012 exhibition Codebreaker: Alan Turing's Life and Legacy, believes confidence in mathematics is at an all time low, as for many a sense of failure dominates people's attitudes towards the subject.
However, "visitors are interested in the tangible real world impacts of mathematics and the connections between maths and their lives," added Rooney. "This is where the museum has a unique advantage - this is what the gallery is all about."
The Wisard Pattern Recognition machine
A 1987 version of the first ATM developed by IBM is also on display, as well as the Wisard Pattern Recognition machine built in 1981, able to identify faces and objects, which helped to pave the way for modern day machine learning.
"What we want is for children to look at these objects and think 'wow', there's something to this," said Chris Hayhurst, consulting director at MathWorks.
"That is one of the core things that this gallery does, it shows some really engaging things and allows children to see weights and measures from around the world. It lets them see that mathematical problems have been going on forever."
The Science Museum has also partnered with MathWorks to help deliver STEM based support for teachers, including plans to develop simulations of exhibits for use in the classroom.
"The next step is to provide teachers with curriculum materials that allow them not just to have a one day visit, but have a term's worth of exploration triggered by this gallery," added Hayhurst. "The Science Museum and MathWorks are both developing curriculum materials, and we have created three simulations already of objects in the gallery, to inspire the next generation of learning."
PDP-8 'Minicomputer' - widely used in science and medicine
The computing section of the gallery contains MATLAB 1.3, mathematical software developed by MathWorks in 1985, as well as the PDP-8 minicomputer, considered the first 'practical' computer due to its relatively small size.
The Science Museum also announced a partnership with Samsung to 'digitise' museum objects using VR and 3D scanning, allowing users to experience immersive story telling. The scheme, known as Digital Lab, will launch in 2017, providing public events and private 'Hack Days' using Samsung Gear headsets, as well as online VR experiences.
Mathematics: The Winton Gallery is a free permanent exhibit open daily from the 8 December 2016 between 10am and 6pm.
All pictures courtesy of Nick Guttridge and the Science Museum
A daily dose of IT news, reviews, features and insights, straight to your inbox!
A daily dose of IT news, reviews, features and insights, straight to your inbox!
Thank you for signing up to ITPro. You will receive a verification email shortly.
There was a problem. Please refresh the page and try again.