UK tech sector boasts £7bn investment, but Brexit challenges loom
Tech City UK report reveals high digital wages, but also a need to navigate EU exit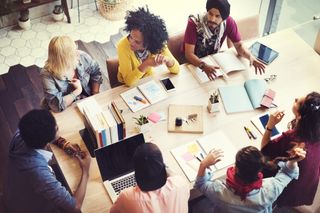 Digital salaries in the UK are nearly 50% higher than the national average, while tech sector investment is more than double that of European rivals, according to government startup quango Tech City UK's latest annual research.
Tech workers can expect to earn 51,000, 44% higher than the national average, according to Tech City UK's Tech Nation 2017 report, while investment from venture capitalists (VCs), government and other sources amounted to 6.8 billion in 2016, much higher than France, the nearest rival with 2.4 billion.
Jobs in the tech sector numbered 1.64 million in 2015, according to the quango's research, which in part relied on Business Structure Database figures from 2015, meaning some of the data, including some jobs figures, does not account for the impact of the Brexit vote.
However, that data charted a 22% rise in digital sectors' turnover between 2011 and 2015 to hit 170 billion, with its contribution to the economy growing by a third over the same period to reach 97 billion.
"Tech Nation 2017 gives the clearest indication yet that the UK possesses unrivalled digital tech specialisms. The digital economy is growing twice as fast as the wider economy, with an economic output of close to 100 billion per year," said Eileen Burbidge, Tech City UK chair, and Gerard Grech, Tech City UK CEO, in a foreword to the report.
Citing statistics from PitchBook, a database tracking VC, private equity, and M&A activity, Tech City UK also found that the UK tech sector received 6.8 billion in funding over 2016, a period in which Britain voted to leave the EU.
While 2.2 billion of that money was invested in London firms, 4.6 billion boosted firms elsewhere in the UK.
London's annual digital turnover was more than four times as high as the next most productive though, hitting 56 billion compared to Reading's 12.5 billion. However, other regions experienced high year-on-year growth in turnover, with Dundee recording 171% growth, Sunderland 101% growth, and Bristol and Bath 87% growth.
"What really excites me most is the incredible growth tech is delivering across the whole of the UK," said Julian David, CEO of tech industry trade body techUK.
"In 2016, 68% of digital tech investment was outside London, showing tech is leading the kind of balanced economic growth the country is in need of. The government's Industrial Strategy wants to promote growth across the UK and support local clusters it's clear that tech is leading the way so an Industrial Strategy for tech is an industrial strategy for the whole economy."
Tech City UK's report also mentioned Brexit without focusing on it admitting that its 2,700 survey respondents, who also informed the data, "were unequivocal" about the need to keep strong access to EU skills talent and outside investment as the UK leaves the union.
Intel Security's EMEA CTO, Raj Samani, said that while he welcomed the growth in digital skills, the UK must improve its ability to grow its own talent, with a Global Information Security Workforce Study conducted last year pointing to a 1.5 million-strong cybersecurity skills gap worldwide by 2020.
"The truth is that traditional education is not preparing individuals for cybersecurity jobs," he said. "In addition to redirecting the curriculum to focus further on cybersecurity, we need to look beyond higher education to train people for the profession in order to keep up with the growth rate of digital jobs."
The report added that respondents had stressed the need for a way forward balancing the UK's exit priorities with the tech industry's reliance on foreign talent. It read: "As the UK begins the process of leaving the European Union, the tech sector has highlighted the importance of being able to recruit highly skilled staff from the EU and around the world.
"Businesses have made several suggestions for action in this area and the government and the tech sector should work closely together to find the right approach for both non-EU and EU immigration. Tech City UK continues to work closely with the Home Office in order to help ensure that the UK continues to attract tech talent from all over the world."
Prime Minister Theresa May has ruled out the possibility that the UK will retain single market membership, and Brexit ministers are allegedly trying to push a view that leaving the EU with no trade agreement, a situation in which the UK would fall back on World Trade Organisation rules, would be workable, according to the Guardian.
TechUK's David said: "With Article 50 being triggered next week, the report shouts loud and clear that tech should be a priority in the Brexit negotiations. TechUK has been working productively with government so that they know what is needed for our digital economy to continue its meteoric rise.
"We'll need continued access to international talent, a watertight agreement on UK-EU data flows and continued support for research and innovation in the UK."
A daily dose of IT news, reviews, features and insights, straight to your inbox!
A daily dose of IT news, reviews, features and insights, straight to your inbox!
Thank you for signing up to ITPro. You will receive a verification email shortly.
There was a problem. Please refresh the page and try again.