Lenovo: Chromebooks are winning over the enterprise
Lenovo says no-one's doing BYOD, and Windows 8 has hurt Microsoft's device strategy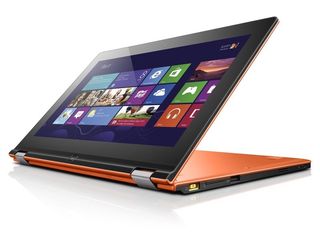 Chromebooks are proving to be increasingly popular in the enterprise, winning against Windows devices that boast too much functionality, according to Lenovo.
The Chinese hardware giant runs the Chrome OS and Windows operating systems on its devices, and said Google's software is making waves in the business world aspeople get turned off by Windows 8.
Steve Kendall-Smith, the UK head of public sector and enterprise at Lenovo, said Chrome is doing well in use cases where mobile workers need to access a small number of apps to do their jobs.
He told IT Pro: "We've just started to see some corporate customers looking at Chromebook. The reason for that is... it is appropriate for certain corporate customers.
"We've got one project that's going on with truck drivers now and they've got one app they use, so actually they're not putting together PowerPoint presentations or anything on spreadsheets, they just need to have this one app."
He pointed to the NHS as another customer eyeing up Chromebooks, for midwives who must put together weekly worksheets but need laptops or tablets for little else.
Asked whether the Chrome OS is eating into Microsoft's devices market share, Kendall-Smith said: "I think it's starting, it's probably early days in all honesty.
"It might be in some cases, they're not necessarily replacing Windows devices but [where customers] have limited use cases, they haven't needed the full blown Windows functionality."
While he backed Microsoft as the main vendor for the enterprise, he argued that Windows 8 has suffered low adoption, with those migrating away from the unsupported XP operating system moving to Windows 7 instead.
"To be honest there's not many on Windows 8," he admitted. "Really our business over the last year [has seen us do] a lot of Windows 7 refreshes, where corporate and enterprise customers are moving away from XP but they're not going to Windows 8."
A total 55 per cent of desktops around the world run on Windows 7, according to the latest NetMarketShare figures, compared to another 19 per cent still on XP.
In comparison, just 3.79 per cent of desktops run Windows 8, while Windows 8.1 has 10 per cent of the market.
Where customers are using Microsoft operating systems, they are running Windows 7 on PCs and Windows 8 on tablets, Kendall-Smith added, creating two different operating systems running in tandem.
With Windows 10 to be released later in 2015, that could change, but Kendall-Smith said it is too early to anticipate demand for the operating system.
BYOD
Lenovo's latest quarterly financial results showed the giant had a 4.8 per cent share in the global tablet market, with 3.7 million shipments, but Kendall-Smith said the BYOD trend of bringing personal devices into the office was not a popular one among customers.
He told IT Pro that - aside from the security concerns of giving personal devices access to a corporate network - the trend was simply not practical.
"Most corporate organistaions have looked at BYOD but felt there are too many limitations," he said. "What happens if you bring your own device to work but you forget the charger?"
Instead, Lenovo sides with Microsoft that the best way to get their products into enterprise customers' hands is by going through the IT department with Choose Your Own Device (CYOD), where customers get a choice of IT-approved tablets.
"It gives employees the choice, but still keeps it within a corporate standard, so it is definitely the best way," he said.
Public sector
Lenovo claims the popularity of laptops and tablets has helped it quadruple its UK public sector revenue from 50 million to 200 million in the last five years.
It ascribed some of this success to demand in the NHS and local government, with Lenovo winning part of a 25 million NHS tender that will see it provide nurses with mobile devices.
Meanwhile, Kendall-Smith said Lenovo has struck deals with four central government departments in the last year.
"They were looking for new ways of working, in the areas of convertibles and so on, out in the field. Still people are moving away from desktops onto laptops, that's definitely been the case," he said.
"We've done a number of big rollouts with tablets, convertibles across central government as well as standard laptops and desktops."
A daily dose of IT news, reviews, features and insights, straight to your inbox!
A daily dose of IT news, reviews, features and insights, straight to your inbox!
Thank you for signing up to ITPro. You will receive a verification email shortly.
There was a problem. Please refresh the page and try again.