Why IT professionals are concerned about the rise of AI
AI is quickly automating numerous areas of the technology workplace, and many IT professionals fear becoming redundant as a result. Are these concerns justified?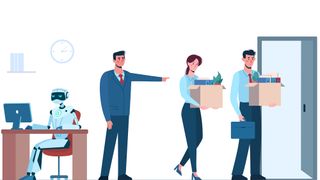 (Image credit: Shutterstock)
A growing number of IT workers are worried about what artificial intelligence (AI) and machine learning technologies mean for their future. Research from cybersecurity firm Trend Micro claims that nearly half of IT leaders think AI will render their roles redundant over the coming decade.
Meanwhile, a 2020 report by security management platform Exabeam found that 53% of cybersecurity professionals aged 45 or under view AI and machine learning as threats to job security. Are IT professionals right to be concerned about the rise of AI technology, and how can they stay relevant in the years to come?
Varying concerns
There are many different reasons IT professionals are worried about the rise and advancement of AI in the technology workplace, according to Exabeam security specialist Sam Humphries.
"The ongoing concern for automation and AI among younger professionals may be partially attributed to lack of on-the-job training using these technologies," she says. "It could also be symptomatic of the current economic climate, partnered with lack of experience of working through a recession."
Paul Clough, head of data science at tech consultancy Peak Indicators, points out that people are naturally worried about new and unknown developments in their industries. "We shouldn't be surprised that IT leaders are concerned about the rise of AI. They are human after all, and any change – even positive – will be seen by some as a threat."
Jake Moore, a security specialist at ESET, expresses similar views, saying: "It's understandable in current times that many will fear the unknown and true AI is exactly that. Machine learning is rising at such a rate that alongside AI, it has the potential of consuming more than what was bargained for. IT leaders want to progress and futureproof their systems but without using technology that will automate at such a rate that it takes over and wipes out jobs."
AI isn't that bad
The increasing presence of AI and automation in the IT department isn't necessarily bad news for technology professionals, however. Andrew Rogoyski, an independent technical expert, explains it's allowing them to focus on tasks that require more attention and specialist knowledge.
He says: "AI is already having a major impact on the IT help desk function, with users able to get an answer to their problem using increasingly sophisticated chatbots/AI. This allows human resources to be better utilised for more complex interactions."
Many aspects of the IT profession will always be harder to automate, despite advancements in AI. Rogoyski says: "Areas like risk management, user experience designs, technical architecting and other creative tasks will remain the domain of human experts for years to come."
Even though many IT professionals are fearful of being replaced by AI, some experts believe there's no need for them to worry at all. Ali Vaziri, managing associate at law firm Lewis Silkin, says: "Although AI tools are proving increasingly valuable to assist in undertaking discrete tasks, they are not a panacea. Even with automation, there will still need to be human involvement in deciding how to deploy those tools, and to oversee them.
RELATED RESOURCE
Unleashing the power of AI initiatives with the right infrastructure
What key infrastructure requirements are needed to implement AI effectively?
"That oversight is crucial: Someone, rather than something, will still need to be accountable for decisions, even if those decisions are based on the output of algorithms; and perhaps more so where the inner workings of those algorithms lack transparency – as is usually the case with AI."
Moore is also optimistic about the impact of AI on tech roles, overall. "I don't think AI and ML will make our jobs obsolete. It's likely that we will work together in unison with AI technology and help make systems better protected as some skills will never be able to be replaced," he says.
Embracing change
If technology professionals want to stay ahead of the curve and remain relevant in a future AI-dominated workplace, they must be willing to embrace change and develop new skills. "Instead of breaking down a problem into logical flows that you then program into a computer, AI and ML require you to train the system to do the thing you want. It requires new skills and a greater appreciation of data analytics, as well as coding," explains Rogoyski.
"Nearly all of these technologies don't pose a threat to IT leaders' jobs; they're just introducing new technologies to learn, which is nothing new. It goes with the territory and most experienced IT pros have already had to learn several new technologies in the last few years, like deploying cloud and mobile platforms."
Rogoyski recommends that technologists focus on developing core competencies such as data security, network deployment, cloud deployment, and mobile technologies. He continues: "As long as they remain open to learning new skills, they'll have a long and busy career."
Agata Nowakowska, area vice president EMEA at edtech firm Skillsoft, also believes that technologists must be proactive with their career development and consider different ways to expand their skills as AI disrupts the industries in which they work. She says: "Ultimately, the more proficient and agile an employee is, the better positioned they are to take the reins, rather than fear evolving technologies."
She admits, though, that ensuring everyone benefits from disruptive new technologies like AI is challenging for employers. To solve this, they should provide all employees with lifelong learning opportunities. "Offering employees upskilling and reskilling options will ultimately increase their job transitioning prospects, preparing them for the shifting digital workplace and for those jobs that aren't available yet," she says.
"Promisingly, Trend Micro has identified that within the next 12 months, 45% of IT managers said they would focus on staff training. This is the best way to quell worries and embrace the possibilities of accelerated growth that AI and automation enable."
Exabeam's Humphries takes the view that IT leaders should discuss how AI creates new opportunities for growth, rather than how it could one day replace jobs, in order to ease concerns among technologists. She tells IT Pro: "This starts with sharing AI and automation best practices, increasing understanding around the technologies that workers fear.
"Ultimately, the workforces that are best prepared will be those that are able to swiftly adapt to changing environments. Investing in ongoing educating and training around new roles and technologies will create agile workers and new job opportunities. Indeed, AI and automation are not to be feared, but utilised to propel innovation and growth."
Though AI is already impacting many different technology professions, human workers will continue to play a vital role across the IT department because they possess unique skills that this technology can't master. But at the same time, they must be prepared to embrace change and learn new skills to keep in sync with new technological developments.
Get the ITPro. daily newsletter
Receive our latest news, industry updates, featured resources and more. Sign up today to receive our FREE report on AI cyber crime & security - newly updated for 2023.
Nicholas Fearn is a freelance technology journalist and copywriter from the Welsh valleys. His work has appeared in publications such as the FT, the Independent, the Daily Telegraph, the Next Web, T3, Android Central, Computer Weekly, and many others. He also happens to be a diehard Mariah Carey fan. You can follow Nicholas on Twitter.