Toshiba smashes AI engineer recruitment targets
The company has also outlined seven principles to help train human resources to research, develop, and use AI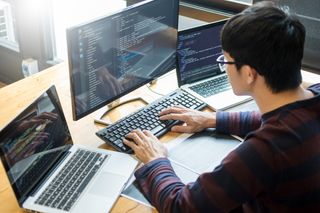 (Image credit: Shutterstock)
Toshiba has revealed that it has surpassed its AI engineer recruitment target by taking on 2,100 new employees.
The Japanese electronics giant launched an AI engineer training programme in 2019, which has increased its engineer headcount from 750 to 2,100, it revealed today. This beat its 2022 target of 2,000.
RELATED RESOURCE
Organisations accelerating their digital workplace achieve improvements
See the biggest return on device investments
The company also plans to increase the number of employees who understand AI. Alongside the engineer training programme, it has recently introduced new training to enhance the AI literacy of non-engineering managers. It aims to improve its ability to provide trustworthy AI to customers. Toshiba also hopes to develop training programmes for a wider range of employees, not only limited to managers or engineers but didn't say when this would be implemented.
Additionally, the company has also set up an in-house platform for sharing of information on over 200 AI assets, 55 of which are now showcased in its Toshiba AI Technology Catalogue.
As part of its AI push, the company has also announced the Toshiba AI Governance statement to promote the development, provision, and use of trustworthy AI. It establishes seven principles to help the company train human resources who can research, develop, and use AI. It also aims to strengthen the development of its framework for maintaining the quality of AI systems and promote group-wide AI governance.
The seven principles are:
Respect for human dignity
Toshiba aims to work towards a society where humans and AI can live in true harmony, working on the research, development, provision, and operation of AI with respect for human dignity.
Ensuring safety and security
It is looking to continually work to maintain and improve AI quality to realise a safe and secure society.
Commitment to compliance
The company will conduct research, develop, and operate AI while strictly adhering to laws and regulations, societal norms, and ethics.
Developing AI and cultivating talent
Toshiba stated it will work to train human resources that can research, develop, and use AI that contributes to resolving social issues for a more prosperous future, while fully understanding the advantages and disadvantages of AI.
Realising a sustainable society
Toshiba will contribute to developing a sustainable society that can successfully tackle global environmental problems and climate change where people with diverse backgrounds can pursue their well-being by researching, developing, providing and operating AI.
Emphasis on fairness
Toshiba aims to work to research, develop, provide, and operate AI with consideration given to fairness to avoid unjustified discrimination.
Emphasis on transparency and accountability
Toshiba aims to secure transparency so that it can explain to its stakeholders the mechanisms behind the AI decisions used in its products and services. It will also work to fulfil accountability through repeated dialogue with stakeholders about the various benefits and effects that can be expected when using AI in society.
"While AI adds to convenience, problems from its misuse or unintended operation point to the need for ethical guidelines and governance covering its utilisation," stated the company. "In Japan, the government has formulated multiple guidelines, and legislatures overseas are increasingly taking action, exemplified by the EU's AI Act. Addressing AI governance is now a must for companies that use AI."
The company also revealed that AI systems with MLOps are now in use at its manufacturing sites and in social infrastructure, and Toshiba is hoping to expand its application in the future. MLOps is the infrastructure for machine learning system development and operation, which helps maintain reliable machine learning models and prevent performance degradation due to changes in the operational environment.
Get the ITPro. daily newsletter
Receive our latest news, industry updates, featured resources and more. Sign up today to receive our FREE report on AI cyber crime & security - newly updated for 2023.
Zach Marzouk is a former ITPro, CloudPro, and ChannelPro staff writer, covering topics like security, privacy, worker rights, and startups, primarily in the Asia Pacific and the US regions. Zach joined ITPro in 2017 where he was introduced to the world of B2B technology as a junior staff writer, before he returned to Argentina in 2018, working in communications and as a copywriter. In 2021, he made his way back to ITPro as a staff writer during the pandemic, before joining the world of freelance in 2022.