Apple staff restricted from using ChatGPT, GitHub Copilot
The ban follows lingering concerns that employees using ChatGPT might leak company information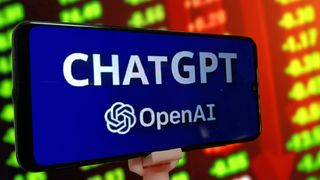 (Image credit: Getty Images)
Apple employees have been restricted from using generative AI tools such as ChatGPT amid concerns that company information might be leaked or exposed.
A report from the Wall Street Journal revealed that the blanket ban is in direct response to worries that employees might input confidential data into the popular AI chatbot.
The WSJ report added that Apple is currently in the process of building its own internal generative AI toolset to support staff.
The restriction is thought to apply to a raft of external AI tools, including GitHub's AI Copilot platform, which is used by developers at a host of major tech companies.
Apple's ban on the use of ChatGPT and generative AI tools isn't without justification. In March, OpenAI revealed that a bug in ChatGPT led to a leak of user data.
The flaw meant that ChatGPT Plus users began seeing user email addresses, subscriber names, payment addresses, and limited credit card information.
This incident prompted OpenAI to temporarily take the chatbot down to work on a fix.
The glitch in ChatGPT also allowed some users to view the conversation history of others.
This incident led to heightened concerns over the use of the chatbot in workplace environments, with organizations noting that employee use of confidential company information on the platform could be at risk.
What can OpenAI access?
User conversations in ChatGPT can be inspected by OpenAI moderators in certain circumstances.
The company recently introduced a feature that enables users to turn off their chat history. However, OpenAI still stores conversations for up to 30 days before deleting them.
A key concern among businesses has been that OpenAI models are, in part, trained on user inputs, meaning that there is a potential risk that confidential information could be accessed or used in the training of models.
RELATED RESOURCE
The truth about cyber security training
Stop ticking boxes. Start delivering real change.
OpenAI has been vocal on this issue, revealing in April that it was working on a new ChatGPT Business subscription that would give enterprises better ways to "manage their end users".
"ChatGPT Business will follow our API's data usage policies, which means that end users' data won't be used to train our models by default," the company said in an April statement.
A host of cyber security companies are currently developing tools primarily aimed at supporting businesses to reduce the risk of data leakage when using platforms such as ChatGPT.
Security firm ExtraHop has recently unveiled a tool that enables companies to determine what staff are inadvertently leaking confidential data when using generative AI tools.
ExtraHop said the new tool will help organizations "understand their risk exposure" from internal use of generative AI tools and "stop data hemorrhaging in its tracks".
ChatGPT bans
Apple isn't alone in limiting the use of ChatGPT and generative AI tools for employees. In recent months, a host of major organizations globally have implemented similar policies to mitigate potential risks.
In February, JPMorgan Chase announced a temporary ban on ChatGPT for employees. At the time, the bank revealed that the reasoning behind the restriction was due to its policies on the use of third-party software.
Amazon is one of a number of others to have prevented employees from inputting confidential information into ChatGPT, along with US telco giant Verizon.
Perhaps most famously, Italy implemented a temporary ban on the technology and was one of the first that catalyzed a wave of bans that continues today
A daily dose of IT news, reviews, features and insights, straight to your inbox!
Ross Kelly is a staff writer at IT Pro, Channel Pro, and Cloud Pro, with a keen interest in cyber security, business leadership and emerging technologies.
He graduated from Edinburgh Napier University in 2016 with a BA (Hons) in Journalism, and joined IT Pro in 2022 after four years working in technology conference research.
In his spare time, Ross enjoys cycling, walking and is an avid reader of history and non-fiction.
You can contact Ross at ross.kelly@futurenet.com or on Twitter and LinkedIn.
A daily dose of IT news, reviews, features and insights, straight to your inbox!
Thank you for signing up to ITPro. You will receive a verification email shortly.
There was a problem. Please refresh the page and try again.