Can low-code development complement generative AI?
Simpler training could sway AI-averse enterprises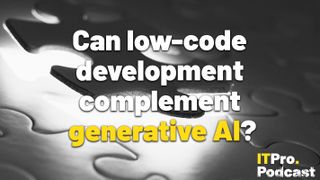 (Image credit: Future)
Generative AI is dominating conversations across the tech sphere right now, and even making its way into discussions in day-to-day life. But for the average IT team, large language models can still seem intimidating, and training or tweaking requires significant computing power and skill.
Additionally, concerns around explainability and approachability are still a barrier to some regulated industries such as financial services or life sciences.
Appian has long been a notable name when it comes to low-code development and automation, and its announcements at Appian World 2023 have leaned heavily on how AI – and generative AI especially – fits into this development proposition.
In this episode, Rory spoke with Michael Beckley, co-founder and CTO at Appian, to discuss the benefits and drawbacks of implementing low code, AI, and generative AI solutions and how companies could appropriately implement each.
Highlights
"...We think about how you introduce AI into the most regulated enterprises, and the most mission-critical operations in a safe and reliable fashion. And so the AI skills we're launching here at the show, are at this low-code AI pipeline are, for the most part, utterly uncontroversial. They do things like read your mail, they do things like classify documents and extract account numbers from them."
"Companies of all shapes and sizes struggle with a lack of automation. In many cases, small companies suddenly find themselves part of a conglomerate, they find themselves acquired, they find themselves part of a group of small companies that are now a big company, you know, they wake up one day and suddenly they're part of a multibillion-dollar enterprise. And so those spreadsheets and SharePoint lists are no longer good enough."
"Robotic process automation is always a bit of a hack, you know, screen scraping from a system pretending to be a human to interact with a system. It's an expensive proposition. But by the way, so is ChatGPT, it's a very expensive heavyweight algorithm."
Read the full transcript here.
Footnotes
Subscribe
A daily dose of IT news, reviews, features and insights, straight to your inbox!
Rory Bathgate is a staff writer at IT Pro covering the latest news on UK networking and data protection, privacy and compliance. He can sometimes be found on the IT Pro Podcast, swapping a keyboard for a microphone to discuss the latest in tech trends.
In his free time, Rory enjoys photography, video editing and graphic design alongside good science fiction. After graduating from the University of Kent with BA in English and American Literature, Rory took an MA in Eighteenth-Century Studies at King's College London. He joined IT Pro in 2022 as a graduate, after four years in student journalism. You can contact Rory at rory.bathgate@futurenet.com or on LinkedIn.
A daily dose of IT news, reviews, features and insights, straight to your inbox!
Thank you for signing up to ITPro. You will receive a verification email shortly.
There was a problem. Please refresh the page and try again.