Slack says automation can save every employee a month of work per year
Research from Slack found that workers believe generative AI tools will revolutionize productivity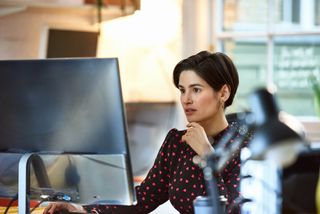 (Image credit: Getty Images)
Staff at companies adopting generative AI tools are 90% more likely to report higher levels of productivity, according to new research.
The State of Work report from Slack, which polled more than 18,000 desk workers globally, found that staff are increasingly receptive to generative AI tools being adopted in their workplace.
More than three-quarters (77%) of respondents said that being able to automate routine tasks, such as expense report approvals, would drastically improve their productivity.
The study revealed that those who currently use automation in the workplace estimate that they save an average of 3.6 hours per week.
This equates to around a month each year saved due to improved productivity due to automation, the report noted.
Brent Hyder, president and chief people officer at Salesforce said the study highlights the growing appetite among staff for the use of generative AI tools and automation of daily tasks.
"The workplace is continuously evolving, and never more so than in the past few years. Companies must rethink the employee experience to increase productivity today," he said.
RELATED RESOURCE
How to help IT manage itself with autonomous operations
Using AI and automation to proactively adapt to business disruptions
"Organizations that embrace new ways of working, such as flexibility, automation and AI, and collaboration tools will help their employees - and ultimately their customers - find greater success."
The launch of the report coincides with Slack's announcement that it plans to implement a new "conversational AI experience" in its workplace productivity suite to support staff.
Slack GPT will provide users with native AI features, including the ability to use generative AI app integrations as well as the chance to access secure customer data insights from the Customer 360 and Data Cloud functions.
"Working with Einstein GPT, Slack GPT will unlock the power of CRM and conversational data to help everyone in the organization be more productive," the company said in an announcement this week.
Companies not keeping pace with AI demand
While employees appear increasingly receptive to generative AI, Slack's report suggested that some companies are failing to keep pace with the demand for such tools.
Nearly two-thirds (60%) of respondents said their company has not incorporated any AI tools to support productivity while just under half (43%) said their team has "not created automations to make their work processes easier or more efficient".
"AI and automation are on everyone's minds in 2023. Yet it is crystal clear from this research that most organizations are barely scratching the surface of their productivity value in daily work," said Rob Seaman, senior vice president of enterprise product at Slack.
"Automation can save employees up to an entire working month per year, freeing up their time for more meaningful, impactful work. There's a huge opportunity for organizations to help employees work smarter, more efficiently, and more pleasantly."
Business appetite for AI is growing
The publication of Slack's report follows recent insight from Gartner which suggested business appetite for generative AI tools is growing as companies look to capitalize on recent developments in the space.
Research from the consultancy firm revealed that 45% of business leaders have increased AI investments on the back of publicity around ChatGPT and its potential benefits for organizations.
Nearly three-quarters (70%) of executives also said their organization is currently in "investigation and exploration mode" with regard to the implementation of generative AI.
Just under one-fifth (19%) also said they are in pilot or production mode and plan to integrate generative AI tools in organizational processes.
Frances Karamouzis, distinguished VP analyst at Gartner, said the research highlights the growing interest in the potential benefits that generative AI could deliver for businesses in the long term.
"The generative AI frenzy shows no signs of abating," she said.
"Organizations are scrambling to determine how much cash to pour into generative AI solutions, which products are worth the investment, when to get started, and how to mitigate the risks that come with this emerging technology."
ITPro Network bullish on generative AI
Earlier this week, members of the ITPro Network revealed that their organizations are also currently integrating or exploring the use of generative AI tools in their business.
Mark Evans, IT director at Tillia Homes, told ITPro that he has been using ChatGPT extensively in daily operations and has harnessed the powerful chatbot to generate PowerShell scripts and finetune Excel formulae.
Evans noted that ChatGPT has enabled him to "work smarter, not harder".
David Cartwright, CISO at Santander International, also sung ChatGPT's praises when speaking to ITPro, revealing that the tool has proved so useful that he signed up to OpenAI's ChatGPT Plus subscription service.
Cartwright has been using ChatGPT to support a variety of processes, such as writing job descriptions for roles that Santander is seeking to fill.
A daily dose of IT news, reviews, features and insights, straight to your inbox!
Ross Kelly is a staff writer at ITPro, ChannelPro, and CloudPro, with a keen interest in cyber security, business leadership and emerging technologies.
He graduated from Edinburgh Napier University in 2016 with a BA (Hons) in Journalism, and joined ITPro in 2022 after four years working in technology conference research.
In his spare time, Ross enjoys cycling, walking and is an avid reader of history and non-fiction.
You can contact Ross at ross.kelly@futurenet.com or on Twitter and LinkedIn.
A daily dose of IT news, reviews, features and insights, straight to your inbox!
Thank you for signing up to ITPro. You will receive a verification email shortly.
There was a problem. Please refresh the page and try again.