Microsoft Lumia 950 and 950 XL release date, price & specs
Microsoft unveils new windows 10 flagship phones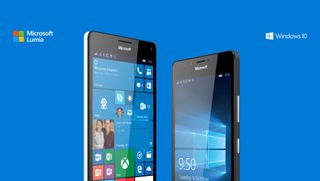 Microsoft has launched two new flagship Windows 10phones, the Lumia 950 and 950 XL.
Unveiled at an event on 6 October, the devices boast high-quality cameras, a Windows 10-based operating system and USB Type C connectors.
Microsoft Lumia 950 and 950 XL:At-A-Glance
Available starting in November
5.2in and 5.7in variants
500 DPI screens
Retail price of $549 and $649
Microsoft Lumia 950 and 950 XL: Latest news
06/10/2015:Microsoft has officially unveiled its first Windows 10 phones: the Lumia 950 and 950 XL.
Announced alongside a couple of new Surface products, Microsoft placed a great deal of emphasis on the compatability between the new phones and the rest of its hardware portfolio, predominantly through the Continuum feature.
The numerous leaks detailing the appearance and specs of the new devices proved almost entirely accurate - a fact that was entertainingly highlighted by Microsoft's devices chief, Panos Panay, when he announced them.
05/10/2015: Invitations have gone out forMicrosoft's Lumia 950 and 950 XL launch event, which will begin tomorrow at 10AM Eastern Time, or 3PM if you're livestreaming it from the UK.
As well as two new Lumia flagships, Microsoft is expected to unveil its Windows 10 Phone operating system and the Surface Pro 4, latest in its popular hybrid range.
The company has also sent out emails about the event from addresses linked to its HoloLens augmented reality device, implying that the AR headset will also be receiving some attention.
Microsoft Lumia 950 and 950 XL: Name
As was widely predicted, Microsoft's two new devices were indeed dubbed the Lumia 950 and the Lumia 950 XL. This continues a naming tradtion that has persisted from when Nokia was still designing and manufacturing the Lumia brand.
This may prove a disappointment to those who were waiting for a Surface Phone. Many people (IT Pro included) were anticipating a companion to Microsoft's Surface Pro 3, along with a transition to more cohesive branding for the Windows Phone range overall. The lack of Surface branding is particularly perplexing given the new additions to the Surface family announced at the event.
Microsoft Lumia 950 and 950 XL: Release date
Although the Lumia 950 and 950 XL were launchedat a special event on 6 October,the precise release date for Microsoft's Windows 10 Mobile flagships is still unknown. The closest the company got to a firm date was saying that the handsets will arrive at some point in November.
Microsoft Lumia 950 and 950 XL: Price
The prices for Microsoft's forthcoming devices have finally been announced. the Lumia 950 will retail for $549, and the 950 XL going for $649.
This is substantially cheaper than was suggested by leaks from online store ecomputer, which listed the Lumia 950 and 950 XL on its site with price tags of 659 (482) and 749 (548), respectively.
UK pricing has yet to be announced, but based on current convertion rates and previous experience, we'd estimate a UK price of around 400 for the Lumia 950 and 500 for the Lumia 950 XL.
This pricing takes the Windows Phone lineup out of the mid-range and budget territories it's been comfortably occupying for the past few years. While a more premium cost makes sense for Microsoft's first Windows 10 phones, many fans will likely be a little dismayed at the price hike.
Microsoft Lumia 950 and 950 XL: Appearance and features
Hopes that Microsoft would adopt design sensibilities more in-keeping with the rest of the market were dashed by early leaks of promotional shots. The images showed that the plastic-shelled construction is alive and well, with both phones looking much the same as earlier multi-coloured Lumias.
However, the handsets shown in the official unveiling were sedate and professional, with only black and white variants on show. Whether or not the more exuberant colours materialise is yet to be seen.
As expected, both the Lumia 950 and the 950 XL both run Windows 10 Mobile straight out of the box. It's essentially a slightly scaled down version of the desktop version, with Cortana, a beta version of the Windows Hello biometric authentication and other desktop elements all included.
One impressive feature that Microsoft showed off was that both phones supportContinuumon Windows 10. By connecting to a small adapter called the Microsoft Display Dock, the 950 and 950 XL will be able to work with a monitor, mouse and keyboard, essentially turning them into mini-PCs.
There was a substantial amount of time devoted to demonstrating this, showcasing how well the Office universal apps scaled to accomodate a larger screen size, and using keyboard shortcuts and other traditional desktop functions. The system can also operate as a phone and a desktop simultaneously, letting users respond to texts on their phone while continuing to work uninterrupted on their desktop environment.
In order to highlight the enhanced productivity features of Windows 10 Mobile, Microsoft will be bundling all their major first-party apps with the new devices, including Office apps, Skype, OneNote, OneDrive and Edge.
Another feature touted was the twin antennas in the new phones, which provide the best signal, no matter how you're holding it. This was specifically promoted, despite a near-identical feature appearing in the Huawei P8 earlier this year.
Microsoft Lumia 950 and 950 XL: Specs
As was confirmed by Panay himself, the leaks that found there way online prior to the new Lumias' launch were almost entirely accurate. However, aside from what we already suspected, Microsoft was a little light on concrete hardware details.
The Lumia 950 is the smaller of the two phones, with a 5.2in screen, while the 950 XL's display is 5.7in - larger than the iPhone 6 Plus. Both screens have QHD OLED panels, clocked at 564DPI for the 950 and 518 DPI for the 950 XL.
We know that both phones feature 32GB of onboard storage, with a maximum of 2TB expandable memory via MicroSD. It's worth pointing out, though, that that's a theoretical maximum of the SDXC standard - no 2TB MicroSD cards actually exist.
As predicted, the950 XL is somewhat more powerful than its stablemate, with a Snapdragon 64-bit octacore processor. The 950, on the other hand, has a smaller hexacore processor, but both have 'tablet-class' liquid cooling borrowed from the Surface Pro 3 to prevent overheating.
Also leaked in the run-up to the launch were the figures of 3GB of RAM for each device, and battery sizes of 3,000mAh for the Lumia 950, and 3,300mAh for the 950XL. Given the accuracy of the rest of the leaks, we're expecting this to be similarly correct.
Microsoft Lumia 950 and 950 XL: Camera
Microsoft, like seemingly every other smartphone manufacturer on the face of the earth, is really pushing its improved camera technology. Calling back to the Lumia 1020's fantastic snapper, the new devices are both fitted with 20MP PureView sensors. Microsoft is claiming that they both offer fantastic low-light photography, with in-built optical image stabilisation and a triple RGB flash for more natural-looking shots.
Microsoft Lumia 950 and 950 XL: Enterprise
Microsoft is reportedly planning a big enterprise push to coincide with the launch of its newest flagships. As well as shelling out for flashy, premium packaging, Microsoft will also be producing branded device travel bags, according to leaks.
Long-time Windows commentator Paul Thurrott published photos of a rather snazzy-looking satchel bag, which has inbuilt compartments for a surface tablet, Lumia phones and Windows 10 laptop. The bag features blue inner lining, and a silver Microsoft logo emblazoned on the outside.
The photos (which have not yet been verified as genuine) are only mock-ups of a proposed campaign to promote Microsoft devices for business. Nevertheless, the accessory looks attractive and professional, and could be a good step in furthering business adoption of Microsoft devices.
Get the ITPro. daily newsletter
Receive our latest news, industry updates, featured resources and more. Sign up today to receive our FREE report on AI cyber crime & security - newly updated for 2023.
Adam Shepherd has been a technology journalist since 2015, covering everything from cloud storage and security, to smartphones and servers. Over the course of his career, he's seen the spread of 5G, the growing ubiquity of wireless devices, and the start of the connected revolution. He's also been to more trade shows and technology conferences than he cares to count.
Adam is an avid follower of the latest hardware innovations, and he is never happier than when tinkering with complex network configurations, or exploring a new Linux distro. He was also previously a co-host on the ITPro Podcast, where he was often found ranting about his love of strange gadgets, his disdain for Windows Mobile, and everything in between.
You can find Adam tweeting about enterprise technology (or more often bad jokes) @AdamShepherUK.