Microsoft patents a foldable Surface phone
Will Microsoft build a Surface flip phone?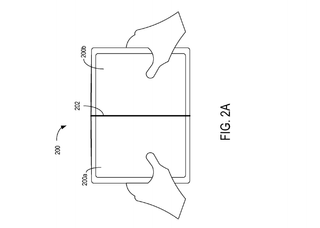 Microsoft has been awarded a patent for a Surface Phone that folds in half.
The phone would consist of tiled panels and a curved edge, and run multiple screens, according to MSPowerUser, which discovered the patent.
A major problem with hinged displays is that multiple panels often distort the user's perception of on-screen objects. The introduction of the curved edge could potentially address this issue by drawing light away from the gaps.
Since Microsoft CEO Satya Nadella pulled his firm out of the phone hardware market under his tenure, Forbes argued that Microsoft would most likely focus its energy on software capabilities, not hardware, dismissing the patent.
However, a Surface Phone could run alongside the Surface Book and Surface Pro series to give users mobile, tablet, and laptop-esque devices, potentially of interesting to enterprises who have bought some Surfaces already and like the idea of running the same operating system across all employees' devices.
As nothing has been confirmed by Microsoft at this point, any word of the Surface Phone is merely speculation and unfortunately, it may be a while before we get any concrete evidence.
Recent reports suggest that the smartphone won't be launched until 2018 or 2019, if at all.
Picture: Free Patents Online
A daily dose of IT news, reviews, features and insights, straight to your inbox!
A daily dose of IT news, reviews, features and insights, straight to your inbox!
Thank you for signing up to ITPro. You will receive a verification email shortly.
There was a problem. Please refresh the page and try again.