Analysis: How an IBM/Sun deal could change the IT industry
IBM is rumoured to be looking to buy Sun for £4.6 billion, creating a massive technology company.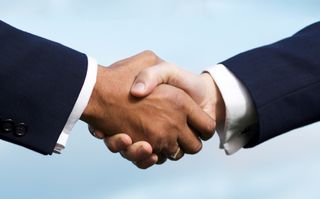 Word that IBM is negotiating to buy Sun Microsystems set off speculation this week about what a post-merger computing industry might look like.
First and foremost, such a deal would put IBM within reach of one of its most elusive goals: to reclaim the crown as the world's largest IT company. HP has surged past IBM in recent years as IBM's hardware offerings shriveled.
Today's IBM is really a software and services company, not a hardware maker. With Sun added to IBM's portfolio, hardware would make up about one-third of the combined company's revenue and, more importantly, would provide a reinvigorated entry point for IBM's other offerings.
After all, it was IBM that HP had in its sights when it bought technology services company EDS last spring for nearly $14 billion. IBM clearly hopes to counter that acquisition with one of its own at less than half the price.
An IBM/Sun combination would bring together the two largest makers of high-end servers that aren't based on the commodity x86 chips made by Intel and AMD. Both IBM and Sun have struggled to continue selling their more expensive servers as customers have chosen instead to invest in large numbers of low-cost servers.
Putting the two high-end server leaders together could make their end of the industry's spectrum more competitive by bringing redundant costs under control.
In the end, the final push toward an IBM/Sun deal may have been provided by Cisco, which announced on Monday that it was getting into the server market. Numerous technology luminaries lined up beside Cisco to support that announcement, including Microsoft, Intel, EMC, VMWare and BMC. Notable by their absence from that list were IBM, HP and Sun.
Analysts have been optimistic about the potential for a combined IBM-Sun behemoth.
"Usually I'm quite the naysayer when it comes to these big deals, but this one is a match made in heaven," said Richard Stiennon, founder and chief analyst at research firm IT-Harvest. "IBM never really succeeded in the server wars so Sun would be a great addition for them. And Sun, despite having solid technology, has made some bad moves in pricing and production."
Forrester analyst John Rymer agreed, noting that the potential deal represents a classic case of consolidation in the maturing high-end server business.
"The prices and the margins have been falling dramatically for the last several years," he said. "It's a market where you only win by being big and having volume. You're not going to win by having a premium-priced product, which is how both of them have been approaching it. IBM is trying to set itself up to compete better with HP."
He doubted, however, that the deal will result in better or more varied products. "I don't see a huge advantage in terms of innovation," he said.
IBM also would gain tremendously from acquiring Sun's varied software portfolio, he said, which includes Solaris, Java, MySQL and OpenOffice. "Right now IBM generates billions of dollars of revenue from Java-based products, but it doesn't control the core, it doesn't control the compilers, nor does it control the frameworks, the language or any of the core technology," Rymer said. "That's a very useful asset for IBM."
Sun's sale, he said, can be attributed directly to the economic downturn, not to poor strategy on the part of its leaders.
Currently, most of Sun's revenue comes from large enterprises around the world. "What they were seeking to do was shift gradually to a revenue base focused on the Web monsters like Google and Amazon and eBay," Rymer said.
He added: "They also wanted to be attractive to the next wave of Internet businesses, the social networking sites and Web 2.0 startups. Sun wanted them to use their software in the hopes that as they grew they would come to back to Sun for servers and storage. It was a fine strategy, very pragmatic and clever. But the recession means that the demand just isn't there for those two customer sets to be the kind of growth engine that Sun needs them to be."
In short, he explained, "the recession got in the way."
Describing the potential $6.5 billion deal as a "fire sale," analyst Stiennon said the merged company would have just one piece missing in its bid to regain dominance over HP: networking.
"There's always Nortel just sitting there," he added. "And they're in the process of being broken up right now."
Get the ITPro. daily newsletter
Receive our latest news, industry updates, featured resources and more. Sign up today to receive our FREE report on AI cyber crime & security - newly updated for 2023.
Get the ITPro. daily newsletter
Receive our latest news, industry updates, featured resources and more. Sign up today to receive our FREE report on AI cyber crime & security - newly updated for 2023.
Thank you for signing up to ITPro.. You will receive a verification email shortly.
There was a problem. Please refresh the page and try again.