Windows 7 to arrive 22 October, Microsoft confirms
Microsoft has said that Windows 7 will hit shelves this October.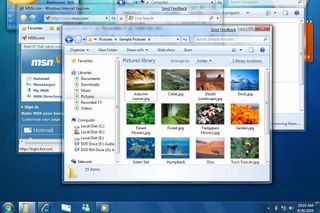 Microsoft has finally given a release data for Windows 7.
The next Windows operating system will hit shelves on 22 October, a Microsoft spokesperson confirmed to IT PRO, despite earlier Microsoft statements suggesting it would arrive at the beginning of 2010.
Indeed, the October release date means Windows 7 will hit in plenty of time for the holiday season.
"As we've said many times, quality is our primary goal," said Steve Guggenheimer, Microsoft's OEM division's corporate vice president, in a statement.
"We announce each milestone once we're confident of where we are in the development cycle and that it is ready to be shared with customers and partners. We've received great feedback from our partners who are looking forward to offering Windows 7 to their customers in time for the holidays."
Microsoft said Windows 7 will be released to manufacturing in July, so PC makers can preinstall it on new computers, so it will be available ready to go on hardware as well as in boxed form so users can install the software older machines.
Windows 7 already looks set to be more popular than the much-maligned Vista, and Microsoft has claimed that millions are already using the release candidate as their main OS.
Microsoft will offer a free upgrade to Windows 7 for anyone buying certain versions of Vista, but specific details were not revealed - nor have any pricing details of the various versions of the OS.
"Microsoft has been working closely with partners to help our mutual customers be able to enjoy the many benefits of Windows 7," Guggenheimer added. "With that in mind, we're excited to say that there will be a Windows upgrade program available. Consumers can buy that new PC, whether for a student heading off to college or just because they need a new one, and know they'll get Windows 7 as part of the deal."
Click here for our review of the Windows 7 beta.
A daily dose of IT news, reviews, features and insights, straight to your inbox!
A daily dose of IT news, reviews, features and insights, straight to your inbox!
Thank you for signing up to ITPro. You will receive a verification email shortly.
There was a problem. Please refresh the page and try again.